Published December 13, 2022 by Tom Porter
Nobel Prize Winner Recognizes Bowdoin Chemistry Scholar Danielle Dube for Research Help
Professor of Chemistry and Biochemistry Danielle Dube found herself on a plane to Sweden last week, headed to this year's Nobel Prize ceremony and banquet as a guest of one of the three chemistry laureates, Stanford University's Carolyn Bertozzi.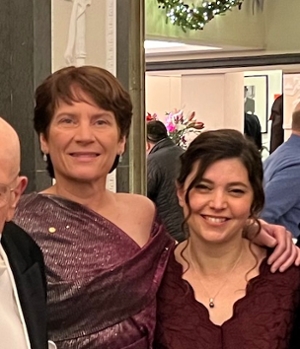 Dube was a PhD student of Bertozzi's in the early 2000s at UC Berkeley, where they both worked on research that later caught the attention of the Nobel committee. "Bertozzi was awarded the prize for her work in 'bioorthogonal chemistry,' and I contributed to this work directly," commented Dube.
"The Nobel talk was a thrill to be in," she added. "Carolyn did an extraordinary job conveying the importance of the work, and I was beyond proud when she showed a slide highlighting the contributions I made to the work along with my former lab mate Jenn Prescher. To have been a part of the science, and to see Carolyn recognized for the work, is unbelievably exciting."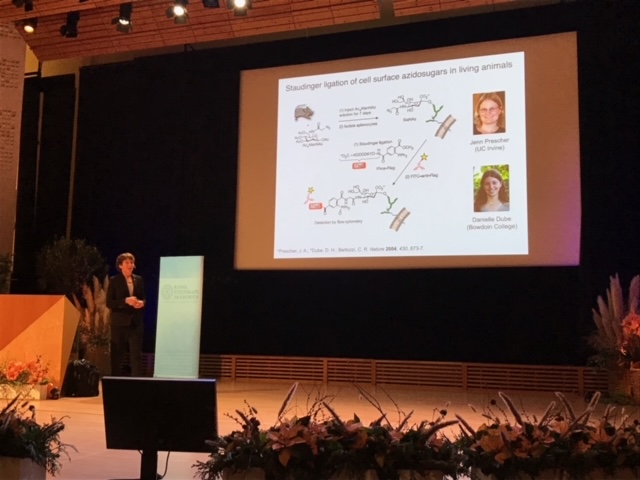 According to a press release from the Royal Swedish Academy of Sciences (which selects the chemistry prize winners), Bertozzi's work has helped to take chemistry "into the era of functionalism," by developing chemical reactions that "are now used globally to explore cells and track biological processes. Using bioorthogonal reactions, researchers have improved the targeting of cancer pharmaceuticals, which are now being tested in clinical trials."
Apart from the talk and the ceremony, Dube also got to attend the Nobel Prize Banquet, an event she described as "out of the world, filled with pomp and circumstance," where guests included the King and Queen of Sweden. "Moreover, three of my former lab mates and closest friends were with me, and I had a chance to dine with researchers who contributed to last year's Nobel Prize-winning work on gene editing. Celebrating Carolyn's Nobel Prize was a highlight of my career and a once-in-a-lifetime experience!"