Published May 25, 2021 by Rebecca Goldfine
One Year Later: A Conversation With Dominique Johnson '11 of the Center for Policing Equity
In the aftermath of George Floyd's murder on May 25, 2020, the Center for Policing Equity (CPE) went into high gear to respond to the public's growing demand to end police violence against Black people and other people of color.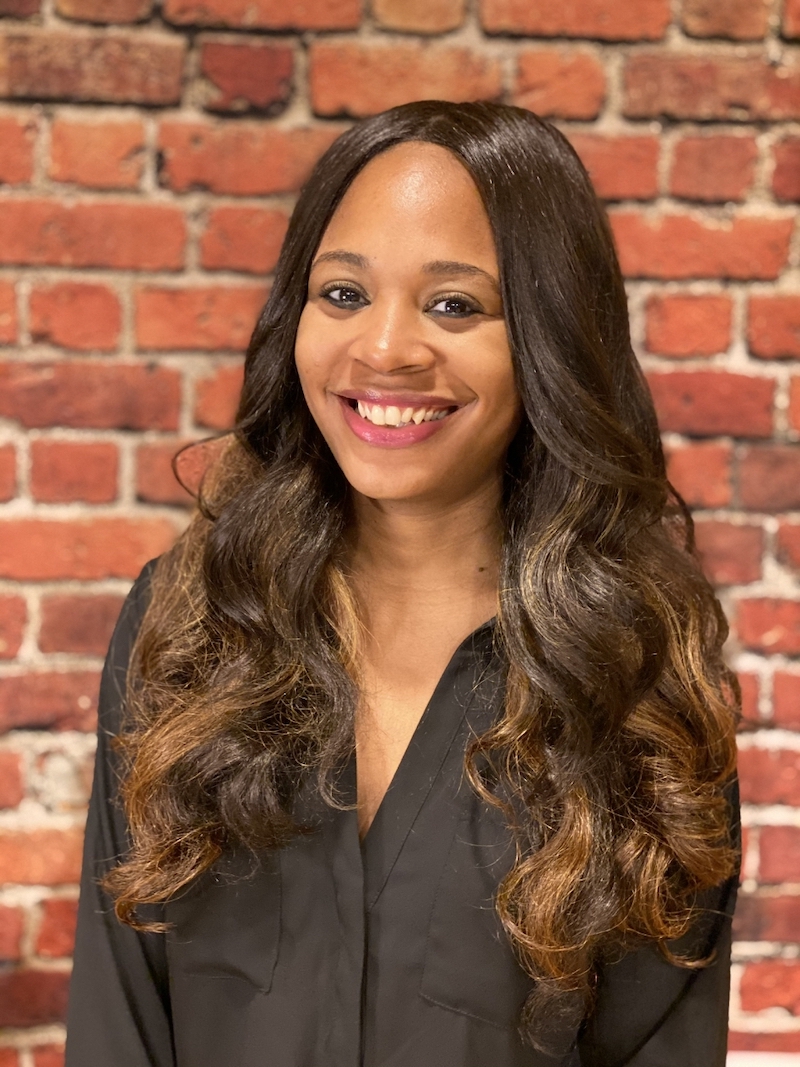 As part of its rapid expansion, the research and advocacy nonprofit hired nine Bowdoin interns. Three of them are now full-time employees, and three just completed one-year internships. An additional three have moved on to employment in disability rights, federal law, and finance.
Johnson, CPE's senior director of community engagment, was instrumental in hiring the Bowdoin students. She partnered with Bowdoin's Center for Career Exploration and Development after it rolled out its "Employment Accelerator" program last spring to help seniors graduating into an economy weighed down by COVID-19.
Johnson recently reached out to chat about the progress made in the past year, how her Bowdoin team contributed, and what the Center for Policing Equity is focused on in the coming year. [The conversation has been lightly edited.]
The Center for Policing Equity is a research and advocacy organization with offices in Los Angeles, Salt Lake City, New York City, Denver, and DC. Its staff of analysts, scholars, former police officers, and community and policy advocates use data to identify and measure racial bias in policing, shed light on police behavior, and work with police and communities on envisioning ways to improve public safety. Today CPE works with police departments, as well as civic and community groups, schools, and corporations—any group that wants to take action to "understand racial impacts and reimagine public safety," Johnson said. 
What's the last year been like for you and CPE?
Dominique Johnson: "I would say it's been a roller coaster. Right after the murder of George Floyd and the uprisings, we saw a huge uptick in folks wanting to give donations and time to CPE, and we had to rapidly scale up. We went from a startup culture to a full-fledged operational organization.
But the momentum, for particular communities, tapered off briefly when the insurrection at the Capitol happened. A lot of our Black and brown communities stepped back for a second and said, 'Listen I don't know where to go from here. How do we continue this work?' Seeing people storming a capital building on camera with no repercussions made people say, 'How many more times do we have to show you that white supremacy in this country is leading to chaos and we're not taking it seriously?'
Then a month after the insurrection, everyone came back again, partly because we were doing big work in Ithaca, New York, and on Long Island, with Suffolk and Nassau counties. (CPE is also helping to achieve results in communities across the country, from reducing low-level traffic stops in Berkeley, California, to addressing police response to sexual assault and domestic violence in Red Wing, Minnesota.)"
What is the work you're doing in the New York communities?
DJ: "It has to do with New York Executive Order 203. [Gov. Andrew Cuomo issued this order last year, calling for all New York municipalities to develop plans to reduce police-involved deaths and racially biased law enforcement.]
"In 2020, CPE began to support Ithaca and Tompkins County in reshaping the public safety landscape. We conducted an in-depth analysis of 911 and officer-initiated calls for service. We gathered community input—which I was responsible for on the CPE side of the partnership—through surveys, town halls, public forums, and focus groups.
"Then we partnered as consultants on the Reimagining Public Safety Collaborative with officials from Ithaca and Tompkins County to outline their goals, informed by community input. That became a comprehensive set of recommendations published in February that included an evidence-informed pathway to replace existing police departments.
"Now Ithaca is working to remake their department with a community solution, a public safety department led by a civilian executive director. It will include a unit of unarmed first responders that focuses on crime prevention and uses alternative models for crisis interventions. The Ithaca police union released a statement supporting many of these actions. The Tompkins County legislature approved it 11-2, and the Ithaca Common Council passed it unanimously. 
"Another big one for my team in direct community engagement was in the fall when we supported a diverse coalition of folks in Nassau and Suffolk Counties to put forth a community-centered plan [in accordance with NY Executive Order 203.] It's called The People's Plan, and it includes a new 911 emergency call system that allows unarmed crisis responders and mental health providers to co-respond, the removal of school resource officers with the stipulation that that funding be redirected to youth programming, and a civilian complaint review board to resolve allegations of misconduct by police. 
CPE is now outlining where we can be of support going forward. These were huge wins. And there are many other cities that now want to do this." 
Will these communities model the way for others?
DJ: "Yes, they model how you begin the process based on CPE's road map to reimagine public safety. They provide a blueprint on how to move things forward, with the caveat that every place is unique. Communities should be leading this work and driving this work, and there is no one-size-fits-all. But in doing those road map steps, everyone can take a look at 911 calls for service and officer-initiated activity, among other key steps."
What was the role Bowdoin hires played in the work you've done this past year?
DJ: "I couldn't have done any of this work without the help of students from Bowdoin. It was all hands on deck. While the internships last summer were makeshift and startup, we have built out a full CPE internship, and we will be working to leverage Bowdoin in the future as we launch into a new era." [See the callout box below to find out what the graduates are doing now.]
Where do CPE and the country go next? 
DJ: "I would love to see communities leading this redesign work and bringing law enforcement stakeholders along. I would like to see it happening on a larger scale. I would like to see more of us at CPE distilling digestible information and content for folks and generating new audiences. We want to make sure we're accessible.
Also, in the next year when people head back outside, things could change a lot. Gun violence will come back. As we move back out into out normal lives, we will see the America we saw before, which is a culture of violence. And I am hoping that we can move forward at CPE to be the folks who are thought of as the leaders in the space of moving into more equitable systems and be a lever for change for communities and law enforcement as we think about improving public safety."
Three interns have moved into full-time positions:
Price Nyland '20: "There is nothing that Price has not had her hand in this year when it came to special projects, team operations, and ensuring that I never overpromise and underdeliver on my responsibilities to communities and external stakeholders. One of her big wins this year has been developing our school and new audience engagement."
Ural Mishra '20 "has been instrumental in Ithaca youth engagement as a part of the larger Reimagining Collective and San Diego youth engagement, policy, and advocacy within our National Justice Database program."
Jiadi Chang '20 "has been instrumental in developing and supporting community engagement philosophies within our CompStat for Justice programming in Seattle and our grassroots intersectional work in cities across the country."
Interns (just ended in May 2021)
Brandon Schuster '23 "provided general policy support, Compstat for Justice support, and led our social media work on Instagram with guidance from 617 Media Group."
Jason Park '20 "led the charge in our internal team process management and metrics as well as building relationships in our Asian American and Pacific Islander communities and transit equity work."
Yaseen Ahmed '23 "helped support all of our youth and policy work—his big win being in youth advocacy in Ithaca's reimagining work."
2020 summer interns
Abigail Gurgiolo '19 "contributed to building our disability and accessibility portfolio and was able to use this work to land her current role in disability rights!"
Cam Withers '21 "helped our policy team build a National Field Scan and did considerable policy landscape analysis to support community advocacy efforts."
Beatrice Cabrera '20 ""led community and policy landscape analysis to support efforts in Minneapolis and Seattle," and is now working at the US Department of Justice."
Dominique Johnson provided an update on the nine Bowdoin seniors hired at CPE last summer to address the momentum behind eradicating racism in policing.