Published April 21, 2021 by Tom Porter
US Senator Susan Collins Discusses Capitol Riots, Voting Reform, Social Media Regulation, and More
"Be a fanatical moderate," urged US Senator Susan Collins. "I know it sounds like a contradiction in terms, but that's what we need." Collins, who has represented Maine on Capitol Hill for a quarter of a century, was recently in conversation with President Rose in an online event watched by more than four hundred people.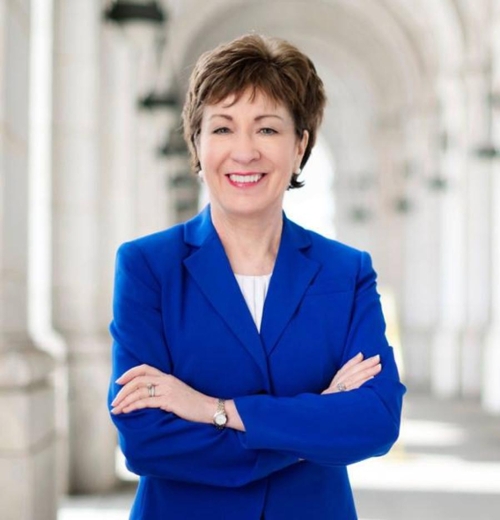 Collins answered questions on a number of subjects, including voting reform, conspiracy theories, social housing, Donald Trump's popularity in northern Maine, and the future of the GOP. The event was the latest in a series of discussions featuring guest speakers called After the Insurrection: Conversations on Democracy. The series was planned in the wake of the January 6 Capitol riot, when protestors stormed the seat of US government in support of then-president Donald Trump. 
At the time of the attempted insurrection, Collins, along with other members of Congress, was inside the Capitol preparing to ratify the results of the 2020 presidential election. She said she knew something was wrong when she saw Vice-President Mike Pence being hurried out of the chamber by Secret Service agents 
"Then I saw the Senate minority and majority leaders also being ushered out before the Sergeant at Arms came to the podium and announced the Capitol had been breached… Later, I learned just how close the protestors were," recalled Collins. After first being told to stay put, she and her colleagues were then taken to a secure location, where they spent hours watching events unfold on live television. "It was surreal watching people go through my desk on the Senate floor," she said. Nevertheless, Collins said she was determined to return to the Senate chamber as soon it was safe to do so and finish the constitutional duty of certifying the results—something she and her colleagues were able to achieve in the early hours of January 7. 
What caused so many American citizens to behave this way on January 6 and attack the nation's government? Part of the reason, said Collins, is the toxic environment created by social media companies and the cloak of anonymity it affords people, encouraging the spread of misinformation. As a member of the Senate's Select Committee on Intelligence, Collins said she found it interesting to see how platforms like Twitter are exploited by America's foreign adversaries, particularly Russia. 
Rose went on to ask Collins for her views on new voting laws in Georgia, where Joe Biden narrowly defeated Donald Trump in November's presidential election. Critics say the legislation will suppress Black and brown votes, he pointed out. "There's been a lot of misinformation about this issue," responded Collins, who said an earlier version of the bill, which was judged to be unfair, had been dropped. In many ways, she said, the new law broadens the right to vote and makes it easier. "I think we should honor the fact that states have the right to set their own rules," she added.
When asked about the regulation of companies like Twitter and Facebook, Collins said some government oversight is needed—"right now the companies operate internal oversight." Furthermore, she added, there's a provision of the law—Section 230 of the Communications Decency Act, to be precise—that prevents social media groups from being sued for libel as, for example, a newspaper could be. Seeing as these companies are now more than just platforms and are increasingly responsible for deciding content, Collins said this section of the law needs to be reformed. Collins herself, she pointed out, was the subject of more than 360,000 negative messages generated on social media by the Russian government.
She also holds the view that former president Donald Trump should not have been banned from Twitter. "I'm not defending the president's tweets," she said, "but it raises important free speech issues when Facebook and Twitter decide who can and cannot have an account and communicate using their platforms." The fact that they allow world leaders with horrible human rights records to use their platforms, said Collins, represents "an inconsistent standard."
Why has the GOP become a safe haven for conspiracy theories? Collins was asked. Trump, she responded, did a "huge disservice to our nation" when he kept repeating the lie that he had won the election. By continually repeating the lie, he convinced many that it was true. "Some good people I know firmly believe the election was stolen because the president kept repeating it," she said.
When asked how the US can move away from "the big lie" and understand the truth, Collins pointed to the US court system. Americans should have faith in the system's ability to protect democracy, she explained, referring to the sixty-two failed lawsuits by Trump supporters seeking to overturn election results and to the ninety individual judges who rejected Trump's lies. Collins said this is why she is opposed to attempts by some Democrats to "pack" the US Supreme Court, expanding its number of seats from nine to thirteen. This, she explained, is "extremely unhelpful in countering the big lie" by undermining confidence in the courts and "trying to transform them into political entities."
Regarding the future of the Republican Party and where she would like to see it going in the next few years, Collins quoted a former GOP president. "It's a big tent party, as (Ronald) Reagan said, united around certain principles, including personal responsibility, opportunity, individual freedom, a belief in the free enterprise system, and strong national defense, to name a few."
"I don't think it's a cult party about any one person," she added, "whether it's Donald Trump or anyone." It's a mistake, said Collins, not to consider the many talented leaders who are emerging in the GOP and "to recognize that we are a diverse party" representing varying views. "To me, that's a good sign."
Nevertheless, both political parties are still too polarized, said Collins, who is known for her efforts to work across party lines. "I would like to see a move toward the center, where the Democratic Party is center left, and the GOP is center right." The best legislation, legislation that can withstand the test of time, she stressed, usually reflects ideas from both sides. To bring about this return to the center, said Collins, political moderates need to be as fanatical about their beliefs as those on the political extremes.