Student and Alumni Speakers Featured in "Celebration of Opportunity"
By Tom Porter
Bowdoin held its inaugural Celebration of Opportunity on Thursday, May 20. The livestreamed event featured student musical entertainment as well as speeches by three alumni and senior Sananda Chintamani.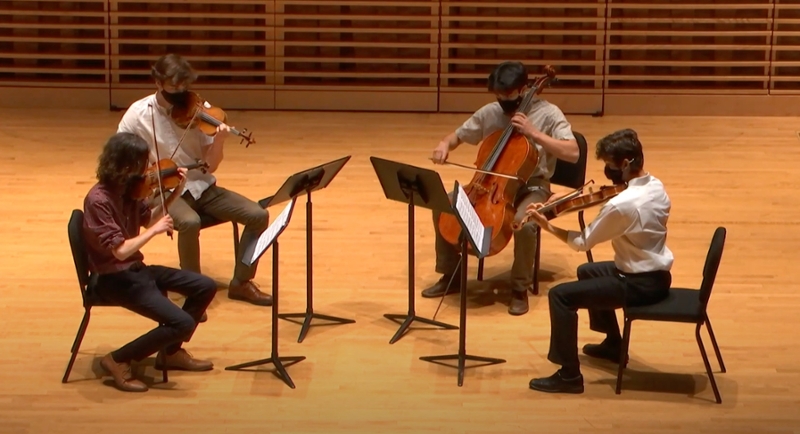 The event, which celebrates the Bowdoin experience, student opportunity, and those who support the College, featured a mix of live and prerecorded content. After introductory remarks by President Clayton Rose in Studzinski Recital Hall, there followed a live musical performance by an all-sophomore chamber ensemble, who performed the fourth movement of Dimitri Shostakovich's String Quartet no. 1, op. 49.
"This performance," said President Rose, provided a "great example of what we're celebrating today. The meaningful opportunities that the community of Bowdoin alumni, and parents, families, and friends provides for our students and then the way that our students seize those opportunities." He went on to say how the turbulence and uncertainty of the last fifteen months has brought out the best in the Bowdoin community, as "all of you have turned your concern for students and for our college into action. Whether it's volunteering to conduct mock interviews for sophomores during their career bootcamp that we have in the winter, providing financial support for new diversity equity and inclusion initiatives, or even playing the spoons at an online holiday gathering, our community rallied."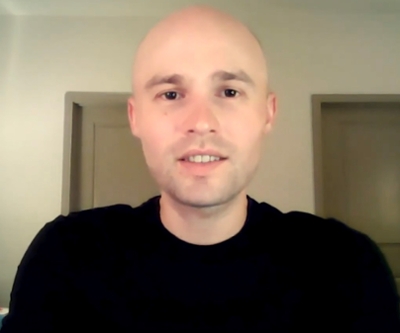 The first guest speaker was Jordan Daniel Lantz '15, currently an MBA candidate at Duke University's Fuqua School of Business. Lantz's service to Bowdoin since his graduation, said Rose, has been "wide and deep," and in 2019 he won the Alumni Council's Young Alumni Service Award.
Lantz used his speech to reflect on the opportunities Bowdoin has given him and the role the College plays in his life today. He recalled arriving on campus ten years ago from his native Indiana, where he grew up in a farming community. Lantz said he had "never really seen a mountain, or the ocean, or really even been camping." As a member of the Bowdoin Outing Club, however, Lantz found himself hiking mountains he had never heard of, sleeping in unincorporated towns, and racing down roaring rapids "feeling both invigorated and scared."
When he came here, Lantz said he knew an elite college like Bowdoin could open doors for him, both academically and professionally, "but it has done so much more," he added. "Bowdoin doesn't just offer a rigorous curriculum, it offers the opportunity to reinvent the world around us through the richness of its teachings." Lantz said if he could "boil the learning opportunities at Bowdoin down to one thing," he said it would be "the opportunity to admit we don't know everything. And thus, we become lifelong learners."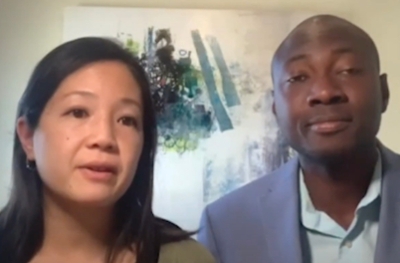 Following Lantz, two graduates took to the microphone to deliver a joint address. Jennifer Wong Adu and Joseph Adu, both Class of 2007, are dedicated volunteers within the Bowdoin community, said Rose. Jennifer works as a speech language pathologist for a public school system in Massachusetts, while Joseph is IT director for a Boston-based biotech firm developing technology using artificial intelligence to improve patient outcomes. "And, by the way," added Rose, "they just had their third child."
"This past year, our country has been talking about why Black lives matter," said Joseph, who is African American. "More recently, the discourse has shifted to include aggression toward Asian people," said Jennifer, who is Asian American. "These conversations have undoubtedly been heavy, unresolved, and personal for us," added Joseph. In their social networks, they said they have been able to navigate these difficult topics of race and belonging with relative ease.
Reflecting on their Bowdoin experience, the Adus observed how the skill of conversing about privilege and injustice was, and continues to be, cultivated by the relationships formed within the Bowdoin community. "During our four years at Bowdoin," said Jennifer, "we were privileged to have friends from places and cultures that were very different from our own. We are grateful to Bowdoin for bringing to campus such special individuals."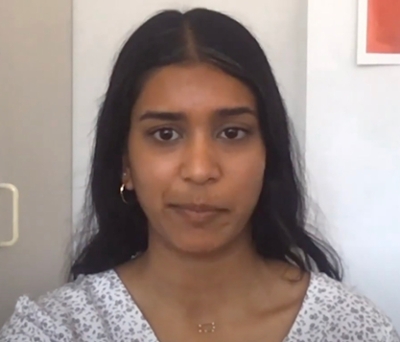 The third speaker was Sananda Chintamani, a government major and math minor from Acton, Massachusetts, and a member of this year's graduating class. As well as being a senior interviewer at the admissions office, said Rose, Chintamani has written for the Bowdoin Review, organized TEDX talks at College, and worked as alumni ambassador for the Office of Alumni Relations, among many other activities.
As she prepares to graduate, Chintamani looked back on her Bowdoin career, the classes she took, the activities she pursued (such as relearning to play the piano!), the time spent studying abroad in Copenhagen, and the friends she's made. She recalled how in her senior fall semester, "a semester that was strange in so many ways, with my classes online and with COVID only getting worse, four of my friends and I decided to rent a house in Wiscasset for the semester, just twenty-five minutes up the coast from Brunswick. We took weekend trips to Sewell Pond and Popham Beach and Acadia National Park, and we continued to take classes that were just as great virtually as they would have been in person, thanks to our amazing professors. Now, in my final semester, I get to be back on campus, and I'm grateful for every second I get here, in my favorite place in the world." Without the efforts of alumni, families, and other donors, she said, these experiences and opportunities would never have been possible. "So, I want to close by thanking you all for giving me, as well as my friends and classmates, such a wonderful college experience and a community I will hold dear for years to come."
Following the speeches, this Celebration of Opportunity concluded with a recorded performance of "Raise Songs to Bowdoin," given by members of the student a cappella groups Bear Tones and Miscellania.
Published May 21, 2021