Published August 29, 2023 by Tom Porter
Colleagues, Friends of Evan Gershkovich '14 Coming to Campus to Highlight Journalist's Plight—September 26
Friends and colleagues of Evan Gershkovich '14 are coming to the Bowdoin campus September 26 to keep the plight of the jailed Wall Street Journal reporter in the spotlight and highlight the ongoing struggle for press freedom in much of the world.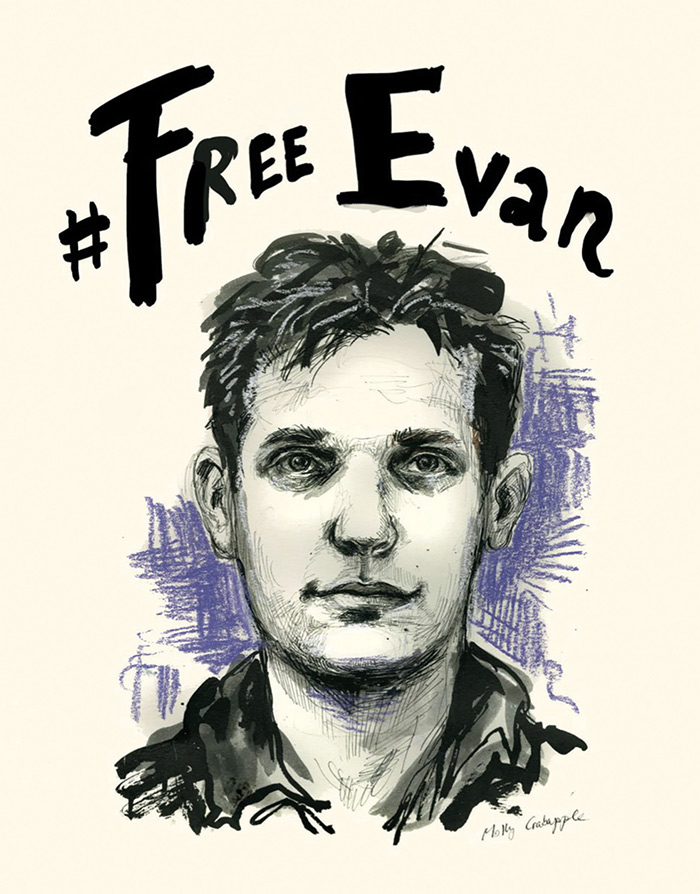 Gershkovich, who was based in Moscow, was arrested by the Russian authorities five months ago while on assignment in the city of Yekaterinburg in the east of the country and charged with espionage, although no evidence has been presented. Today he remains behind bars in Moscow, in pretrial detention for at least another three months, in spite of repeated calls for his release from the White House, US lawmakers, the United Nations, international media organizations, and others.
"Journalism is Not a Crime," a community conversation will be held on campus on September 26 to talk about Gershkovich, his work as a journalist, his life as a student, and the broader theme of the challenges facing independent journalism in places like Russia. The event is the brainchild of Gershkovich's Bowdoin friends and fellow journalists Linda Kinstler '13 and Nora Biette-Timmons '14. The gathering, they said, will be a chance to bring Gershkovich's friends, teachers, colleagues, and supporters from Bowdoin and beyond together to rally support for Evan, and to underscore the threats to journalists all over the world.
"Our friend and colleague Evan has been imprisoned in Moscow for five months, simply because he was doing his job," said Kinstler. "We want to make sure that Evan comes home as soon as possible, and want him to know that we are thinking about him and keeping his case front of mind."
The discussion panel, to be moderated by Professor of Government and Asian Studies Henry Laurence, will include A. Leroy Greason Professor of English Brock Clarke, who has fond memories of teaching Gershkovich in his creative writing class. "I thought the world of Evan when he was a student, and I think the world of him as a journalist, and a human being. I look forward to talking and hearing more about him on the twenty-sixth," said Clarke.
The panel is also due to feature the WSJ's Washington editor, Paul Beckett. "What happened to Evan," said Beckett, "is indicative of the increasing risks faced by journalists around the world, and it's critical we continue to highlight not only his case but also how this sort of assault on journalism ultimately impacts everyone. Press freedom is absolutely essential for a free society, and we're grateful for all of Bowdoin's support for Evan as well as the opportunity to bring this important discussion to campus."
"Having so many people come together from different parts of Evan's life to plan this event was very important to us, and we are so grateful to everyone who's helped make it happen," said Biette-Timmons.
The event will be held Tuesday, September 26, 7:30 p.m.–8:45 p.m., in Pickard Theater, Memorial Hall, and will be livestreamed at bowdoin.edu/live.