Public Service Program Takes Advantage of the Virtual Life
Published by Rebecca Goldfine
This semester, despite it being an unusual one, Bowdoin Public Service (BPS) in Washington is providing a cohort of sophomores the opportunity to discover what working in government and public policy looks like in real life.
"We have been able to develop and support a cohort and a robust experience despite the challenges of being entirely virtual," said Associate Director of the McKeen Center Sarah Chingos, who runs the Bowdoin Public Service Initiative.
Designed for sophomores interested in public service, BPS in Washington is a seven-week seminar offered every spring to give students an immersive experience and close-up view of the federal government.
But while COVID-19 has upended many aspects of the normal agenda, there has been an upside to the situation: Chingos has been able to cast her net widely to engage guest speakers from around the world and across the country.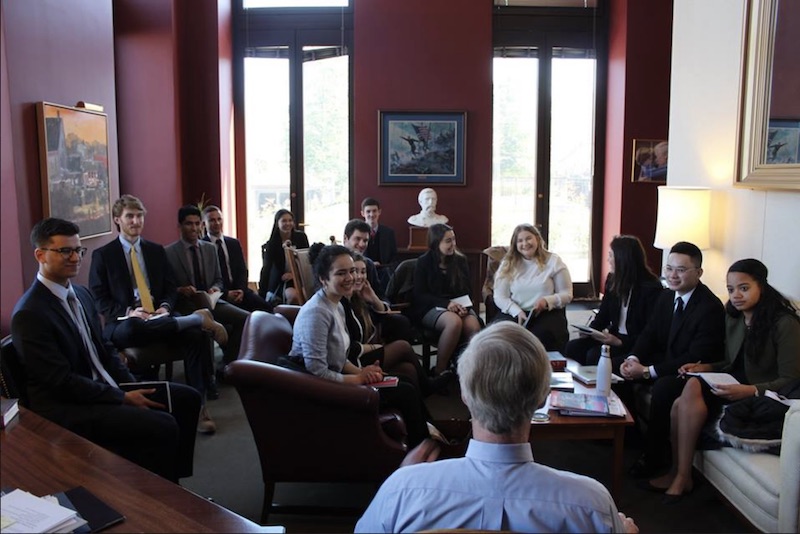 Bowdoin Public Service in Washington is an intensive program for a dozen sophomores that begins at the start of the spring semester. It consists of a seven-week, on-campus seminar that covers the three branches of government, foreign policy, economic policy, national security, international development, campaigns, and other topics. 
In typical years, BPS culminates over spring break with a fast-paced, meeting-filled week in Washington, DC, in which students talk to elected, appointed, and career officials in all three branches of government at their place of work. Students travel around the city to speak with people—many of them alumni—who work at places like the Environmental Protection Agency, the State Department, the Capitol, and the Congressional Budget Office.
Outside speakers are a critical element of BPS in Washington. During each seminar, Chingos invites professionals working in government or a related capacity to come to campus to talk about their careers, and how their work contributes to policy-making or influences some aspect of Americans' lives.
"This year, we have more opportunities for geographic diversity with our speakers," she said. While most are based in DC, guests have Zoomed in from Jordan and North Carolina, too.
The program's first speaker was Mariya Ilyas '13, the vice consul at the US Embassy in Jordan, who met with students on February 16. To accommodate the seven-hour time difference between Brunswick and Amman, BPS students Zoomed with Ilyas earlier in the afternoon than they usually meet.
Ilyas chatted from her apartment. All of the students were in their dorm rooms. Nonetheless, they had a lively Q&A in which students asked many questions about her diplomacy work and how she got to where she is today. 
The virtual format created a slightly more relaxed group dynamic, Ilyas thought. "I actually think the presentation through a virtual setting allowed for a more intimate and less rushed experience," she said. "I hope what students took away from my talk is that it's not their major, but rather, their commitment to service that can lead to a career in international affairs," she added.
Another development is that the program is now old enough—in its fourth year—that Chingos can call on former BPS participants to meet with current students to offer "mini" professional development sessions, each about thirty minutes long. "We are starting to build a community of Bowdoin Public service alumni, and I am calling on these young professionals now," Chingos said. 
For instance, Artur Kalandarov '20, a research associate at the international consulting firm The Cohen Group, spoke about how to write a policy brief. Two alumni—Laura Howells '20, a legal analyst with the global law firm Kobre & Kim, and Riena Harker '20, a paralegal with the National Environmental Law Center—offered tips on finding public service internships.
Chingos also replaced the written weekly reflective journal this year. Instead, she divided students into three smaller groups that meet weekly with their upperclass leader to discuss what they've heard and learned. This year, the leaders are Noelia Calcano '21, Chanel Matthews '21, and Milo Richards '21.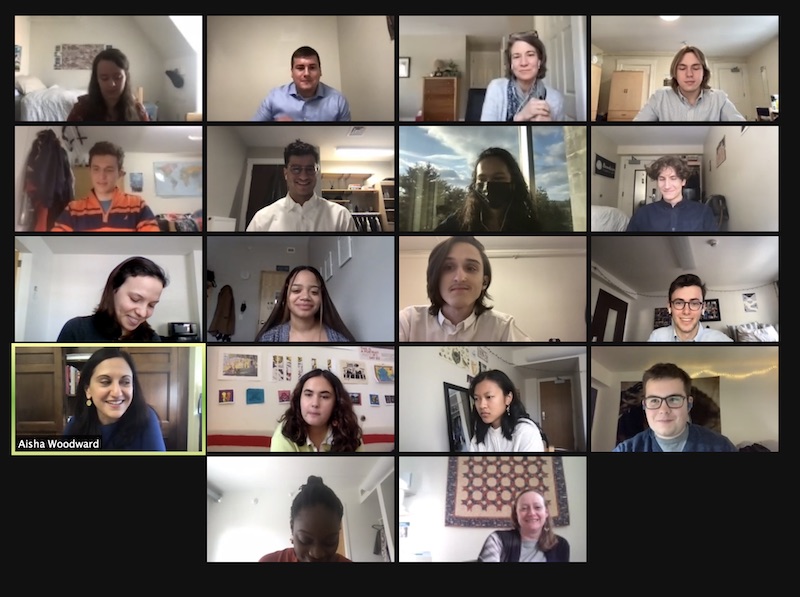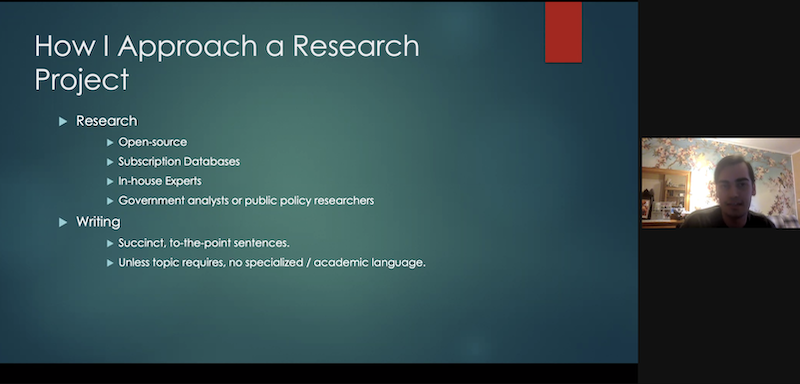 Calcano said these in-person gatherings are a welcome change from having to meet virtually in almost every other school-related situation. Giving students the chance to get to know one another is important, she added, because one of the most valuable parts of BPS is that it forges a "community of people who are passionate about public service."
"We're taking advantage of all the in-person experiences we can safely have," Calcano said. 
The major adjustment to this year's BPS in Washington program is that students weren't able to travel to DC over spring break because of COVID-19 protocols. Instead, the group spent two days at the Schiller Coastal Studies Center's new retreat facility.
The twelve sophomores and three leaders, plus Chingos, each had their own bedroom, where they Zoomed with guest speakers. But they did share meals and came together to debrief in the large hall. And they gathered around the outside fire pit as a group.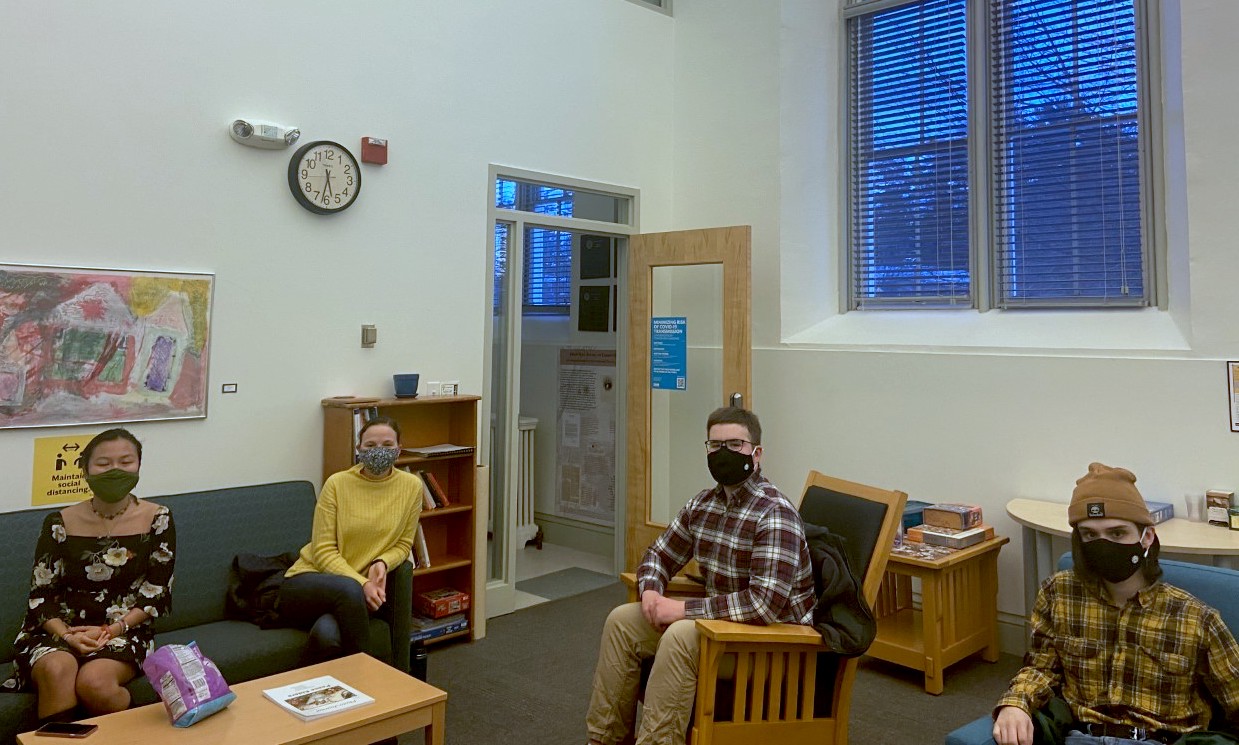 Chingos called the spring break retreat "Deep Dive DC." The students had meetings with nine alumni, including US Ambassador Thomas Pickering '53; Jorge Almonte '98, the assistant chief of the US Department of Justice's Tax Division; William Cohen '62, former secretary of defense; Emily Hubbard '07, assistant director at the US Department of Justice; and Kristin St. Peter '96, principal deputy general counsel at the Department of Defense.
To encourage students to be well-prepared for all BPS meetings with diplomats, politicians, attorneys, chiefs of staff, and others, Chingos always appoints two sophomores to introduce each guest. They're responsible for researching their careers, coming up with questions, and moderating the conversation.
"I really believe in the professional component of this—that our students need to be prepared and to know who they're talking to," she said. "Asking good questions is a key piece of this. If they were in-person, they'd be asked to show up professionally, and it is still an expectation." 
After BPS wraps up at the end of March, Chingos is encouraging the participants to apply for one of the fellowships Bowdoin offers every summer to support public service internships in Washington, DC. Additionally, Bowdoin supports several public service fellowships in Maine.
"The hope is that this program provides students with both the foundational tools and the introductory networks to begin to seriously consider the ways in which they might serve the common good throughout their professional lives," Chingos said.