Published March 15, 2021 by Bowdoin News
Bowdoin Announces Recipients of Alumni Council Awards
The Alumni Service Award and Distinguished Educator Award, bestowed by the Alumni Council, recognize members of the Bowdoin community for their exemplary achievement and dedication.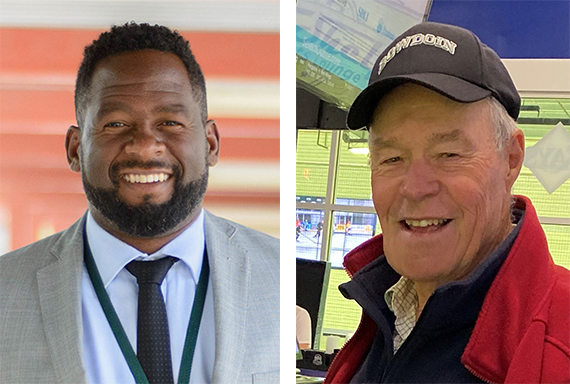 Alumni Service Award
For his long and outstanding devotion to the College, Albert E. "Ted" Gibbons Jr. '58 has been named the recipient of the 2021 Alumni Service Award, the highest honor given by the Bowdoin Alumni Council. 
The award is presented each year in recognition of an individual's record of volunteer service to the College.
In the six decades since graduating from Bowdoin, Gibbons has served the College in more than a dozen distinct volunteer roles, from the grassroots level to the rarified position as a member of the governing boards. Read more.
Distinguished Educator Award
For his extraordinary contributions as an inspiring teacher, Leroy R. Gaines '02 has been chosen to receive the 2021 Distinguished Educator Award. 
The award was established in 1964 to recognize outstanding achievement in education (teaching or administration) by a Bowdoin alumnus or alumna in any field and at any level of education.
Described as a leader in the "inclusion revolution" in the public schools of the San Francisco Bay Area, Gaines has drawn upon his personal experience to mobilize schools and the community to ensure that classrooms are safe and inclusive places for all students, regardless of their race, gender, class, or sexual orientation, having what has been described as "a profoundly positive impact on hundreds of young boys and girls." Read more.

The awards will be presented during this year's virtual Reunion Weekend (June 3–6, 2021), at which time Juan Bonilla '95, recipient of the 2020 Common Good Award, will also be celebrated.