Back on the Stage at Last!
Published by Tom Porter
For Associate Professor of Theater Abigail Killeen and her colleagues it's a leap into the unknown. Killeen is director of Cows of War, a two-act political satire based on an ancient Greek comedy. It's the latest production to grace the stage at Pickard theater and it's happening under unprecedented circumstances.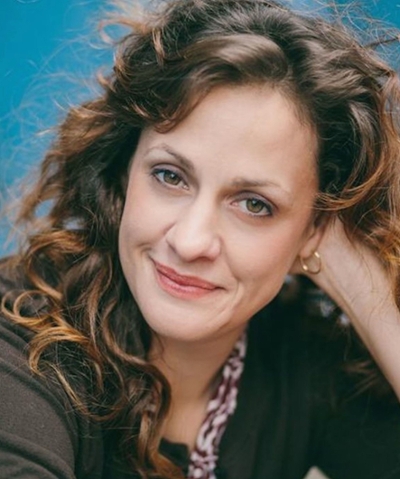 The play was performed to an empty house over spring break. The performance was recorded by a professional camera crew, live edited, and will be streamed as a one-hour show later this week. It's the first time Killeen or any of her cast and crew have done anything like this. "It feels really vulnerable because we all had to step into a space we know nothing about and it's so frightfully public—but it also feels bold in the best possible way," she said.
The fact that this production happened is itself a triumph of sorts, said Killeen. "There were many hurdles to overcome. We had funding for a spring production, but the College was still determining safety guidelines for in-person instruction. So, we had to make a plan that was flexible and could shift really quickly, but we also knew we might have to abandon it altogether if the College deemed it unsafe."
With no live audiences on the horizon, said Killeen, this was always going to be a streamed performance, so the first major hurdle was dealing with the licensing companies. "It was frustrating, as many of them have not caught up with the new reality and will not let titles be streamed."
It was then that Killeen realized the answer was literally on her doorstep. "I remembered reading a play a couple of years ago called Cows of War, a biting political satire, adapted from a play called PEACE by the ancient Greek writer Aristophanes." It was written by Callie Kimball, who, as well as being a respected playwright, is the academic coordinator for the Department of Theater and Dance.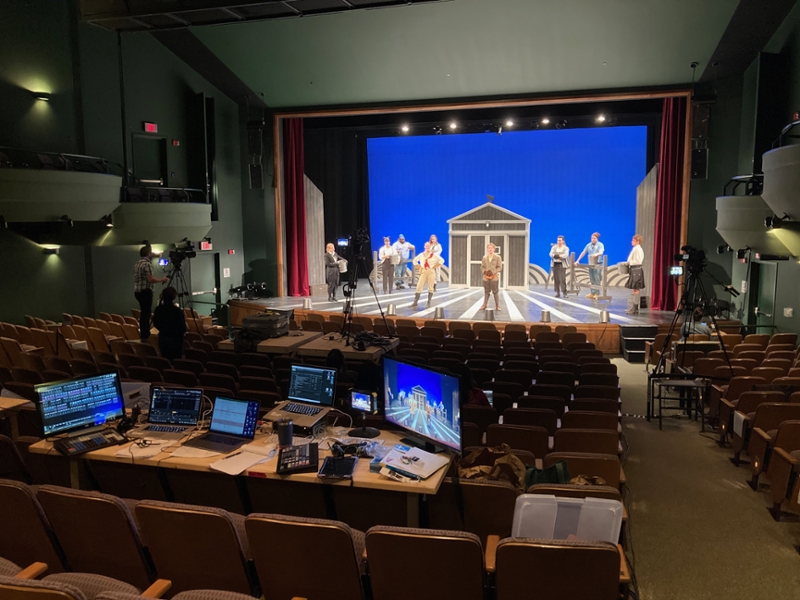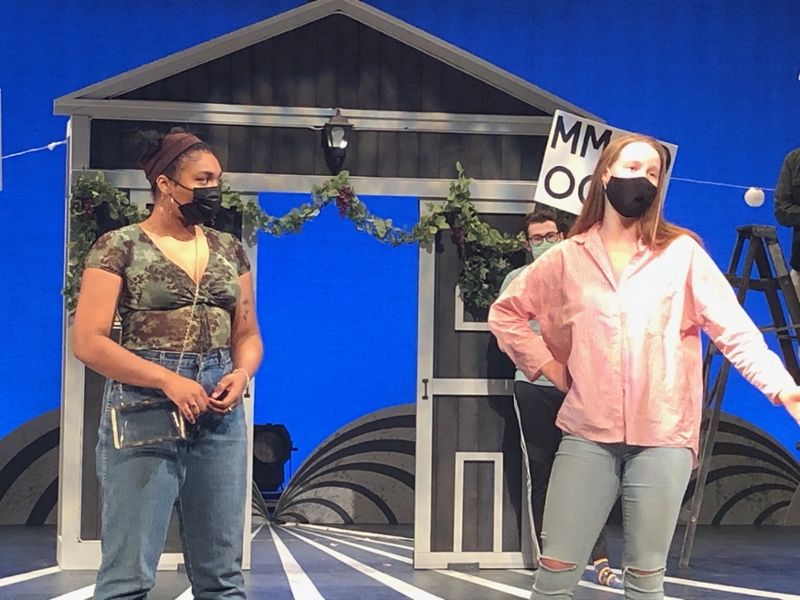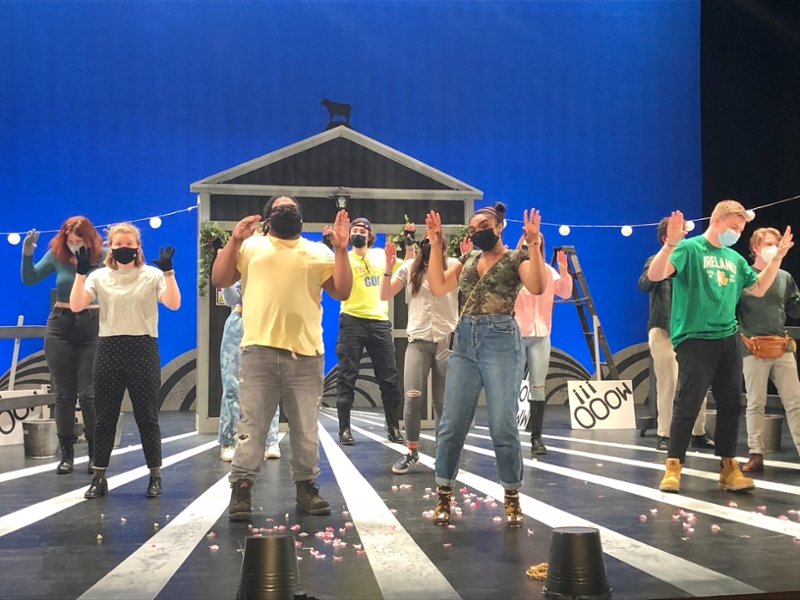 "Callie kindly gave us permission to stream the play and agreed to rewrite it to make it relevant to the 2020 presidential election—it was originally written in 2008. She also shortened it to just under an hour." 
The next hurdle was how to rehearse the play. Killeen started rehearsing with students over Zoom in January. "At the time I thought 'we're not going to be able to finish this—the state will shut us down or Bowdoin will move to a different status, but we will do the best we can.'" Then the College allowed the students to have in-person classes, which them to get together for rehearsal, as long as physical distancing, masking, and other COVID-19 protocols were followed.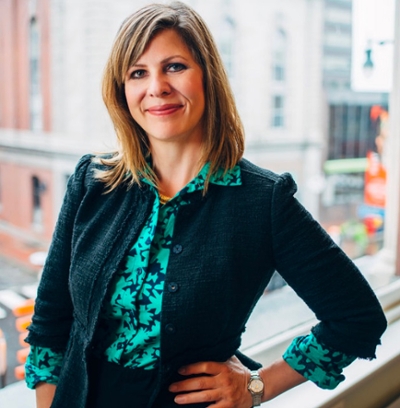 This was a step forward, said Killeen, but it still left many questions unanswered about how to put on a performance. "How do you get actors wearing masks into make-up? How do you conduct a costume fitting while maintaining physical distancing? How can you stage a show with everyone six feet apart? How do we use props if only one person can handle them through the course of the show? Also, there's a fight scene in the play. How would we do that without physical contact? We came up with answers for all these issues, with incredible out-of-the-box, creative, collaborative thinking. Then came the best news: the College came up with a plan that would allow the actors to remove their masks for the taped performance," she explained.
The solution, which has also been offered to Bowdoin athletes to enable them to compete,  required the cast and crew to undergo antigen testing. In addition to their regular twice-weekly COVID-19 tests, they had additional antigen tests to screen for viral proteins as an extra layer of precaution. "It was a remarkable effort by the staff," said Killeen. "Mike Ranen and his team showed up on a Sunday morning and tested us for the next three days as we moved into the theater for the technical run through, the dress rehearsal, and the actual performance."
The final hurdle for Killeen and her team was the technical challenge of taping the performance. "We ended up using three cameras at different angles to film the play, which we recorded 'as live,' while I called out which cameras to use for which scenes. We also filmed each twice so we had more footage to choose from. This production was a challenge for everyone, and I'm thankful and really proud—not just of the cast and crew, but of everyone at Bowdoin who sacrificed time, energy, and resources to make this happen."
Cows of War will be streamed on April 1 and 2 at 7:00 p.m. ET. Click here to watch.  
Check out this audience dramaturgy packet for more information about Cows of War, including an interview with playwright Callie Kimball.