Published September 22, 2020 by Rebecca Goldfine
Recent Grads (and Seniors) Find Their Way in the Pandemic Economy
Even during an economic slowdown and a brutal pandemic, there are positive stories to tell about Bowdoin students and recent graduates finding jobs they love.

Itza Bonilla Hernandez '20 just last week received her first full-time job offer, from C Space—a global customer agency—as an associate consultant for consumer research in their Boston, Massachusetts, office.
She scored an interview after sending in a creative résumé that showed off her personality. Then she survived a three-and-a-half-hour interview. She credits her preparedness to Bowdoin's Career Exploration and Development office (CXD) and to a career accelerator course she took through an online program with Creative Alignments (CA) this summer. The company provides skills training and walks recent college graduates through the job search process from start to finish. 
After seven months of steadfastly looking, Bonilla Hernandez said she is thrilled to have found her job, and so soon after finishing the CA Launch course. Indeed, the program wasn't even completely wrapped up when she signed her contract. "C Space is awesome, and I am so happy I landed this position after my first interview," Bonilla Hernandez said.
Earlier in the summer, Bonilla Hernandez also received an Employment Accelerator Award from CXD to work as a social media marketing assistant to Kyle Hegarty '99, who had just published a new book.
The accelerator awards were mini grants that CXD quickly pulled together last spring to offer to graduating seniors once it became apparent the pandemic would depress the job market. Almost one hundred seniors received an award, funding short-term internships or independent projects.
Many alumni reached out after hearing about the award program, offering different types of short-term opportunities to seniors. Some of these temporary positions have now turned into full-time jobs.
After Dominique Johnson '11 received an email from Bowdoin about the COVID-19 impacts on graduating students, she connected with the CXD, offering to create internships for students under her new role as senior director of community engagement at the Center for Policing Equity. Following the murder of George Floyd, Johnson "scaled the team in line with the rapid ascension of CPE to meet the needs of communities ready to combat race and policing in America through harm reduction and reimagination of public safety and systems," according to the organization.
Johnson provided paid summer internships for nine students: Abigail Gurgiolo '20, Beatrice Cabrera '20, Brandon Schuster '23, Cameron Withers '21, Jason Park '21, Jiadi Chang '20, and Yaseen Ahmed '23. Two of her interns have transitioned into full-time jobs, Price Nyland '20 and Ural Mishra '20, while others maintain paid hourly assistant positions. (And Cabrera has just received a full-time job offer with the Department of Justice, Johnson reported.)
Other success stories include Reyna Parker '20, who received an Employment Accelerator Award to work as an EMT this summer. Staying in the medical field, she then landed a job as a medical assistant at Pacific Skin Dermatology in San Francisco and is currently applying to physician assistant graduate programs.
Also, photography by Darius Riley '19, who is interning at Duncan Channon, a San Francisco-based advertising agency, was recently featured on the front page of Adweek. He took the photos for one of the company's campaigns, Vote From Home 2020, that is encouraging voters in swing states to request absentee ballots.
Harrison Dunne-Polite '19 from Fidelity contacted CXD in the spring to let career advisors know his company was taking advantage of a pandemic-induced slowdown in hiring to scoop up talent. Four Bowdoin students were offered jobs—Uriel Lopez-Serrano '20, Erin Harris '20, Mamadou Diaw '20, and Seamus Keenan '20—many of them for the company's Emerging Leaders Program or as customer relationship advocates.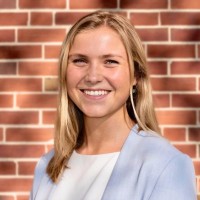 And opportunities are not just opening up to new graduates. After working at Bloomberg this summer as a financial product analytics and sales intern, current senior Sydney Reaper '21 was promised a full-time position at the company after she graduates next May.
Now that she's securely employed, she's trying to help other Bowdoin students find work with the company. (In a sense, she's paying it forward: last fall, Jake Ives '06, an enterprise sales leader at Bloomberg, first helped connect Reaper to a recruiter at his company.) As Bloomberg's campus ambassador at Bowdoin this year, she's been tasked with organizing information sessions, panels, and coffee chats. Bloomberg is hoping to hire at least forty college interns next summer, as well as full-time workers right now in three of its main divisions.
As she expressed how grateful she was for her own job, she added, "It offers a sense of stability that you can't take for granted right now."