Campus Thrives Despite Pandemic
Published by Tom Porter
A typical day starts early for Benjamin Ross '22. "I'm up early, around 6:30 a.m. Then I head to Farley Field to meet my friends Thomas and Levi to exercise. We either run or spread out and do a workout video. We then eat breakfast on the admissions porch between eight and nine."
His exercise routine is about to get more varied, however. As a member of the rowing team, Ross was excited to learn he'll back on the water soon, as the "Bowdoin Navy" prepares to begin practicing in one-man sculls at the community boatyard. This resumed on September 21. Additionally, on September 23, observing strict protocols, Bowdoin opened its athletic facilities for students, faculty, and staff included in the College's COVID-19 testing program.
Biology major Ross is a residential life proctor living in Osher Hall, meaning he helps first-years with their transition to College, a particularly challenging task this year, for obvious reasons. In  accordance with Bowdoin's COVID-19 protocol, he is tested twice a week, in Ross's case on Mondays and Thursdays.
"I like to schedule my test for right after breakfast so I can return to Osher straight afterward and get to work. I have most of my classes later in the day, so I usually start with some homework at my desk."
Students on campus have to keep a close eye on the College website's COVID-19 dashboard, which is regularly updated to inform community members of Bowdoin's current color-coded status and what this means in terms of permitted activities and movement.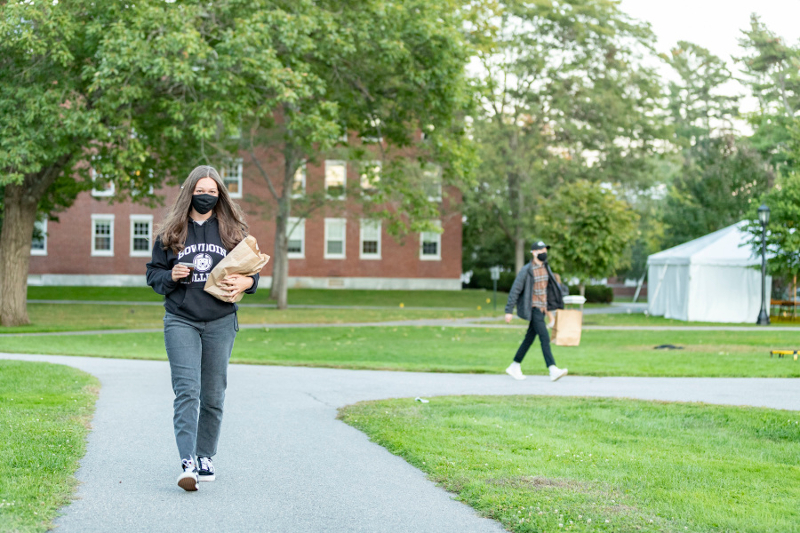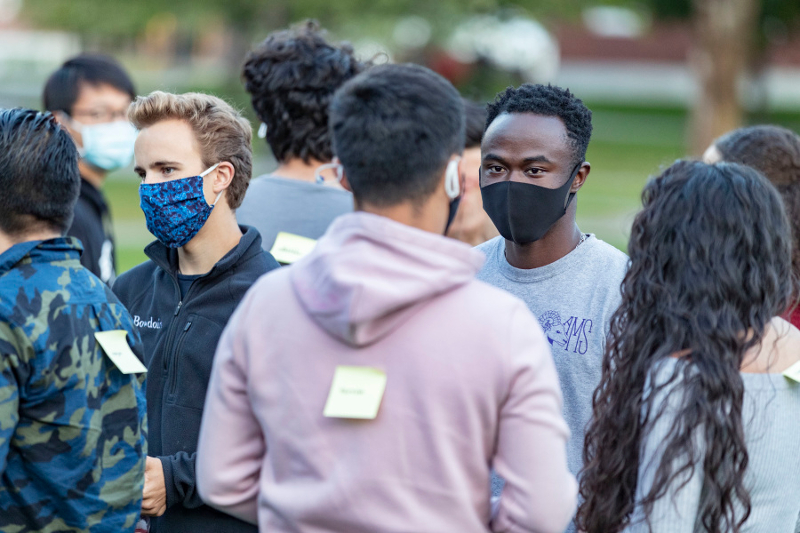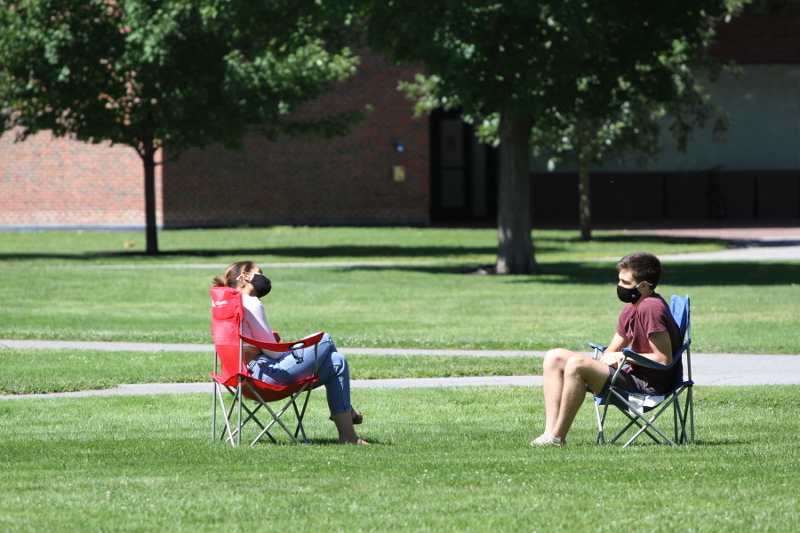 For all Bowdoin students—on campus and away—the norm this semester is for classes to be taught online. The only exceptions are most first-year writing seminars and some honors projects. While the academic experience may be similar for all, the 650 or so students who are living on campus are doing their utmost to enjoy the social aspects of College life under the current regulations.
"With no social houses and off-campus parties, people have been forced to connect in different ways than in a typical semester, and I think it has been really nice," says Ross. "Just the other night, my floor had a fire night at the BOC, where we spent about an hour singing songs and chatting—which made for a great study break."
Walking through campus on a nice day, says Ross, you're likely see multiple groups projecting movies outside or playing games. "On a weekend day outside my dorm, you can find people playing Frisbee, Spike Ball, corn hole, volleyball, and badminton while listening to music." First-year Adele Metres is a big fan of outdoor yoga. "It's one my favorite stress-relieving activities on campus," she says.
On September 13, College authorities changed the status of the campus from orange to yellow, allowing more movement and social gatherings. This means students, who must wear masks at all times on campus outside their rooms when within six feet of another person, can meet in common spaces, visit other residence halls, and gain access to targeted academic buildings and libraries.
Metres says it's not been too difficult to maintain a social life, of sorts. "I love hanging out with people outside anyway, so I'm spending a lot of time doing that! Now that we have more freedom indoors, especially with our core groups, we've had some game nights and other social events, which have been a lot of fun."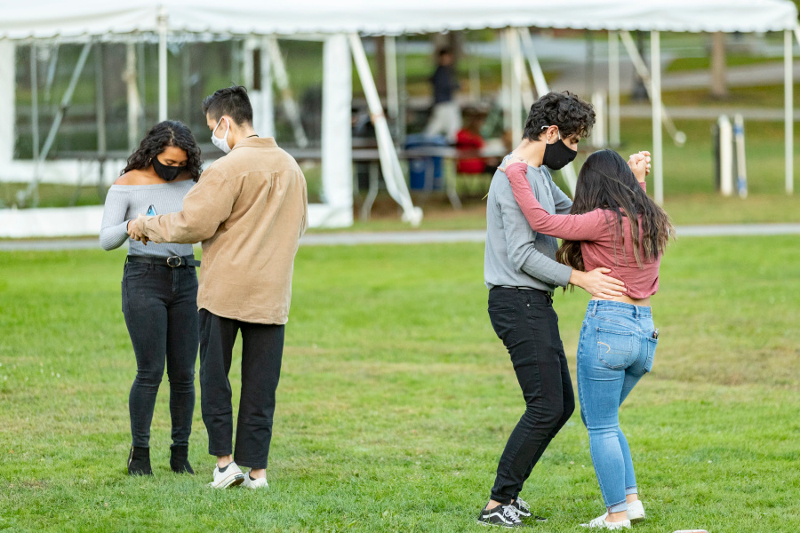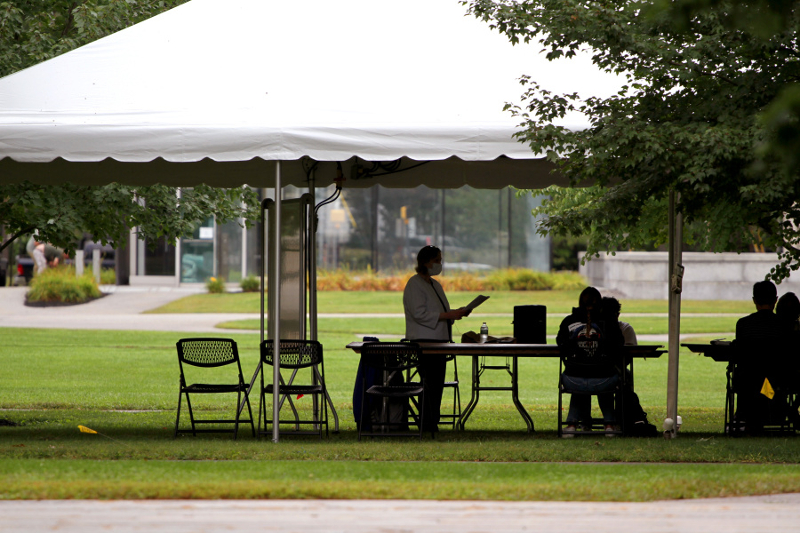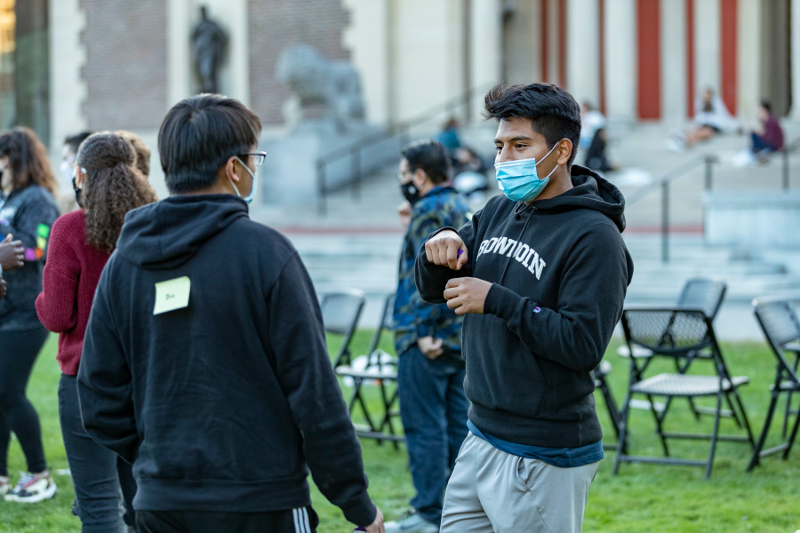 The Bowdoin dining experience has obviously been significantly impacted by COVID-19 restrictions. Students are still offered three meals a day with a variety of menu options, but there is no more self-service, and food is only available for takeout. "While it was challenging to recreate the dining experience, we feel we were able to maintain the 'magic' while adhering to new procedures and safety protocols," says Ken Cardone, interim director of Bowdoin Dining.  "We have designed a program that is easy to adapt as we move forward. I am proud of our employees' willingness and ability to change. They have shown great ingenuity."
"Dining has been fantastic," says Ross, who likes to have lunch and dinner outside with friends on weekdays. "The arrow system is incredibly efficient, and the food has been wonderful. The salads especially have been delicious." Metres has also enjoyed the dining experience. "The food is really good here, and I appreciate the friendliness of the staff and their commitment to keeping us all safe. Of course, I wish I could have typical experiences like hanging out at brunch, but I know that will come eventually."
"With no social houses and off-campus parties, people have been forced to connect in different ways than in a typical semester, and I think it has been really nice." Benjamin Ross '22.
While most students seem to be making the best of their on-campus experience, these remain challenging times for everyone, says Bowdoin's director of religious and spiritual life, Eduardo Pazos, and support is available for those who need it, whatever their beliefs. "Recently we Zoomed in with student leaders from all the different clubs associated with the Rachel Lord Center and the Center for Multicultural Life, which are both located at 30 College Street," he says. With campus now in yellow status, groups representing student Christian, Muslim, and Jewish associations have been holding meetings and prayer sessions, as well as coordinating rides to get to mass and other services, Pazos explains. The Jewish student group Hillel, for example, recently celebrated Rosh Hashanah in the backyard of 30 College Street, with Rabbi Lisa Vinikoor and others joining via Zoom.
"Additionally, we have groups like Mindfulness Over Matter, who have been a huge help to students as they lead mindfulness meditations and help our college community learn and practice meditation," says Pazos. All this work, says Pazos, demonstrates how Bowdoin's commitment to its students goes beyond the classroom. "When students come to campus, we want them to know that all of what makes them 'them' is welcomed, celebrated, and affirmed here."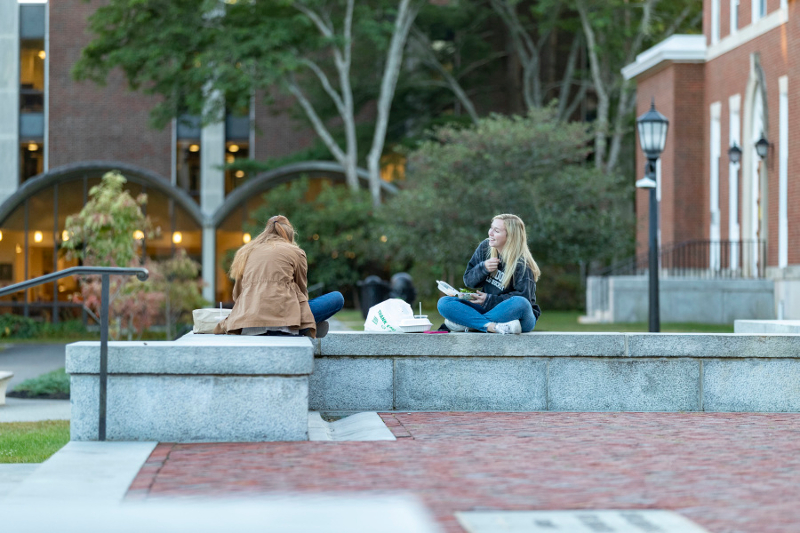 For students' more earthly needs, there is the Student Activities Office, which is always brainstorming ideas for events that could help and entertain, says Associate Director Silvia Lorrain. "Two weekends ago, we brought a favorite food truck to campus and it was great to see students out and having some socially distant fun! We look forward to doing this again and organizing other events in the coming weeks like movies on the Quad." The craft center, she adds, is packaging and preparing to hand out art and crafting supplies to those on campus. "We hope to also be able to provide students with safe access to favorite spaces, like the recording studio and music practice rooms."
The multiple restrictions and rules imposed on campus life are arguably making fall 2020 the most unusual semester in Bowdoin's history. Nevertheless, they are having the desired effect: by the last week in September, there were no active or new cases of COVID-19 among the students and just one case among the College employees. As President Clayton Rose observed in a recent email to the Bowdoin community, we have a long way to go before life returns to normal, "but, so far, so good."