Published May 19, 2020 by Rebecca Goldfine
Starting a Career during COVID-19
Though the Class of 2020 will be graduating on May 23, the Office of Career Exploration and Development (CXD) will continue supporting seniors well after they earn their diplomas.

"Our programming does not end when our school year ends," CXD executive director Kristin Brennan said in a recent interview. "One of the things we're trying to convey to seniors is: If you're wondering whether you can still call us after May 23, the answer is yes! You always could, but you certainly can now. We're going to stick with you for quite some time."
The Current Job Scene 
While many seniors are still finding jobs and internships, there is no doubt the employment outlook for recent graduates is much less promising than it was a year ago.
By the time of Commencement in a typical year, around 60 percent of seniors have committed to a job, graduate school program, or fellowship, according to the CXD office. So far this year, that number is around 40 percent. 
Adding to the uncertainty, a few organizations and businesses that extended offers to Bowdoin seniors have delayed their start dates. Additionally, many retail and food service establishments—fall-back positions that can sustain seniors while they search for a job in the field of their choice—are not hiring in large numbers.
"What is challenging for a good percentage of the senior class is that the time when they get offered a position is usually mid-spring to early summer," Brennan said. "And right now, most organizations are in a holding pattern." 
That said, she added, "some organizations are still hiring—a senior has gotten a job almost every day for the last two weeks—often with help from our alumni and long-term employers. And a few employers have realized that now is a great time to scoop up talent."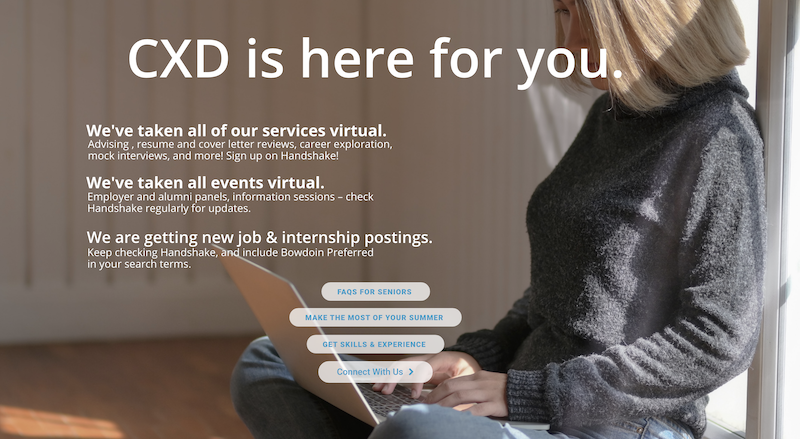 Funded Internships for Seniors
This summer, CXD has found the funding—through its own budget and donations—to create a "spin-off" of its Funded Internship Program for graduating seniors.
The Funded Internship Program is usually reserved for rising sophomores, juniors, and seniors, allowing them to pursue unpaid professional opportunities, like an internship or independent project.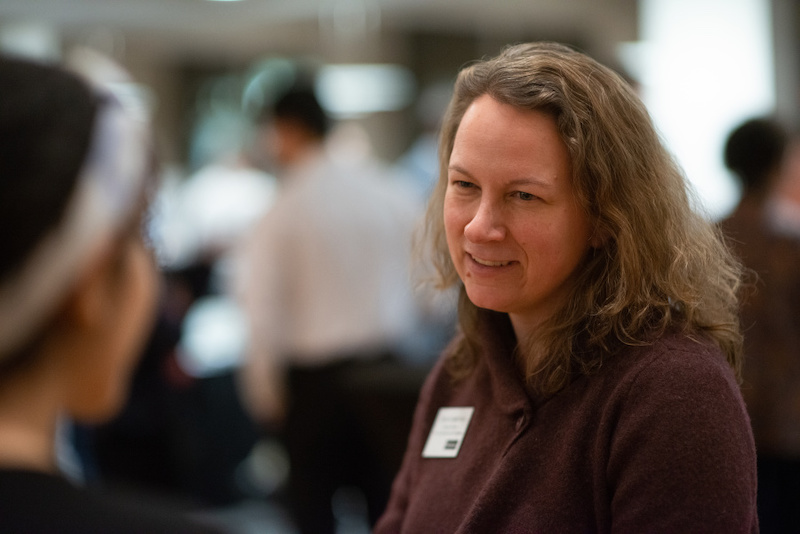 The newly launched Class of 2020 Employment Accelerator Program is providing grants of between $200 and $2,000 to up to eighty seniors. Students must submit proposals for an internship, self-driven project, or course by June 1. These endeavors could range from helping an author research or edit a book to getting certified as an emergency medical technician (EMT), Brennan said, offering examples of possible proposals.
"The intention of the Employment Accelerator [for seniors] is to give them more reason to craft a really thoughtful project or set of credentials that they might need to hurdle over an obstacle to potential employment," she explained. "And then we will reduce the financial barriers for as many as we can."
Harvard Business School Online
A unique skill- and resume-building experience available to Bowdoin seniors this summer is the Harvard Business School (HBS) Credentials of Readiness, or CORe, course. The online course is designed for liberal arts students who are interested in business school and covers business analytics, economics for managers, and financial accounting.
HBS is offering CORe this summer at a discounted price, roughly $450 per student, for Bowdoin students.
Additionally, to give the Class of 2020 a boost, CXD provided financial assistance to seniors who are interested in taking the course but needed help covering the fee.
Programming during a Pandemic, and Empathic Alumni
Since March, when Bowdoin shut its campus to help slow the spread of the virus, CXD has found online alternatives to connect seniors with potential employers, from virtual networking to one-on-one meetings  with influential alumni.
Not only did CXD migrate all of its planned spring semester events online, it also added new programs. "We're making a more concerted effort to add programming that we think is relevant right now," Brennan said.
To help steer its planning, the CXD office earlier in the semester reached out to a couple of senior leaders to solicit feedback on what they could be doing to support the Class of 2020. In response, Angel Ramirez '20, class council president, called friends and friends of friends to see what they had to say.
"That brought to fruition a lot of ideas," Ramirez said, from having a streamlined newsletter with events and job/internship postings, to online networking events with alumni that allowed breakout sessions. "I think they are taking to heart the feedback I have received on my end," he added. 
Brennan has been sending out a newsletter twice a week to seniors with listings of relevant events and new employment opportunities. And during the week of May 18th, for instance, CXD organized a session on working effectively in a virtual workplace, and a Connections networking event with alumni panelists who spoke about navigating careers in media, nonprofits, technology, and sports. After speaking to the group at large, the panelists conducted small industry-specific sessions, as seniors had requested.
In these hard economic times, many alumni have been reaching out to notify CXD of open positions in their organizations. Between mid-March and mid-May, CXD listed 290 "Bowdoin Preferred" postings from 121 employers. On May 15, President Rose wrote to all Bowdoin alumni to ask for their assistance, advice, and suggestions for our seniors still searching for jobs, and within hours, Bowdoin received eighty offers of help.
"We have a page on our website dedicated to this effort, and I expect we will see even more of our incredibly loyal alumni rallying to assist the Class of 2020," Brennan said. "In terms of a wave of empathic responses and a desire to help the Bowdoin community—we're seeing that. It's a tremendously heartening response."