The Music Goes On
Published by Tom Porter
Like his faculty colleagues across the board, Senior Music Lecturer Frank Mauceri has put in untold extra hours since the COVID-19 pandemic threw the semester on its head and forced students to learn, and create, from home.
Mauceri teaches an introduction to electronic music class, which has eighteen students, and an upper-level class on computer composition with six students.  The upper-level class is less of a challenge to teach remotely, he explains, because it involves writing computer programs and can be done anywhere. "The intro class is more of a problem, because everyone was doing their work in a campus computer lab that was set up especially for them and connected to musical keyboards. They no longer have access to that lab, which means they cannot access their work." Mauceri says his students were only halfway through their second composition project of the year by spring break, "meaning all that work is pretty much lost, so we're obviously all disappointed."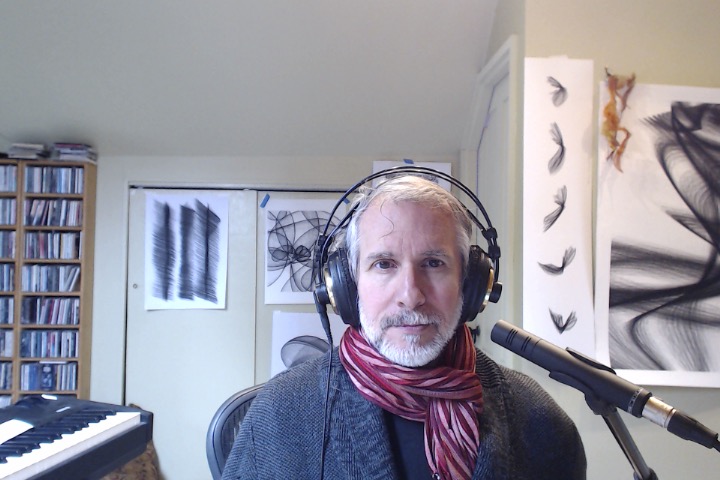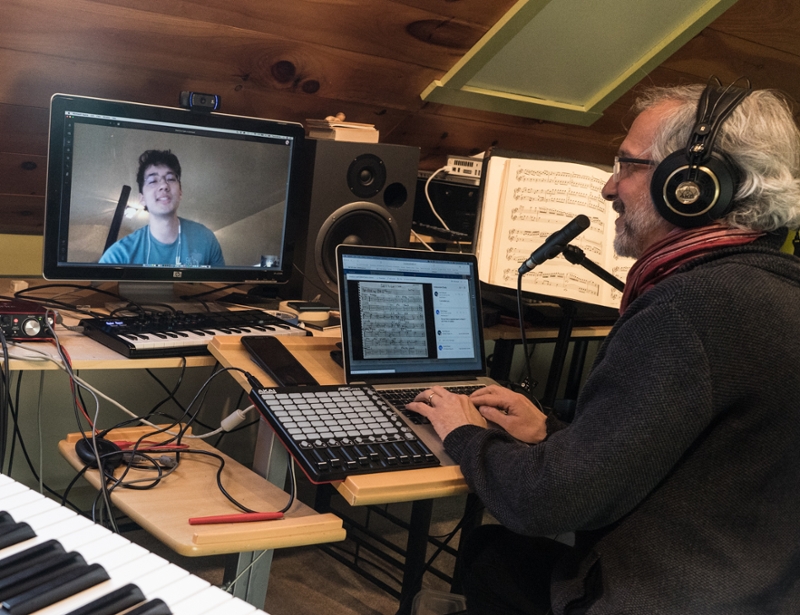 Once the remote learning situation became apparent, Mauceri began searching for some accessible software that would offer a cross-platform alternative for his class. The solution, he explains, is a program called Reaper, a software program offered by the digital audio technology company Cockos. "The students have been getting familiar with virtual keyboards, either using a mouse to click on the notes or using the typewriter keyboard as a substitute for the musical one, spanning four-and-a half octaves. It's a lot of learning for me, as well as the students, but it's a good skill set to have." The plan is that, by the end of the semester, the students, working in groups of two or three, will have completed a major composition.
Mauceri says the students have been responsive to the changes, which have involved splitting them up into mini classes of four or five. By dividing the class up, he says he's able to teach live classes using Microsoft Teams and Zoom, something that would be harder with the whole class, because some of them are on the West Coast in a different time zone. "I think the video conferencing also helps the students on a more personal level, by enabling them to connect with each other while we're in isolation."
Along with these classes, Mauceri also runs two ensembles, a jazz group and a classical saxophone quartet. "These are a different challenge, of course, because they can no longer play together. Also, the time delay with the video conferencing technology prevents them playing together remotely, but I am getting the students to record their parts individually, which they perform while listening to a 'play-along' backing track. Then it's a question of mixing the different tracks together." The aim is to have a number of these "mixed" performances ready to post by the end of the semester, says Mauceri. The approach is similar for both groups, he adds. The classical saxophone players, for example, are working on duet arrangements of Mozart sonatas, while the jazz ensemble tackles traditional standards, modern covers, and original compositions. "We may not be together physically," he says, "but the music unites us."
Keeping the Music Going
Although the venues are shuttered, there is plenty of music being performed out there. Enjoy this recent performance by music lecturer Jeffrey Christmas, who teaches classes in performance studies. 

This concert, says Christmas, was given in conjunction with the 317 Main Community Music Center in Yarmouth, who are sponsoring a series called the Social Distance Sessions. Christmas is also performing  live on statewide public radio on April 24 as part of Maine Public's Tiny Screen remote concert series. The event is free to watch but registration is required.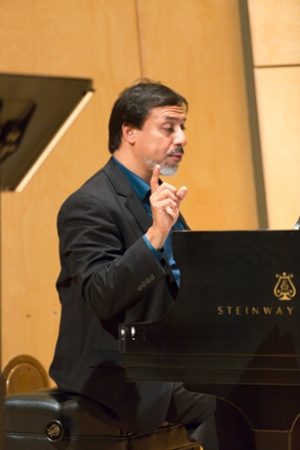 Meanwhile, Beckwith Artist in Residence George Lopez will also be giving a free concert on Zoom on April 24. That will be livestreamed at 4 p.m. and registration is required. Lopez is preparing for the online release of his next album, a selection of Cuban-inspired music. That will be available on May 1. Here's a selection of some tracks from the album: 
1. Ayles de Alma by Manuel Saumell 
2. Decisiones by Ignacio Cervantes
3. Encore by Keith Jarrett
Editor's note: The author of this article, Tom Porter, will be performing a Tiny Screen concert of solo jazz piano on Maine Public Radio on May 1.