Art Through Illness
Published by Tom Porter
It was the sickest she had been in her life, and the worst pain she had known. But, for visiting artist Andrea Dezsö, her illness—which she has thankfully now recovered from—was also the inspiration for an exhibition that includes nine original watercolor paintings.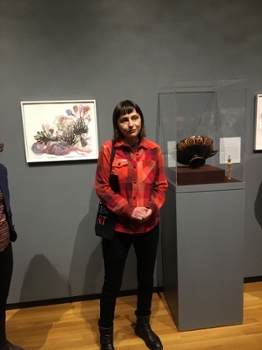 Dezsö arrived at Bowdoin in the summer of 2019 to assume her post as halley k harrisburg '90 and Michael Rosenfeld Artist-in-Residence. "On day one, I came down with shingles. The pain was excruciating," said Dezsö at a recent gallery conversation at the Bowdoin College Museum of Art (BCMA). 
"When I eventually felt well enough to do a little work, I wanted to express what it felt like to have shingles—to have this severe nerve pain, where the cause of it is unseen." From the outside, she explained, unless the accompanying rash, which is usually on the torso, is exposed, everything looks normal with shingles. "But the sensations in your body are so acute, if feels like you're being burned or cut. The visual information did not at all match the inside feeling of my body. I found this incredibly disorienting," said Dezsö, who was born in Romania but is now based in Amherst, Massachusetts, where she teaches at Hampshire College.
The result is a series of nine works called Shingles Paintings. They form the centerpiece of Andrea Dezsö: The Visitors, an exhibition at the BCMA organized by Zac Wilson '20 and Marvin H. Green Jr. Assistant Professor of Art Jackie Brown. Wilson describes the paintings thus: "These raw and turbulent watercolors translate the unsettling feeling of being invaded with invisible pain and internal distress into a language of images." Dezsö said creating these paintings was the only way she could make sense of her experience. "I know how to relate to things, how to understand things much better if I draw or paint them, especially things that words cannot easily describe."
Shingles Paintings (2019) by Andrea Dezsö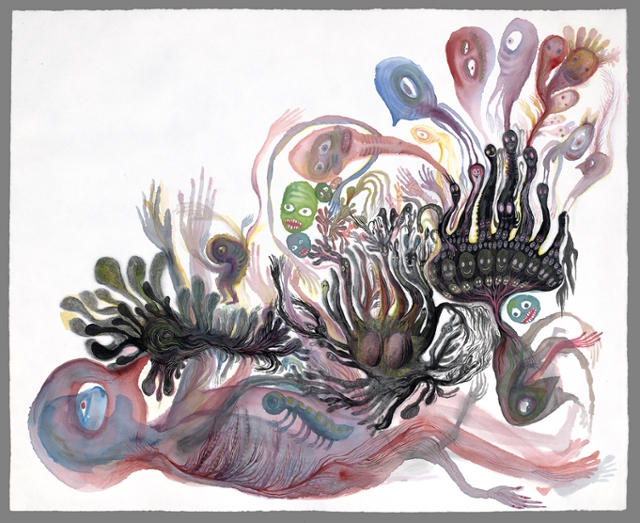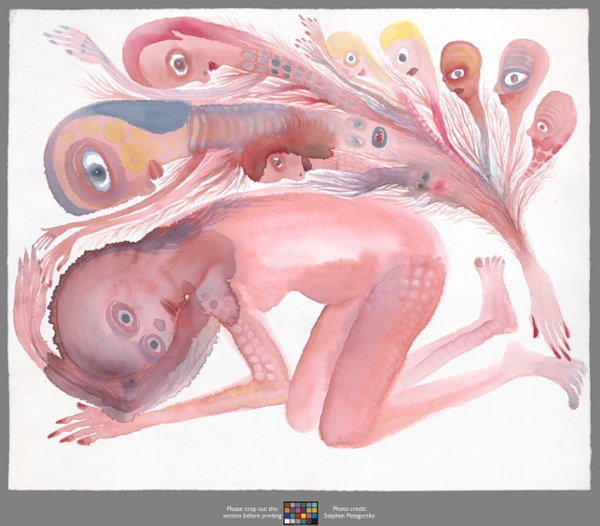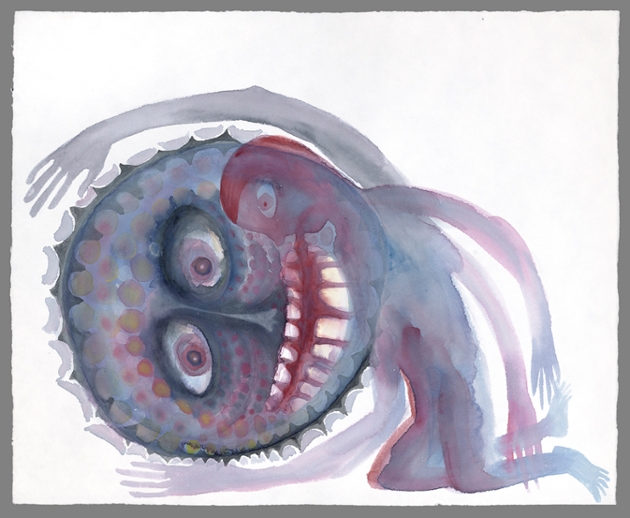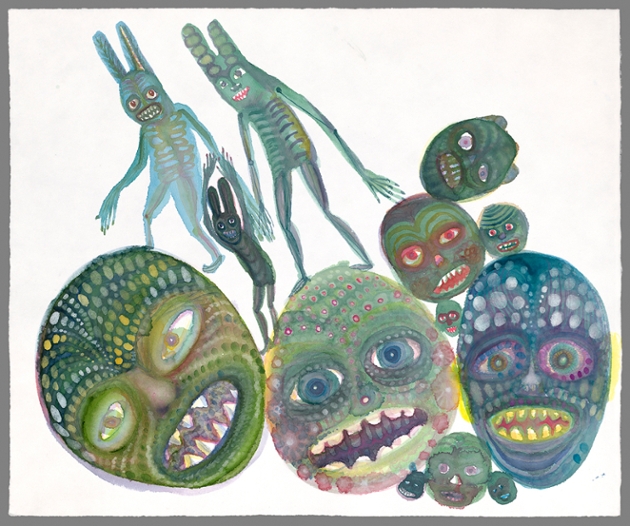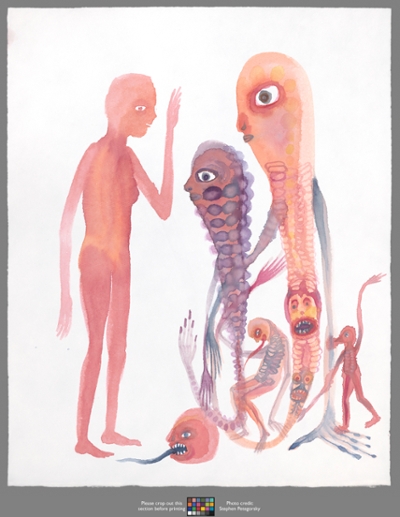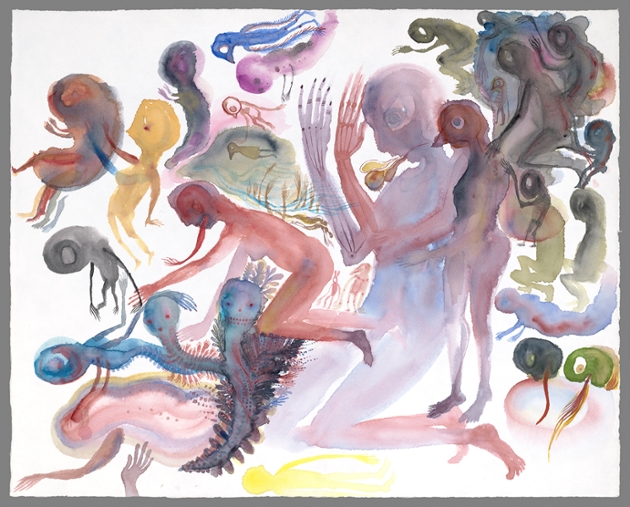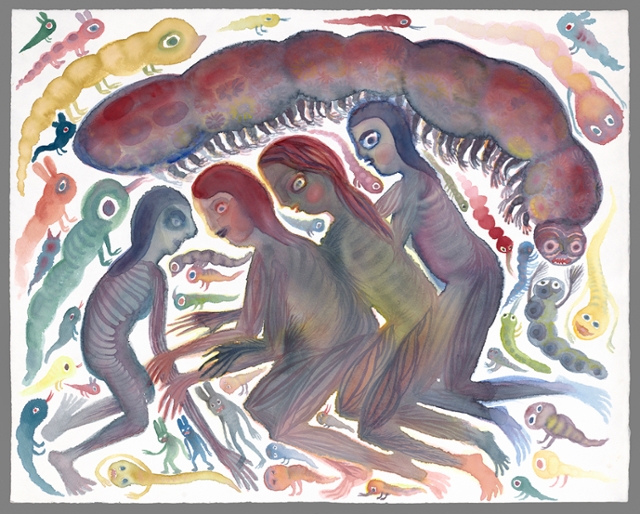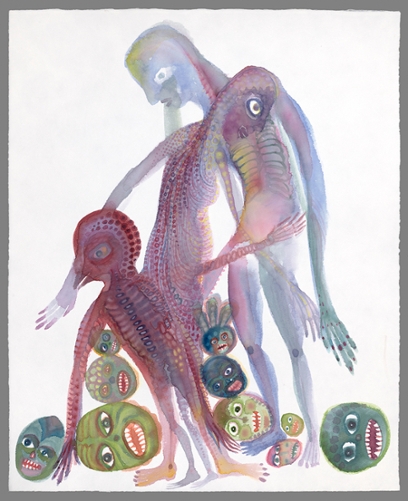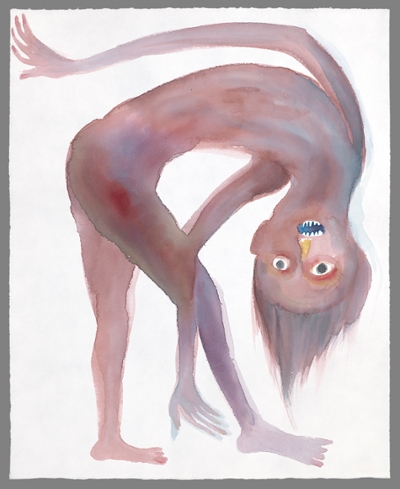 The watercolor paintings were done on Japanese papermaker Awagami's handmade Hakuho paper, which uses a blend of Japanese fibers and Western cotton. It was not a medium she had used before, said Dezsö. "I was completely captivated by the colors. When you put them on the paper, it feels like they go straight through your eyes into your heart—so intense! Then they change again when they dry, brightening and spreading out a little." The paint sometimes seemed to have a life of its own, she said, mirroring the unpredictable aspect of the illness.
To accompany the exhibition, Dezsö also selected a number of objects from the collections of the BCMA and the Peary-MacMillan Arctic Museum.  The artifacts include a communal wine cup from ancient Greece thought to provide protection from evil and an ancient Greek children's doll made from clay that was likely buried in the grave of a child. Courtesy of the Peary-MacMillan Arctic Museum, the exhibition features a selection of small tupilak figures carved from sperm whale teeth. According to Greenland Innuit cultures, a tupilak refers to an evil spiritual being in animal or human form.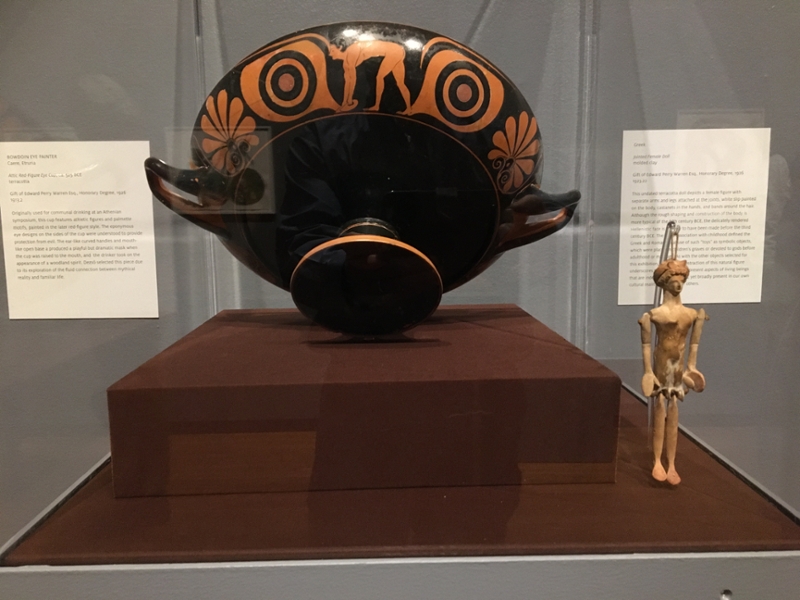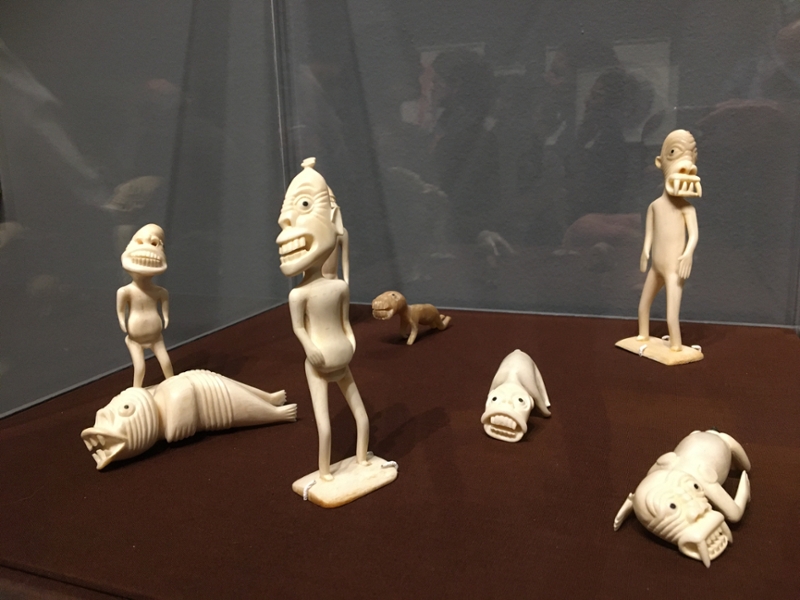 Dezsö chose these works because they fit in with the theme that inspired the Shingles Paintings, the power of unseen forces and the transformation they can bring about. As Wilson explains, "Together these pieces demonstrate the curious power of visual experience across cultures and times. They place viewers in close proximity to hybrid beings and imagined, magical, or spiritual forces that take on the guise of human figures or other lifelike forms. The abstraction and distortion reflected in these imagined creatures prompt us to consider undisclosed presences that lurk in living beings."