Published February 13, 2020 by Rebecca Goldfine
On Green Tea Podcast, Sustainability Talk Goes Down Warmly
Marie Caspard '20 and Diego Velasquez '20 launched a new WBOR radio show and podcast this fall featuring people's personal relationships with sustainability and the environment.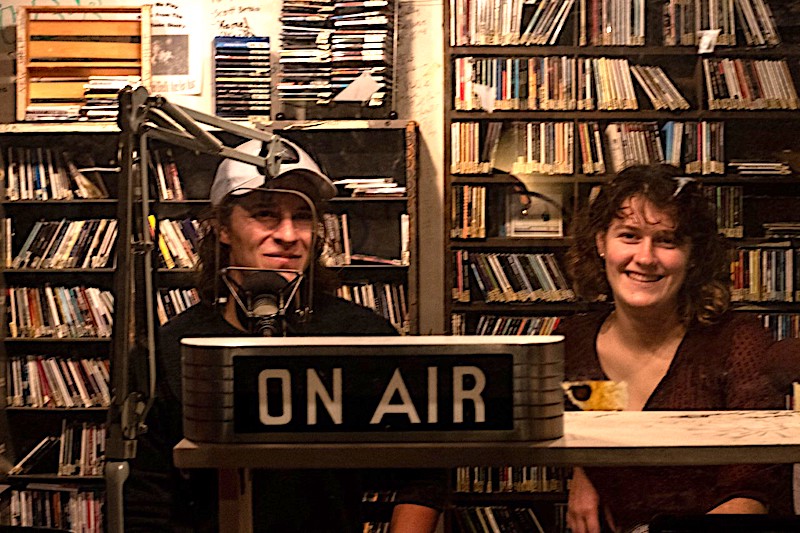 Since launching Green Tea Podcast in the fall, the two seniors have recorded seven interviews. The project is sponsored by Bowdoin's sustainability office and features students, faculty, staff, and community members, all talking about what sustainability means to them and what they do to pursue it. 
"There is something special about hearing someone's story in their own words," said Velasquez, a double major in environmental studies and government.
The format is meant to be personal, informative, and—when possible in today's onslaught of alarming news about the environment—hopeful.
As a biology and environmental studies major, Caspard already spends a lot of her time thinking and chatting about environmental issues with friends around campus and elsewhere. "But it's really fun to have more structured conversations," she said. "It's a great way for me, and hopefully for a larger public, to learn about the wide array of different approaches one can take to sustainability/environmental issues."
In the fall, the guests covered a range of topics. Ayana Harscoet '21 spoke about her involvement with Bowdoin Climate Action, an official hub of the Sunrise Movement of young activists united to stop the climate crisis. Associate Professor of Government Laura Henry described her area of scholarship—social movements and environmental activism in Russia—and how movements like Sunrise can be effective. Bowdoin's sustainability staff spoke about making the College greener. And Gulf of Maine Bookstore owner and eco-poet Gary Lawless mused about fostering sustainability through nature writing and reading. 
The variety of interviews should help broaden listeners' notions about sustainability, Caspard said. "
The term 'sustainability' can be kind of a buzzword, but it really encompasses so much in terms of how we want to see our world move forward, and I think it's fascinating to see how people address it and incorporate it into their lives, from hobbies like music or birding, to careers in community organizing or academic research," she noted.
Tuning In
You can listen to Sustainable Bowdoin's Green Tea Podcast on
Soundcloud,
as well as find it on Sustainable Bowdoin's
website
. Look out for it soon on iTunes, Stitcher, and other podcast platforms.
One lively interview features birding enthusiasts Brendan Murtha '21 and James O'Shea '20, who remark on their love of birds, share adventure stories of trying to spot rare species, and offer a few tips to people new to birding. 
"Birds are an easy gateway into the natural world, and there is enough variety that they stay interesting for a long time—potentially a lifetime," O'Shea says. "And they're accessible...[they] catch the hearts of people."
Though Murtha and O'Shea don't shy from talking about the devastating effects of habitat loss and the stress of climate change on wildlife, much of the interview focuses on their enthusiasm, knowledge, and curiosity about the natural world.
It is this kind of content that Velasquez hopes the podcast imparts. "A lot of environmental news is so down and dismal," he said. "We didn't want to create another 'the-world-is-ending' type of thing because there's already a lot of that out there."
And this motive steers them into selecting their guests. In season two, they will chat with Toby Tarpinian from Morning Glory Natural Foods Store and Jeremy Tardif of the Bowdoin Organic Garden about sustainable initiatives and environmental practices in food production. "For the students interested in environmental studies and natural resources we hope that these interviews will provide a new way to look at sustainable initiatives on a professional scale," Velasquez said.
"Our hope is to create a lighter-toned, more positive take on environmental issues," he continued. "Positive inspiration is one of our goals."