Arts and Culture Preview
By Tom Porter
A typically busy and exciting season on the arts and culture front is now underway on campus. The Bowdoin College Arts and Culture fall 2019 calendar has now been compiled and released.
Click here to view the full calendar. Here's a look at some of the events coming to campus.
This fall, Bowdoin celebrates AF/AM 50—five decades of the Africana Studies Program, the African American Society, and the John Brown Russwurm African American Center—and this is reflected in much of the programming over the semester.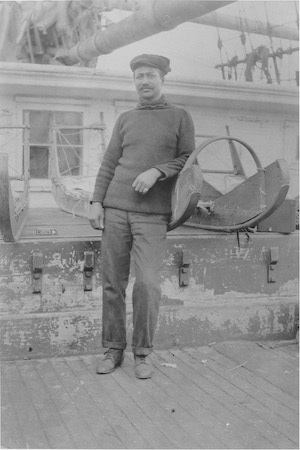 Exhibitions: The Peary-MacMillan Arctic Museum
A new exhibition opened in late August looking at the life of African American explorer Matthew Henson, who spent years exploring the Arctic with Robert Peary and in 1909 was the only other American to stand with Peary at the North Pole.
Henson was excluded from receiving the many honors showered on Peary and the other white members of the expedition, and only near the end of his life did he receive recognition for his remarkable career as an Arctic explorer.
This exhibit, Matthew Alexander Henson: First African American at the North Pole, is up until the end of December and runs in conjunction with AF/AM 50 celebrations.
Exhibitions: Hawthorne-Longfellow Library
A recently opened show at the Hawthorne-Longfellow Library also celebrates AF/AM 50. Tension/Tenacity: Africana Studies at 50 is on the second floor gallery until December 21. Culled from the College archives' collections, Tension/Tenacity seeks to consider the programs' strengths and struggles while highlighting the people who have championed their existence. The show is curated by Lucia Ryan '19.
Also new at H-L this semester is Unfolding: Pop-Up Books through Time and Space, a glimpse into Bowdoin's extensive pop-up book collection. This is curated by Emily Ha '21.
Exhibitions: Bowdoin College Museum of Art
New exhibitions coming to the Museum of Art include Assyria to America, running October 24 through December 13, 2020. The show examines the ancient and modern histories of Bowdoin's six reliefs from ancient Nimrud in present-day Iraq.
African/American: Two Centuries of Portraits explores how African Americans forged productive lives and made important social, political, and cultural contributions prior to slavery's abolition in the United States.
The early years of Maine's statehood are the focus of an exhibition of lithographs and paintings selected by Maine State Historian Earle Shettleworth H'08. Maine's Lithographic Landscapes: Town & City Views, 1830–1870 provides insights into how these growing centers of commerce and industry viewed themselves and wished to be viewed by others.
Rufus Porter's Curious World: Art and Invention in America, 1815–1860 celebrates artist and inventor Rufus Porter (1792–1884), an imaginative polymath and entrepreneur curious about art, science, and communication technologies. Both above shows run December 12 through May 31, 2020.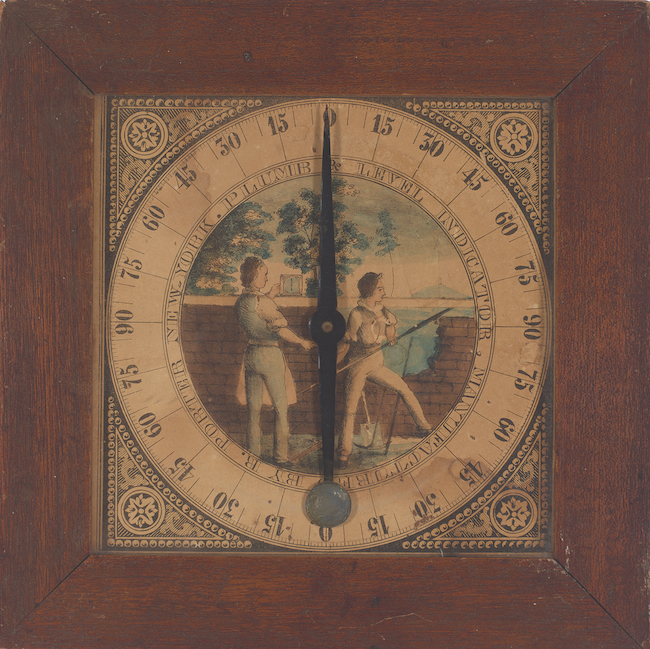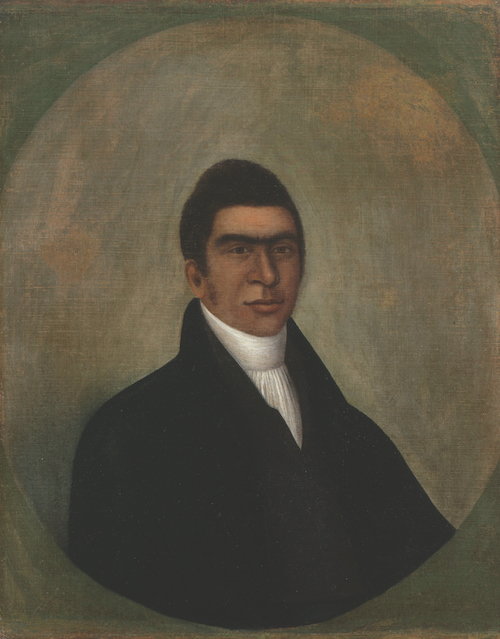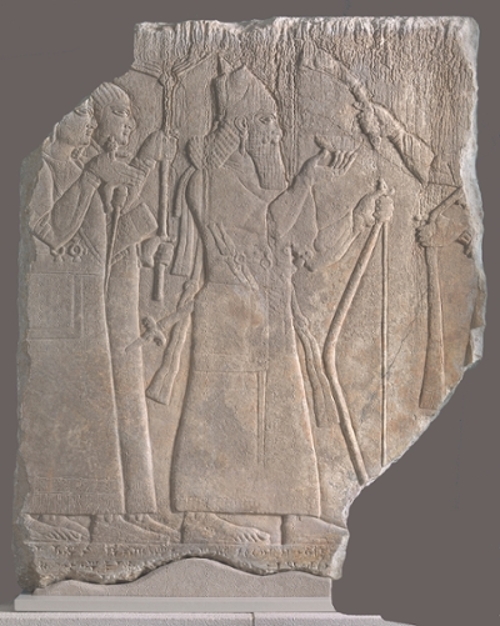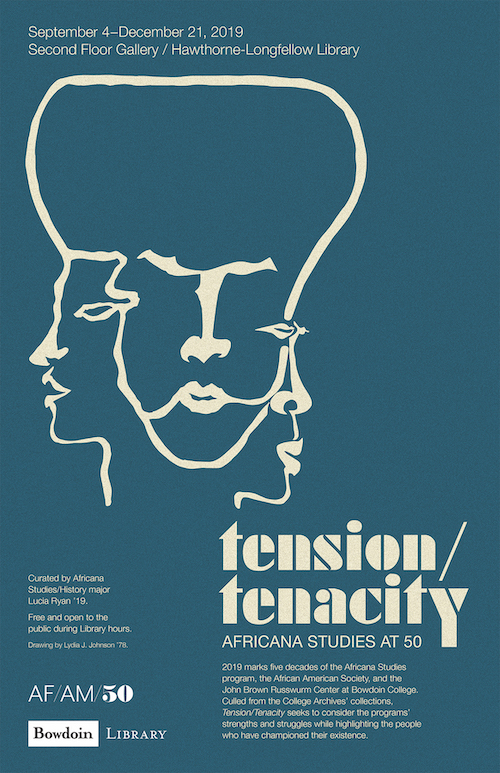 There is still time to catch a few ongoing exhibitions that are winding up this semester. The site-specific drawing and complementary interactive sound installation, Let's Get Lost and Listening Glass, are up until September 29. In the Round: Ancient Art from All Sides runs until October 13. You have until November 10 to see Art Purposes: Object Lessons for the Liberal Arts, which presents exceptional works from the collection, many on view for the first time.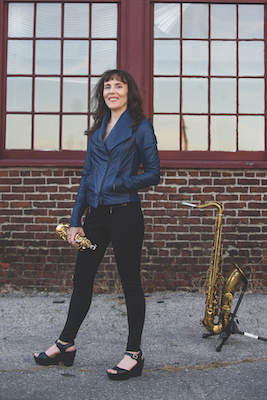 Events: Music
Chamber music, choral works, orchestral pieces, traditional music, and jazz are all on offer this semester at Bowdoin, with most events occurring in Kanbar Auditorium, Studzinski Recital Hall.
There is a combined lecture and recital on September 27 featuring musicologist Anyssa Neumann on piano. She will be talking about and playing music from the films of Ingmar Bergman at 7:30 p.m. conductor Eric Rice.
October 17 and 18, the Bowdoin College Museum of Art is putting on a couple of Music at the Museum events. This is a regular concert series featuring Beckwith Artist in Residence George Lopez on piano, playing music inspired by art works on display. There'll be two concerts on Thursday at 5:00 p.m. and 7:00 p.m., and one on Friday at noon.
Enjoy the best in contemporary jazz on Friday, October 18, at 7:30 p.m., when Associate Professor of Music and saxophonist Tracy McMullen presents her combo Ear Bus, for an evening of improvised and composed music.
Some choral treats are also on the way. On Saturday, October 26, there are two things happening: the Bowdoin Chamber Choir will perform in the chapel at 4:00 p.m., while earlier in the day Anthony Antolini '63 will lead the Bowdoin Chorus in some selections from their upcoming November concerts. Those upcoming concerts will occur on November 22 and 23 and feature a collaboration with the St. Petersburg Men's Ensemble from Russia.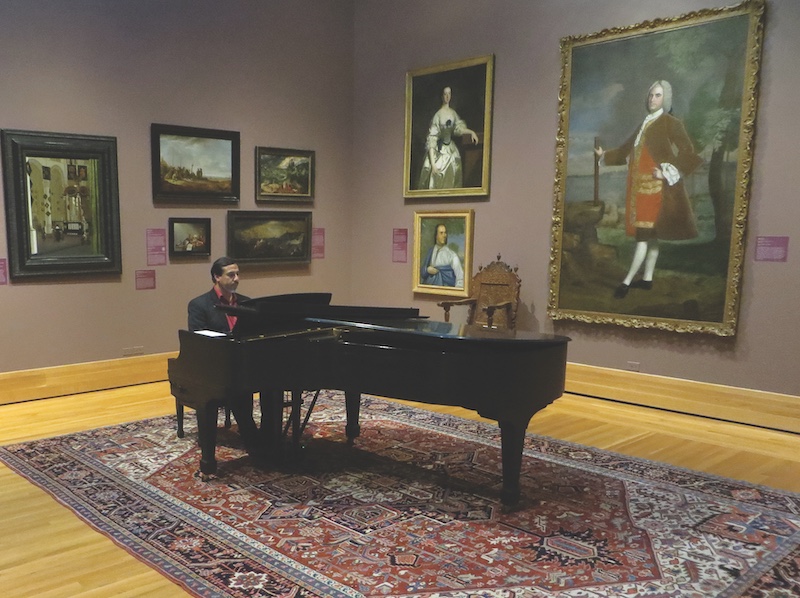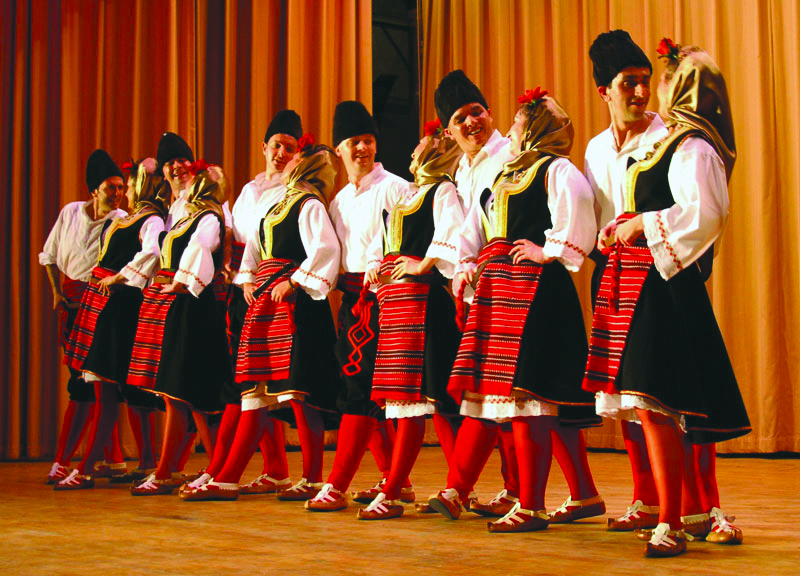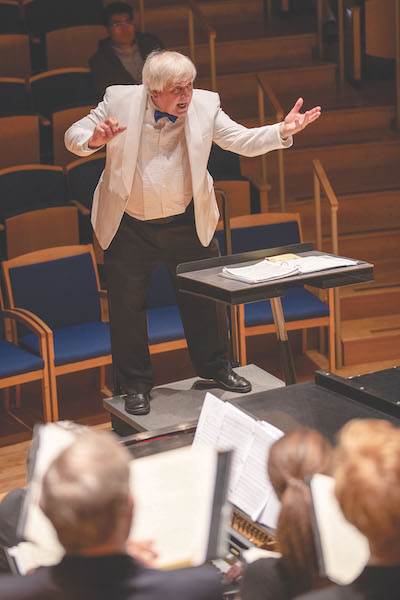 On Sunday, October 27, the Bowdoin College Concert band presents "At the Movies," a performance featuring a broad spectrum of legendary Hollywood film scores.
Folk music and dancing from the Balkans will be on offer on November 16, as Boston-area-based group Grachanitsa performs an evening of Serbian dance at the Kresge Auditorium.
The Bowdoin College Concert Band, under the direction of John Morneau, is back in action on Sunday, November 24, for a 2:00 p.m. performance of dance tunes, including music indigenous to various historical periods, countries, and cultures. The concert features a special performance surprise!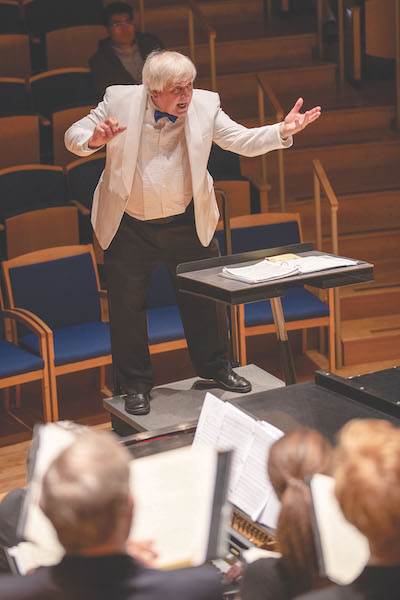 Monday, December 2, sees an evening performance from the Bowdoin Middle Eastern Ensemble, directed by Eric LaPerna and Amos Libby. Playing traditional instruments, they will present classical and contemporary music from the Arabic and Ottoman Turkish cultures.
On December 3 and 4, the Bowdoin Symphony Orchestra, conducted by George Lopez, will perform works including a violin concerto by Brahms and Stravinsky's Firebird Suite.
A number of student performances can be heard in December, including jazz nights on the weekend of December 7 and 8 and student chamber ensembles to be heard on December 6 and 9.
Also on December 6, a rare ensemble of composers and performers comes to Bowdoin, featuring Ganavya Doraiswamy (voice, electronics), Imani Uzuri (voice, tambourine), Kavita Shah (voice, piano), Sara Serpa (voice), and Rajna Swaminathan (voice, mridangam, piano). They'll be combining their talents for a unique concert performance fusing a number of cultural elements, created especially for the Bowdoin community.
The West African Music Ensemble, led by Assistant Professor of Music Marceline Saibou, will be presenting several dance-drumming traditions from the Ghana/Togo region of Africa. That's December 7.
That same busy weekend also features afternoon concerts in the Chapel by the Bowdoin Chamber Choir, under the direction of Professor Robbie Greenlee, featuring contemporary music, Irish folk songs, and gospel.
December 12 and 13 sees more Music at the Museum concerts, as George Lopez performs works inspired by the exhibitions on view.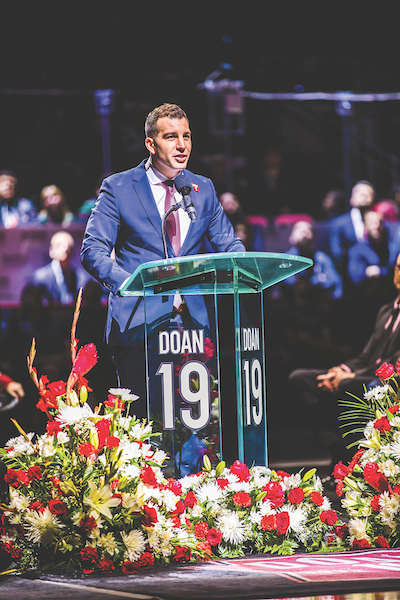 Events: Public Lectures
(note: unless otherwise stated, events will be in Kresge Auditorium, Visual Arts Center.)
John Banks, director of natural resources for the Penobscot Nation, will deliver a talk on September 25 as part of the Environmental and Social Justice Lecture series, sponsored by the Peary-MacMillan Arctic Museum and Arctic Studies Center. The presentation, "10,000 Years of Natural Resources Stewardship by the Penobscot Nation," will be in the Visual Arts Center's Beam Classroom at 7:00 p.m.
On the afternoon of Friday, September 27, Ahron Cohen '06 will be on campus for a Bowdoin Coffee Break event in Daggett Lounge, where he'll be talking about his life in the world of professional sports administration. Cohen is president and CEO of the Arizona Coyotes NHL team. Tickets are $5 for the general public and free to Bowdoin students and employees.
Award-winning Peruvian American novelist, journalist, and broadcaster Daniel Alarcón visits on the evening of September 30 to deliver a multimedia presentation called "How to Listen: Telling Latin American Stories in Sound and Print."
"Art Purposes Alumni Panel Discussion" on October 2 features several alumni who work in the art world—a curator, two gallery directors, and an artist. They'll be reflecting on the important work being done in the arts today. That's at 4:30 p.m.
Mexican artist and cultural activist Lorena Wolffer will be in Hubbard Hall's Shannon Room at 5:30 p.m. on October 3 to share stories of women and nonnormative individuals in Mexico. That talk is called "Citizen Affects and Narratives: The Voices of Others."
 "The Sourdough Project: How Public Science and History Reveal Stories behind Our Daily Bread" will feature environmental historian Matthew Morse Booker from North Carolina State University. He will deliver that lecture at 7:00 p.m. on October 10 in the Roux Center. Booker is the author of Food Fights: How the Past Matters to Contemporary Food Debates.
Earlier that day, at 4:30 p.m., Bowdoin art professor Michael Kolster will be holding a book launch for his latest work, L.A. River, a historical and artistic study of the Los Angeles River in California. Kolster relies on a nineteenth-century photographic technology to tell the story. That's in the Nixon Lounge of the Hawthorne-Longfellow Library.
The works of Tolstoy contain troubling claims about love, sex, and desire. On October 18, Russian scholar Victoria Juharyan from Middlebury and Dartmouth comes to campus to talk about some surprising tensions in the great author's works. "The Problem of Desire: Self-Consciousness and Self-Narration in Late Tolstoy" is at 1:30 p.m. in the Beam Classroom.
Indian scholar Janaki Nair, from the Centre for Historical Studies at Jawaharlal Nehru University in New Delhi, presents the Alfred E. Goltz Memorial Lecture on October 22 at 7:30 p.m. Her talk is called "Inheritance of Loss: Women's Wills and Female Personhood" and looks at the surprising and pervasive presence of women in India's historical archive.
On October 24, two of our resident art experts—classics professor James Higginbotham and postdoctoral curatorial fellow Sean Burrus—will be discussing Bowdoin's Assyrian reliefs, their long journey to the Museum, and their ancient and modern contexts in the Northwest Palace at Nimrud. That starts at 4:30 p.m.
Journalist Elaine Weiss is talking at an evening event organized by Bowdoin Votes to celebrate the centennial of the passage of women's suffrage. "The Woman's Hour: The Great Fight to Win the Vote" is the name of book and her talk, is on October 29.
NYU scholars Deena Engel, director of the digital humanities/social science program, and Glenn Wharton, from museum studies, will discuss a new initiative they have launched to access archival information about contemporary art. "The Artist Archives Initiative: The Digital Future of Preserving Artistic Practices Past," is at 4:30 p.m. on November 4.  
On November 8, Professor Evgenii Bershtein talks about how two great Russian film directors have employed the notion of universal bisexuality in their work. "Two in One: The Imagination of Bisexuality in Eisenstein and Sokurov" is at 1:30 p.m. in the Shannon Room.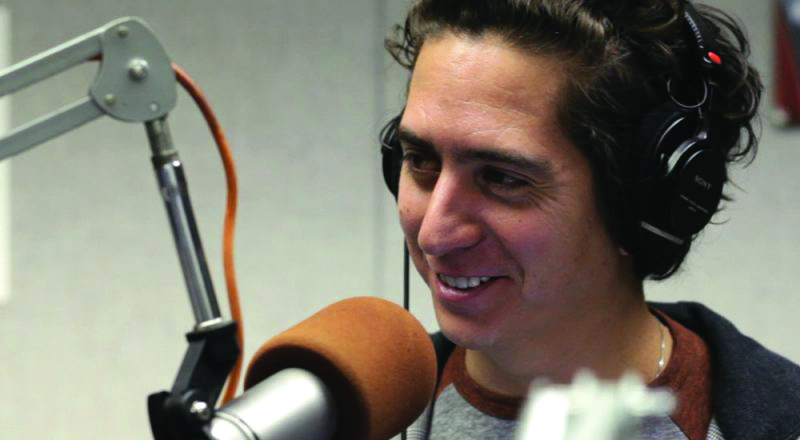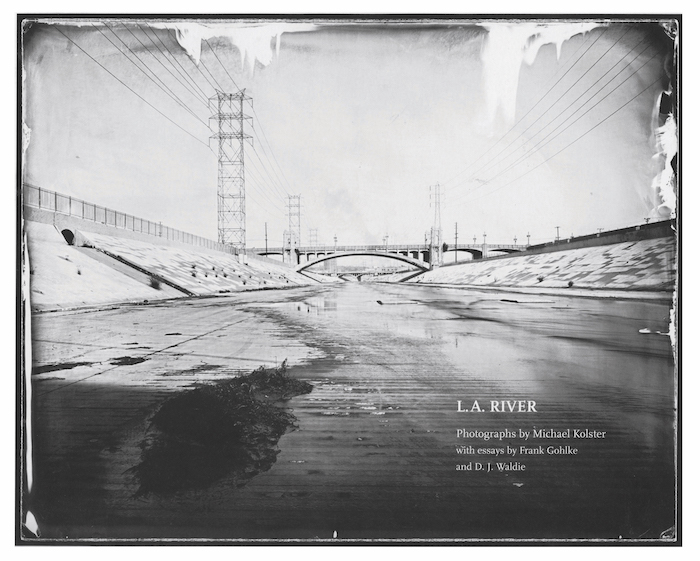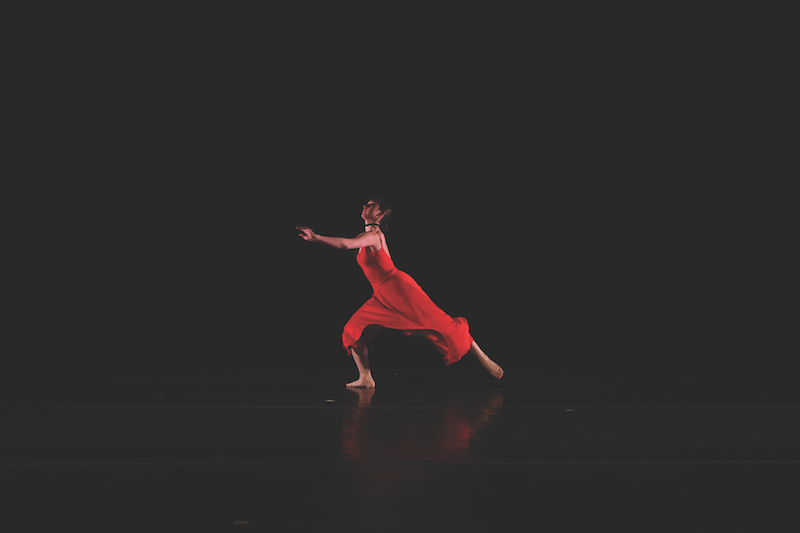 The Environmental and Social Justice Lecture Series continues on the evening of November 13 with a talk by Joel Clement, a former federal executive and whistleblower and current senior fellow with the Union of Concerned Scientists. He's also with the Harvard Belfer Center's Arctic initiative, and his talk, "From Crisis to Resilience in the Arctic: At the Front Lines of Change and Innovation," is in the Beam classroom.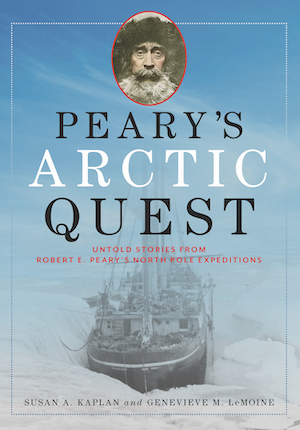 November 14 sees another faculty book launch, with Susan Kaplan and Genevieve LeMoine from the Arctic Studies Center talking about Peary's Arctic Quest, which they coauthored this year. That's at 4:30 p.m. in the Nixon Lounge.
The Kenneth V. Santagata Memorial Lecture Presents Jill Lepore H'15 on the evening of December 5. The Harvard history professor and The New Yorker staff writer and will give a talk titled "These Truths: A History of the United States," a magisterial account of the origins and rise of a divided nation, an urgently needed reckoning with the beauty and tragedy of American history.
There will be a curators' tour at the Bowdoin College Museum of Art on December at noon on December 12. University of Maine Art historian Justin Wolff and independent curator Laura Sprague will offer some perspective on the new exhibition Rufus Porter's Curious World: Art and Invention in America, 1815–1860.
Events: Theater and Dance
A lively musical revue celebrating the legacy of beloved American songwriter Cole Porter is coming to Wish Theater, Memorial Hall, October 24—27. The Department of Theater and Dance presents COLE, featuring a live band and performance by Bowdoin students. Tickets, which are recommended, are free and available beginning October 1.
The annual Fall Dance Concert is on December 6 and 7 in Pickard Theater, Memorial Hall. It features choreography by Bowdoin dance faculty Adanna Jones, Gwyneth Jones, Vanessa Anspaugh, and Shaina Cantino, with performances by Bowdoin students.