Published August 09, 2019 by Tom Porter
Highlighting the Local Work of McKeen-Environmental Studies Summer Fellows
Hundreds of Bowdoin students are enrolled in fellowship programs across the globe this summer, but many are also doing good work right here in Maine. A recent event in Moulton Union celebrated the work being done locally by nearly thirty students. Funding comes from a number of sources and was organized by the McKeen Center for the Common Good and the department of environmental studies.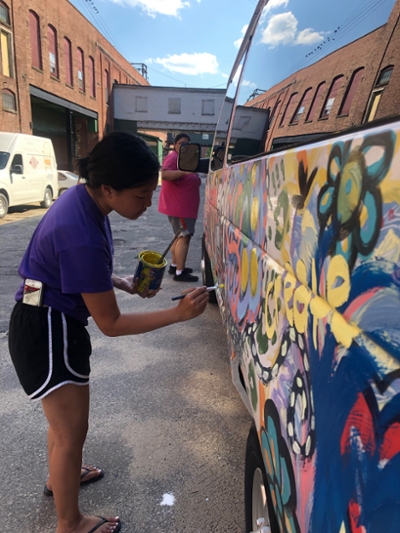 Twenty-eight posters were on display, showcasing a breadth of effort across Brunswick and the surrounding communities. "We have students working in a variety of groups in the nonprofit and public sector," said Tom Ancona, associate director of the McKeen Center. "They're involved with community organizations, local and state agencies, and international human rights groups such as the ACLU, Catholic Charities of Maine, and ILAP" (Immigrant Legal Advocacy Project).
The McKeen Center, explained Ancona, is responsible for fourteen of the projects being showcased through two programs, the Maine Community Fellowship and the Denning Fellowship. "We have nine Maine Community fellows, and five Denning fellows," he added. Five additional Denning fellows are working throughout the U.S.*
The remaining posters describe environmental studies fellowships in Maine, and these are funded through five sources, said Eileen Sylvan Johnson, lecturer in ES. "Seven students are Kappa Psi Upsilon environmental fellows, from a fund endowed by that particular fraternity to continue their legacy after fraternities were prohibited at Bowdoin."  Other sources are the Cooke Environmental Research Fellowship, which is enabling two students to pursue community-based ES projects under a faculty mentor, the Logan Environmental Fellowship, which is funding a student to work at the Nature Conservancy, and two members of the Bowdoin community, Lee Lockwood P '01 and trustee Shelley A. Hearne '83, who are funding individual projects. Lockwood's funding is earmarked for students who want to work in local government, this summer enabling three rising juniors to intern with the municipalities of Brunswick, Topsham, and Bath.
Each summer fellowship is worth $5,000.
Meet the Fellows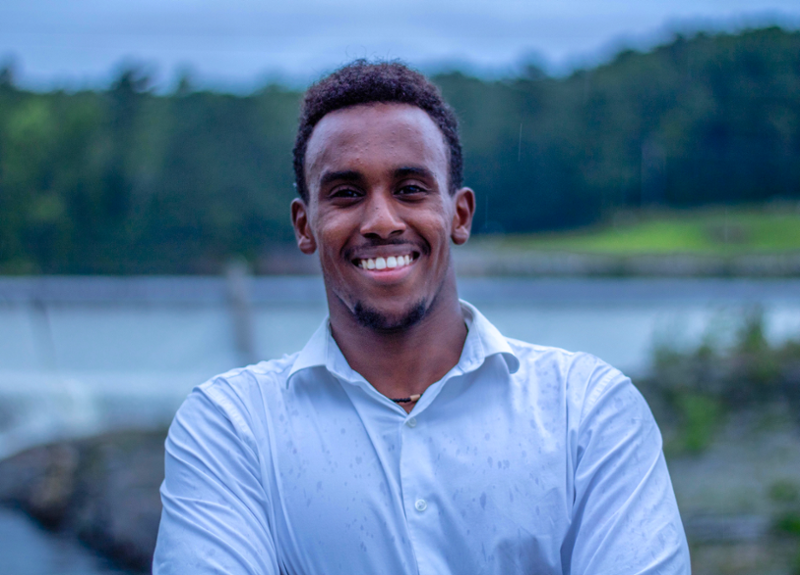 Mohamed Oday '20 is a Kappa Psi Upsilon fellow working with the Maine Coast Fishermen's Association, a nonprofit supporting waterfront communities and working to restore fisheries to the Gulf of Maine. He compiled reports looking at seafood and human health, and used GIS data to make maps showing the impact of sea level rise on different coastal communities. "This internship allowed me to further improve my independent working skills," he said.
Jessica Bae '22 is a Maine Community fellow working with ArtVan, a nonprofit providing art therapy to low-income neighborhoods in midcoast and southern Maine. "I was most profoundly impacted by the small moments at ArtVan this summer," said Bae. "Seeing a kid's face light up when their parent joined our art projects, or when they discovered the amazing things they could do with paint, I realized why I enjoyed the work I was doing. I was amazed everyday by the sheer imaginative capacity of our participants."
Click here to see a complete list of McKeen-ES summer fellowships. 
* Maine Community fellowships and Denning fellowships are funded by the George T. Davidson, Jr. '38 Fellowship for the Common Good and the Hanley G.  Denning '92 Fellowship for the Common Good, and receive additional support from funds such as the Fannie C. and Willard N. Burger Fund for the Common Good, the Fund for the Common Good, the Center for the Common Good Fund, the Olsen Family Fund, the Stone Family Fund for the Common Good, and the Teichert Sabine Family Fund.