Published June 04, 2019 by Bowdoin College
Arctic Museum Receives Multiple Publication Awards
The New England Museum Association (NEMA) announced the winners of its 2019 Publication Awards, which recognizes excellence in design, production, and effective communication in print and digital museum publishing.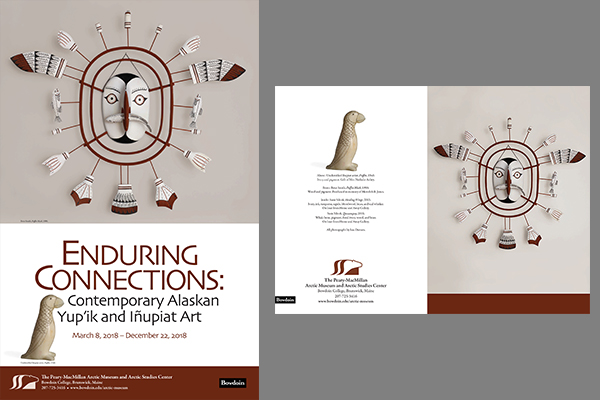 The Peary-MacMillan Arctic Museum and Arctic Studies Center was recognized in two categories, Invitations and Posters, winning first place in both, and winning second place in the Posters category as well.
The first-place awards were given to the museum for the poster and invitation produced for the exhibition Enduring Connections: Contemporary Alaskan Yup'ik and Iñupiat Art.

Susan A. Kaplan was the project director and Bill Fall, of Fall Design, was the designer.

Luc Demers did the object photography.

The pieces feature works by Alaskan Yup'ik and Iñupiat artists Peter Smith and Susie Silook.
The second-place poster award was given to the museum for the exhibition poster Blossoming Tundra: The Photography of Rutherford Platt.

The poster features the seed head of an Arctic Rose (Dryas intergrifolia), photographed by Rutherford Platt in Thule, Greenland, in 1947.
Kaplan was the project director and KymNoelle Hopson, the Arctic Museum's administrative coordinator, was the in-house designer.
"The Arctic Museum is delighted by the recognition garnered by some of our printed materials," said Susan Kaplan, the museum's director.

"In addition to serving as vehicles through which we spread the word about the museum's exhibition programs, we see invitations and posters as a way to share with the public some of the compelling objects and photographs in the Arctic Museum's collection."
The Peary-MacMillan Arctic Museum, located on the Bowdoin College campus, is open Tuesday thru Saturday from 10:00 am to 5:00 pm, and on Sunday from 2:00 pm to 5:00 pm. The museum is closed on Mondays and on national holidays. Admission is free. More information about exhibitions and programs here or call 207-725-3416.