Published February 12, 2019 by Rebecca Goldfine
The Library Throws a Party for Bowdoin Readers
For a decade, Bowdoin staff, faculty, and students have been sharing what they're reading with the community on a popular library blog called
Bowdoin Reads
.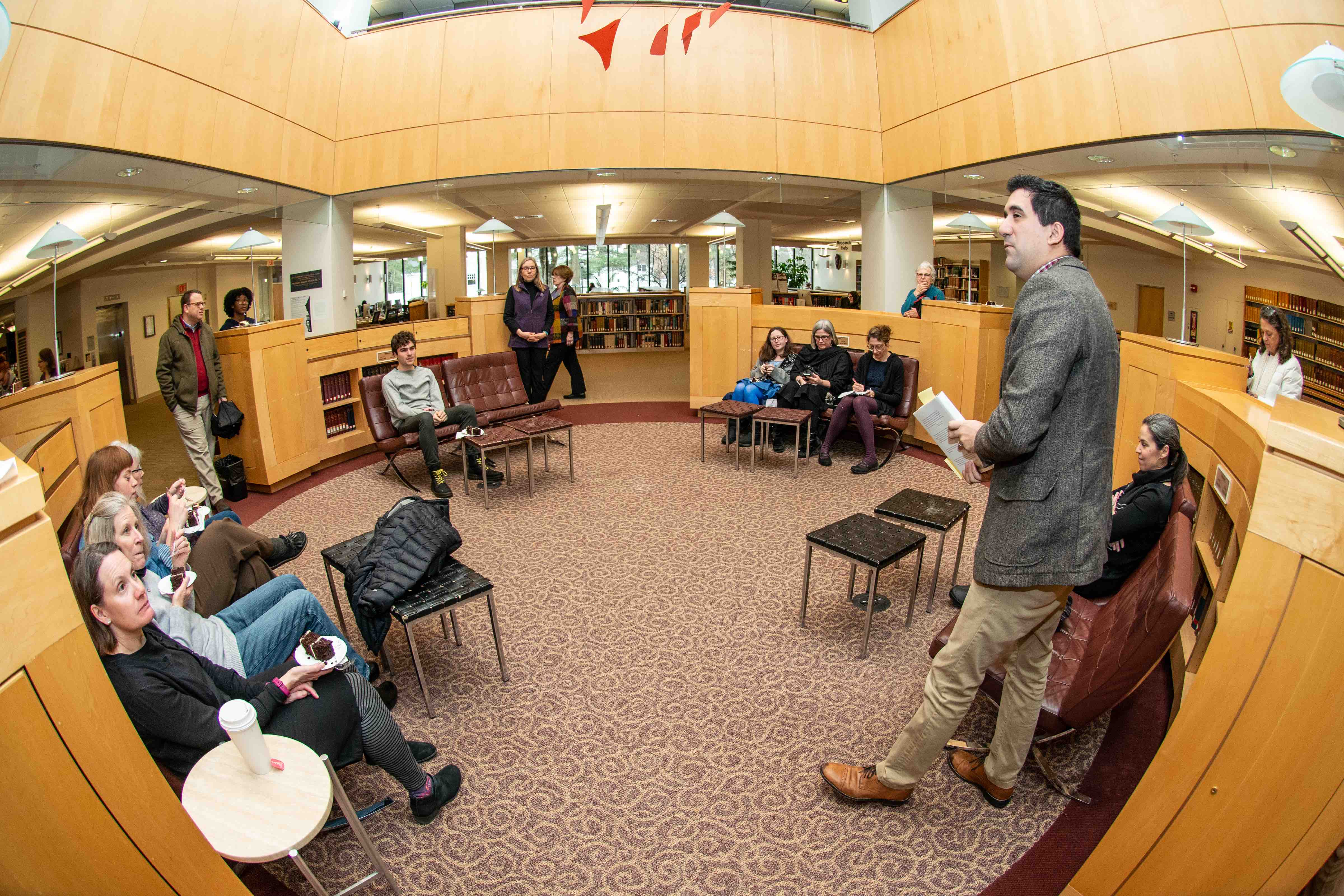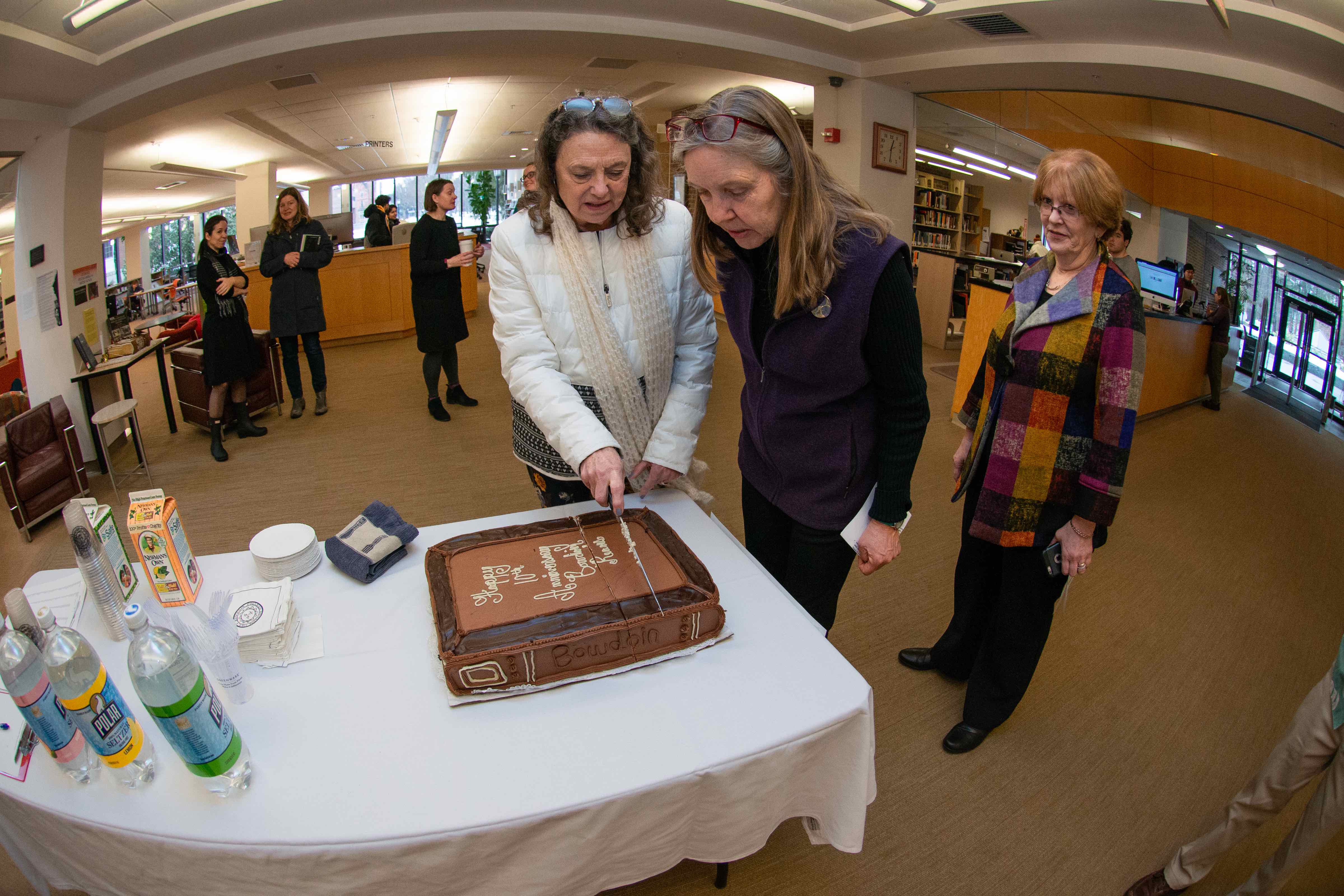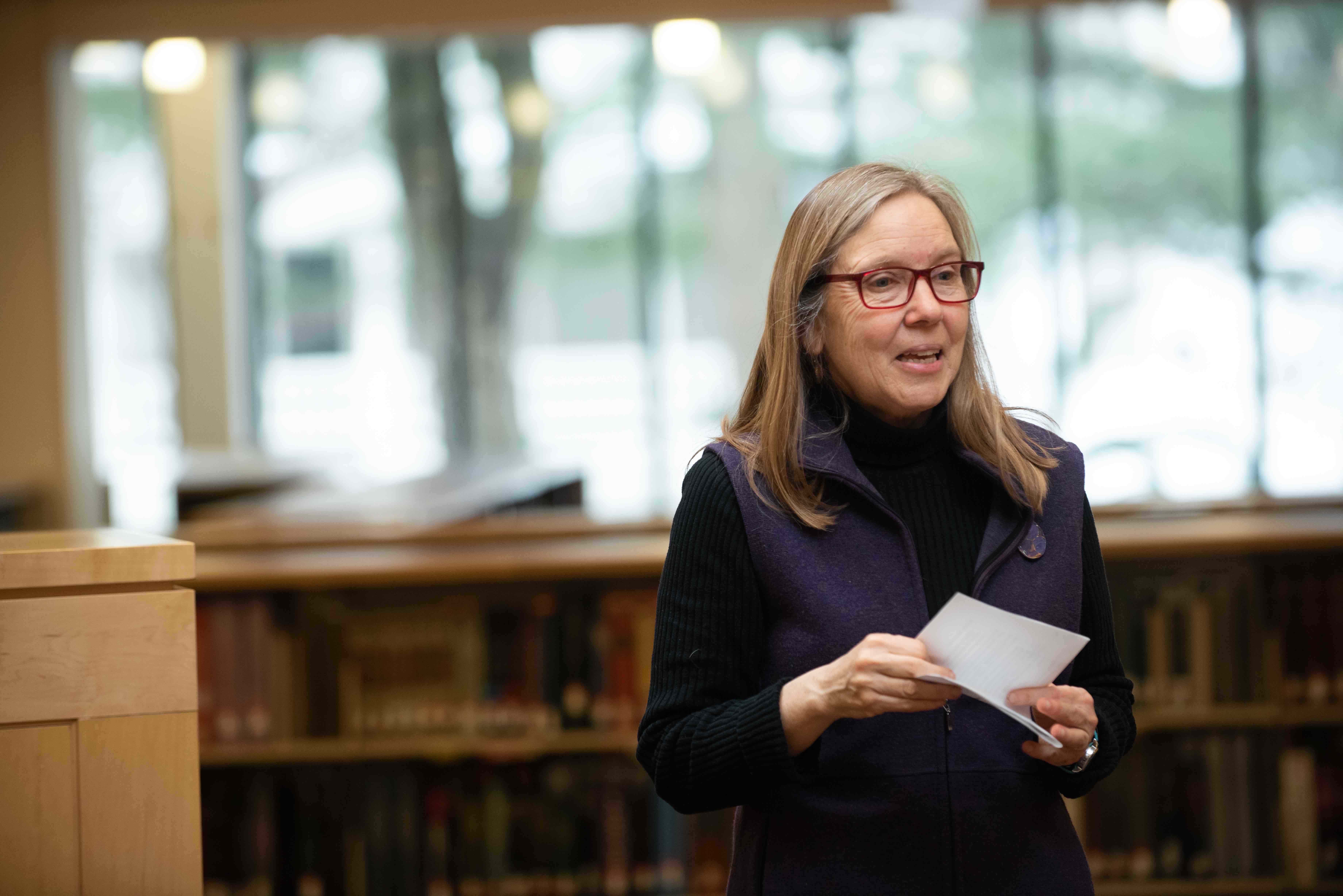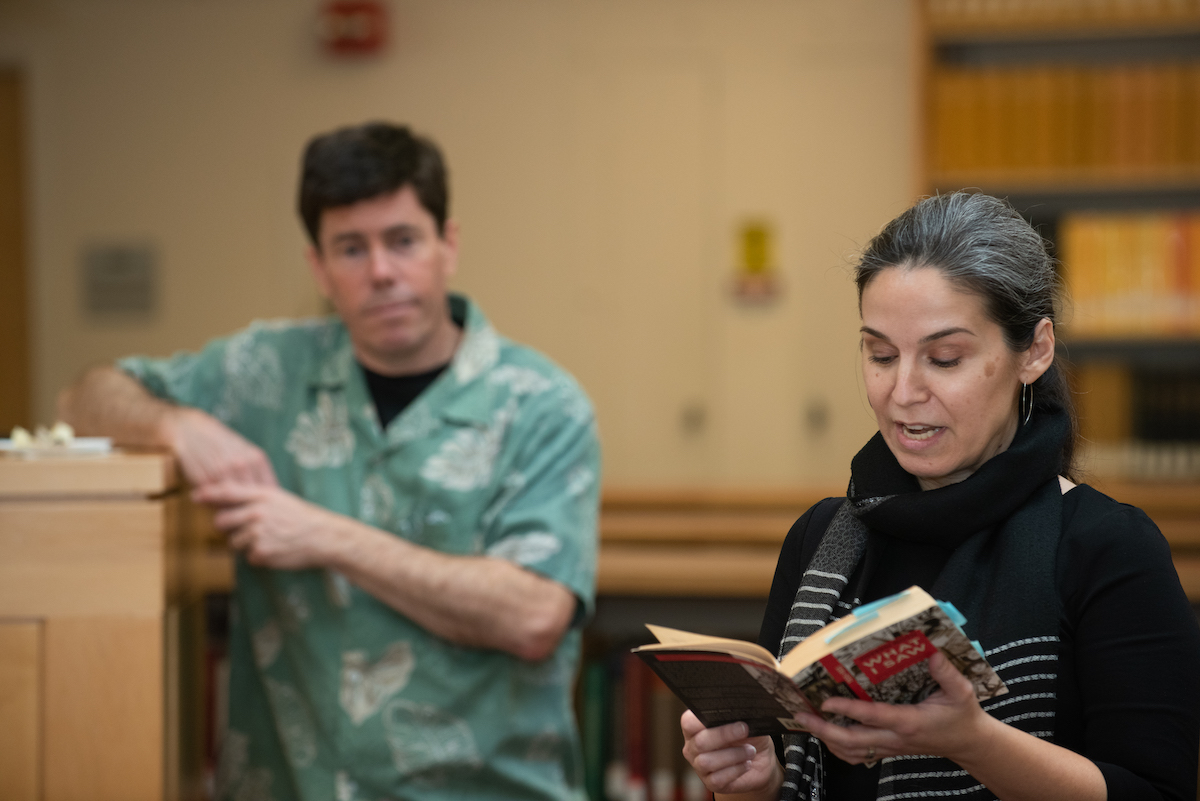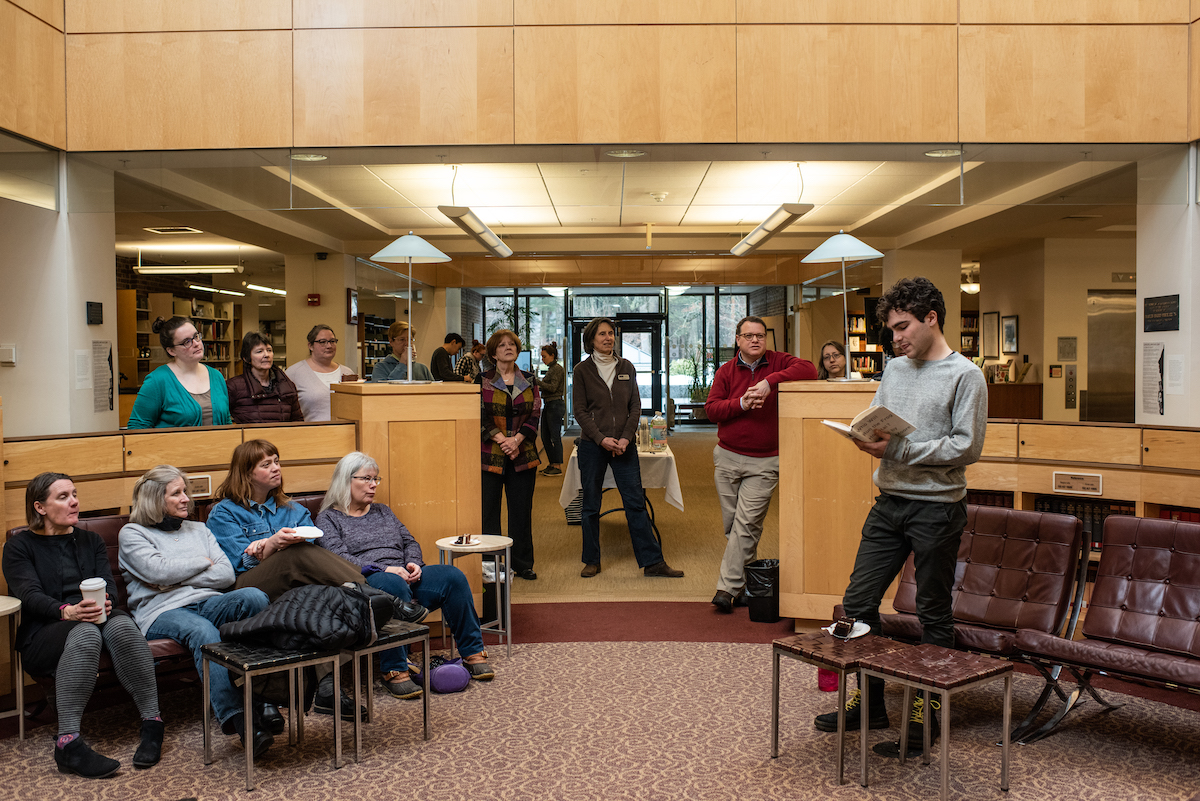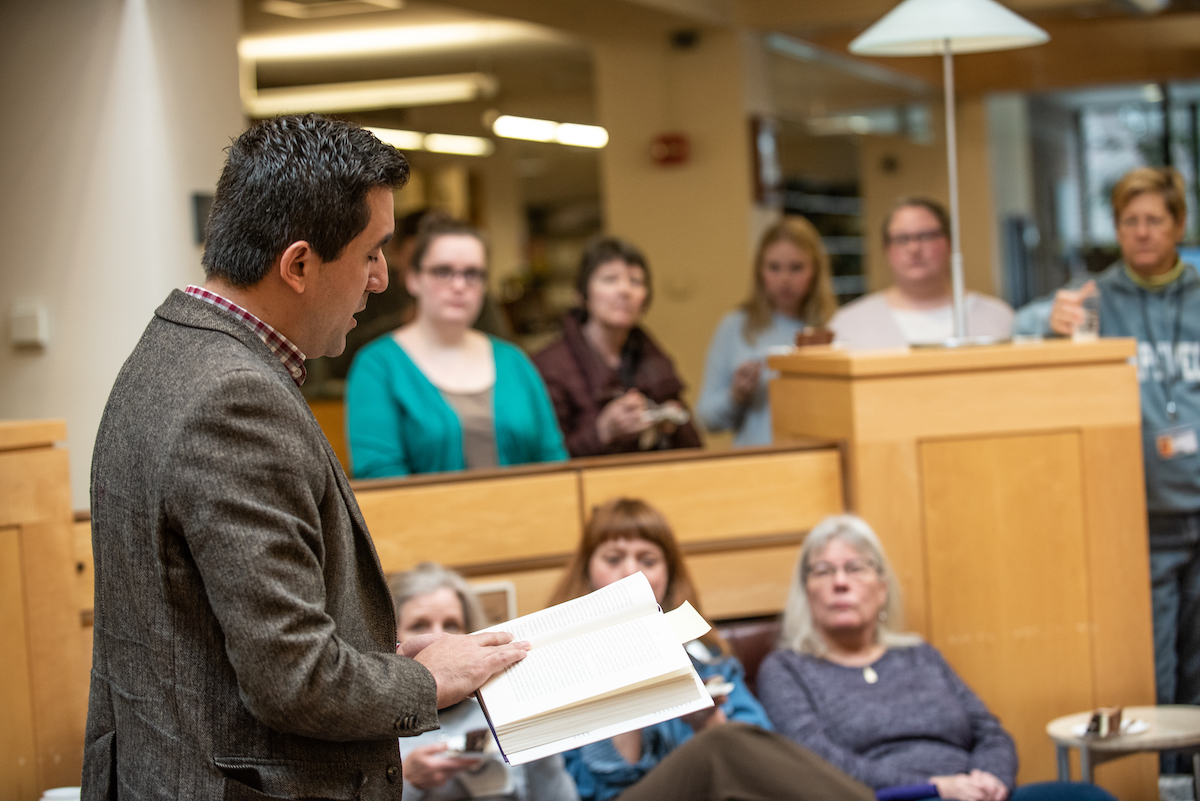 Each month or so, a student, staff, or faculty member describes, in just a few paragraphs, the book they're reading at the moment—or one they really love. Today Bowdoin Reads includes more than 240 book recommendations.
As the ten-year anniversary approached for Bowdoin Reads, the site's creator and manager—Collections Librarian Joan Campbell—decided it was a good excuse to host a party to celebrate the site, books, and reading.
For Campbell, parties and books are a natural fit. Library director Marjorie Hassen said recently that Campbell's love of books is only matched by her enthusiasm for building community.
So, last Friday, in Hawthorne-Longfellow Library, people from across campus gathered for a small celebration. There was a cake baked into the shape of an old, leather-bound book. Three people who have contributed to Bowdoin Reads (religious life director Eduardo Pazos Palma, German professor Jill Smith, and student Michael Friedland '21) read aloud from favorite books. And many of the books featured on the site—the ones that weren't checked out, that is—were on display and available for borrowing.
On Bowdoin Reads, people have made a lot of compelling cases for reading some great books. For those who want to add titles to their to-read lists, we've put together a Goodreads page with Bowdoin Read's 240 (and counting!) books.
Campbell said she launched Bowdoin Reads in 2008 to liven up the library's online presence with a warm and personal feature for bibliophiles. In the last couple of years, she's widened its submission rules to include audiobooks, podcasts, music, TV shows, and movies. But only three people so far have chosen those alternatives.
"I think people just really love sharing the books they're reading," she said.
While she initially envisioned volunteers would put their names forward, she soon realized she'd have to randomly nominate people to submit books. "Most are really happy to do it," she said.
A decade of book submissions by a diverse academic community has produced an interesting literary data set. First off, fiction edges out nonfiction, but just slightly—it accounts for fifty-six percent of the titles.
The most popular writers (with three readers apiece) have been Haruki Murakami, Ann Patchett, Toni Morrison, Erik Larson, and Gabriel García Márquez. The following writers each have received two mentions: Henry David Thoreau, Per Petterson, Chimamanda Ngozi Adichie, and Saul Bellow.
Campbell said that for her the most memorable Bowdoin Reads have been books and authors she loves, such as the poet Seamus Heaney's Death of a Naturalist (Nat Wheelwright, emeritus biology professor), Ken Kesey's Sometimes a Great Notion (Leanne Dech, Bowdoin communications), Alexandre Dumas's The Count of Monte Cristo (Issy Albi '13), and William Thackeray's Vanity Fair (Rebecca Goldfine—this writer, Bowdoin communications).
"But mostly it's a wonderful surprise in my inbox when people send me their book and their blurb," she said. "I just love hearing what people are reading, from a great mix of nonfiction, like Amy Sham '13's Tuna: A Love Story, to popfiction, like [emeritus professor of German] Steve Cerf reading The Girl with the Dragon Tattoo."