Published January 18, 2019 by Special Collections & Archives
The Reveal of the Flicker
Carl Little, noted Maine poet and author, honored the Bowdoin College Library copy of John James Audubon's Birds of America recently with a new poem, "Flicker (The Reveal)." 
Each month, staff of Special Collections & Archives turn the page of Audubon's monumental work. On January 4, special guest Rebecca Goodale, a book artist whose work focuses on the endangered and threatened plants and animals of Maine, offered an artist's perspective on the production of the book, and read Little's poem about the Flicker, or as Audubon called it, the Golden-Winged Woodpecker, which Little wrote for the ocassion.
---
Flicker (The Reveal)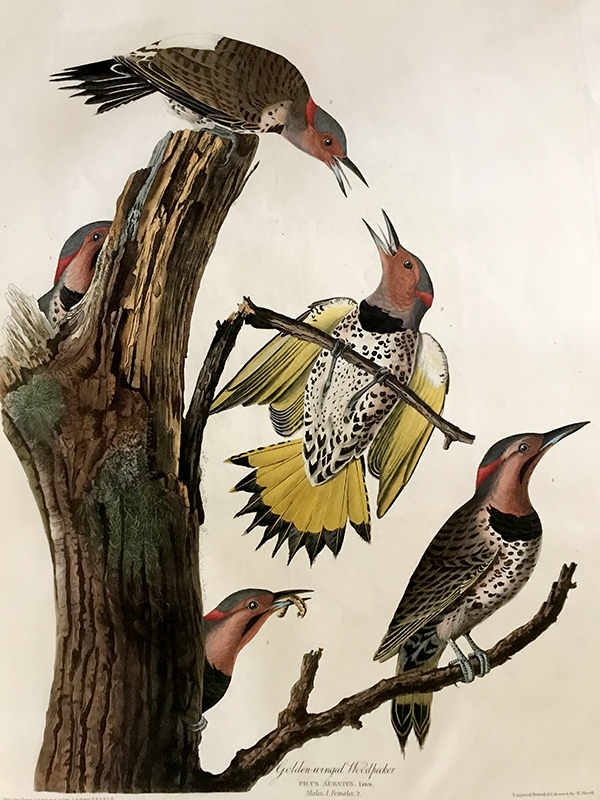 Turn the great page and the bird alights
before you—actually five of the species perched
this way and that on the stump of a tree
whose demise they may have hastened
by their poking, though we learn in guides
this medium-sized woodpecker prefers to find
sustenance on the ground, ants and such,
dug from dirt, lapped up with barbed tongue
which can also snatch insects from the air and
even baby bats leaving roosts in Wyoming.  
Today Audubon would add audio to his image,
a song one avian musicologist describes as
"a sustained laugh, ki ki ki ki," another hearing
"a piercing, descending klee-yer or keeew," calls
that have inspired many of its nicknames—
harry-wicket, heigh-ho, wake-up, yarrup—
singing when it isn't drumming 25 beats
over a second, faster than a speeding Krupa,
to signal other birds to come hither or
stay away. And when flying, the flicker
undulates, its repeating pattern of flaps
followed by pauses leading one ornithologist
to liken the effect to a rollercoaster.
Like so many birds of America its ride
seems to be diminishing—"signs of 
decline" apparent since the 1960s they say—
as flickers make their way north and south
(summers in Alaska, winters in Nicaragua),
ignoring walls, skirting forest edges, frequenting
woodlots, anywhere where there are trees.
Audubon was thinking ahead when he painted
their "handsome black-scalloped plumage" and
those shades of lovely brown with flashes of color
in the wings, for here they are forever, slightly
curved bills spearing the air. And so let us
leave the page open for a flicker of beauty at Bowdoin.  
                           —Carl Little, January 1, 2019