Published February 15, 2019 by Rebecca Goldfine
A First-Year Artist Transforms the Periodic Table
The orderly periodic table—often printed with just the chemical symbol and atomic weight of its 118 elements—doesn't quite manage to convey to nonscientists the richness of what these substances bring to our world.
So Julie Hu '22 started a project two years ago to remake the periodic table into a colorful work of art that could suggest the variety of benefits, and many stories, behind the letters and numbers.
The elements "are the building blocks of our material world," Hu writes on her website. "[They comprise] everything around us—from the books that we read, the phones that we use, to the cars that we drive."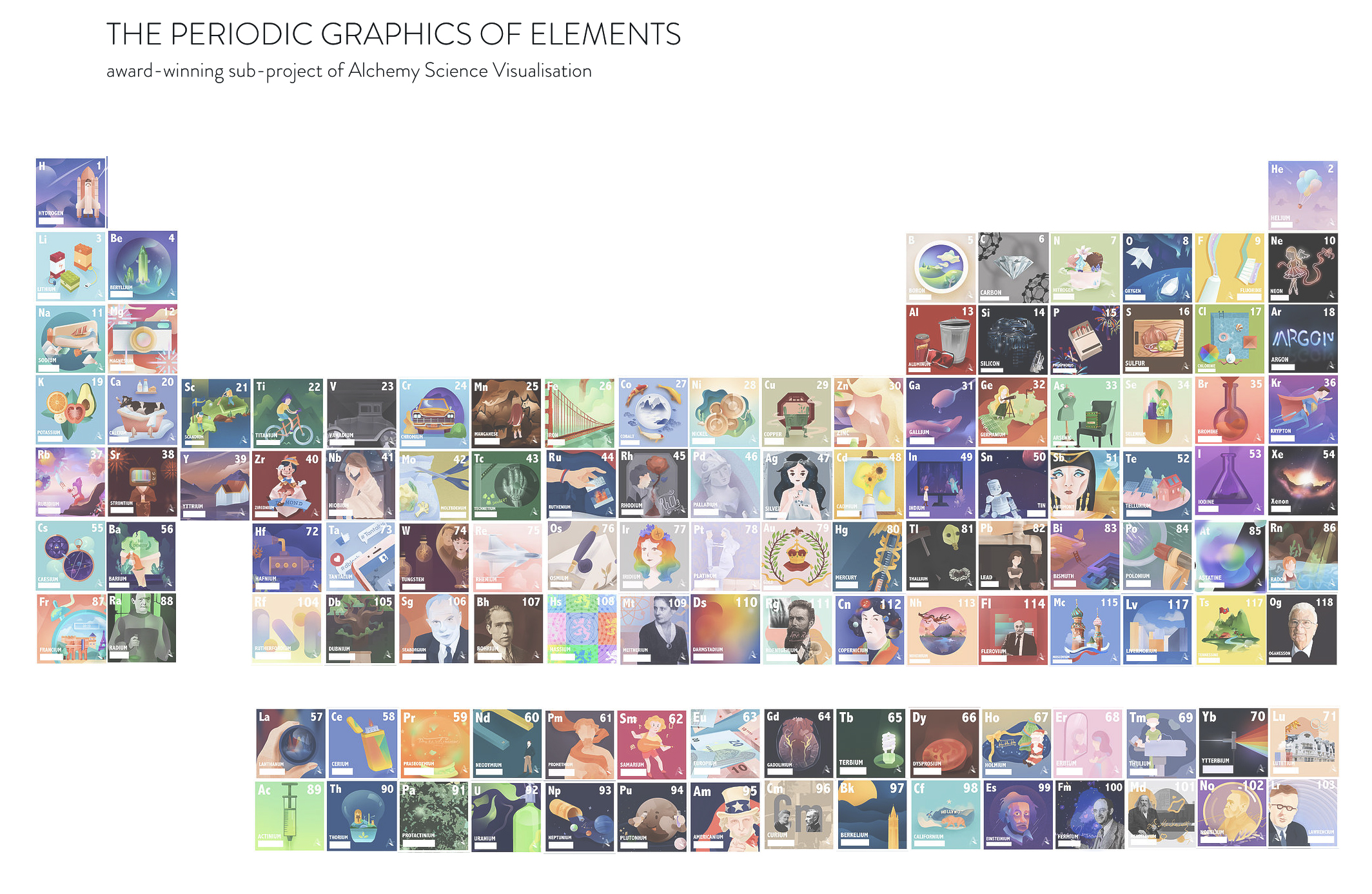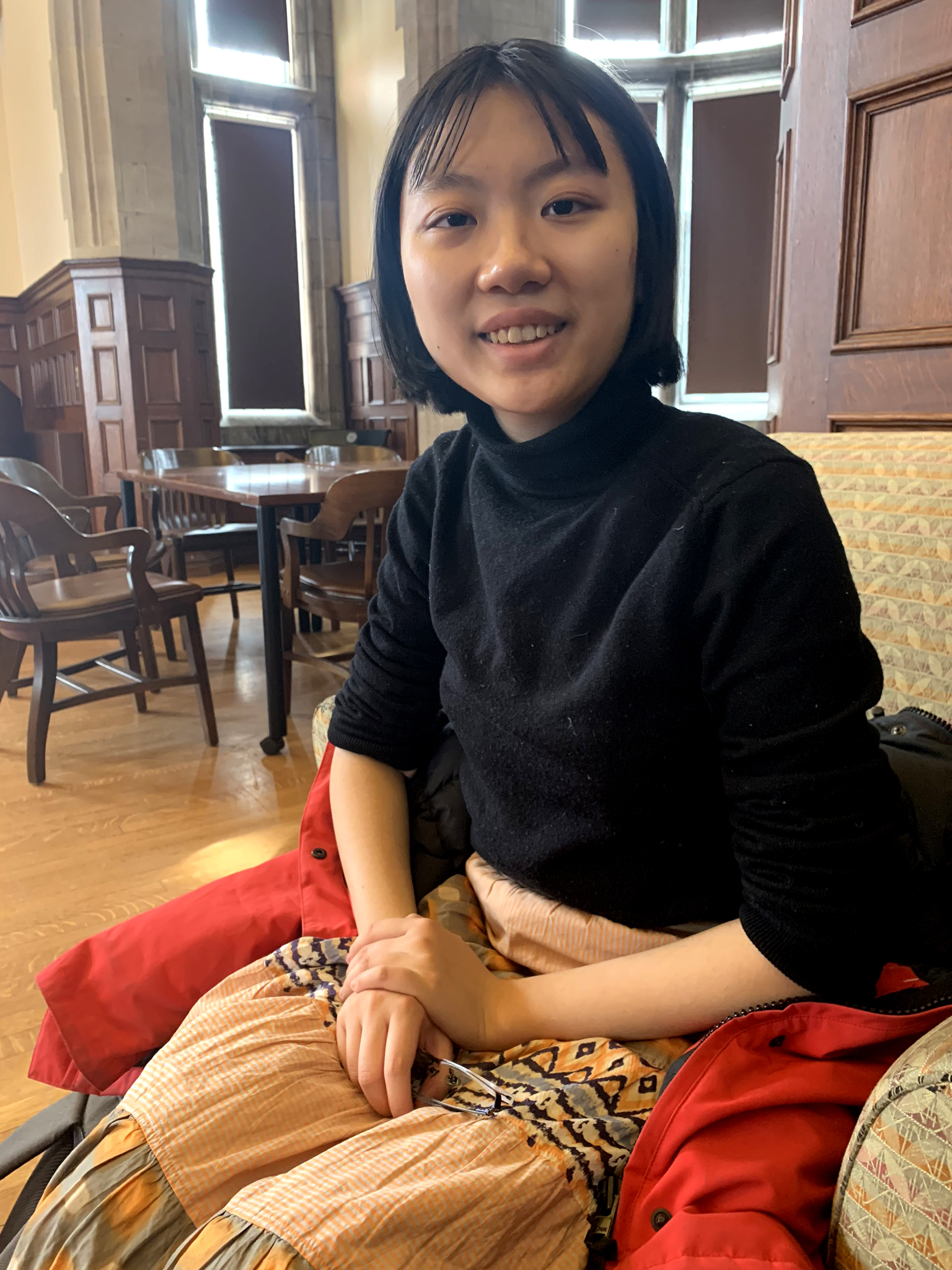 Created in Photoshop with a Wacom stylus pen and Cintiq large-format tablet, each element in Hu's "Periodic Graphics of Elements," has a unique design and color palette that communicates something of the element's use or history. She has shared her table online, describing it as a "sub-project of Alchemy Science Visualisation," which is how she brands her art and design work.
Hu was first inspired to make a new periodic table when she was sixteen and just becoming interested in graphic design. (She said she knew she wanted to be an artist when she was eight years old.) She quickly turned her design sensibilities to topics that fascinate her in chemistry, astronomy, and physics.
For Hu, chemistry and physics have beautiful languages of their own already; she is adding a "visual language" to that mix. To make her periodic table, she "interpreted the chemical language with the visual language, to show how the chemicals relate to our daily lives."
Mike Danahy, a senior lecturer of chemistry at Bowdoin, said that artistic gifts such as Hu's can help boost science literacy in the general public. "Many people, whether they remember it or not, have seen a periodic table. But not everyone remembers what it is for, or how all those elements are relevant to them," he said. "Works like Julie's table will hopefully ignite a spark in people and want them to delve more deeply into the world of science."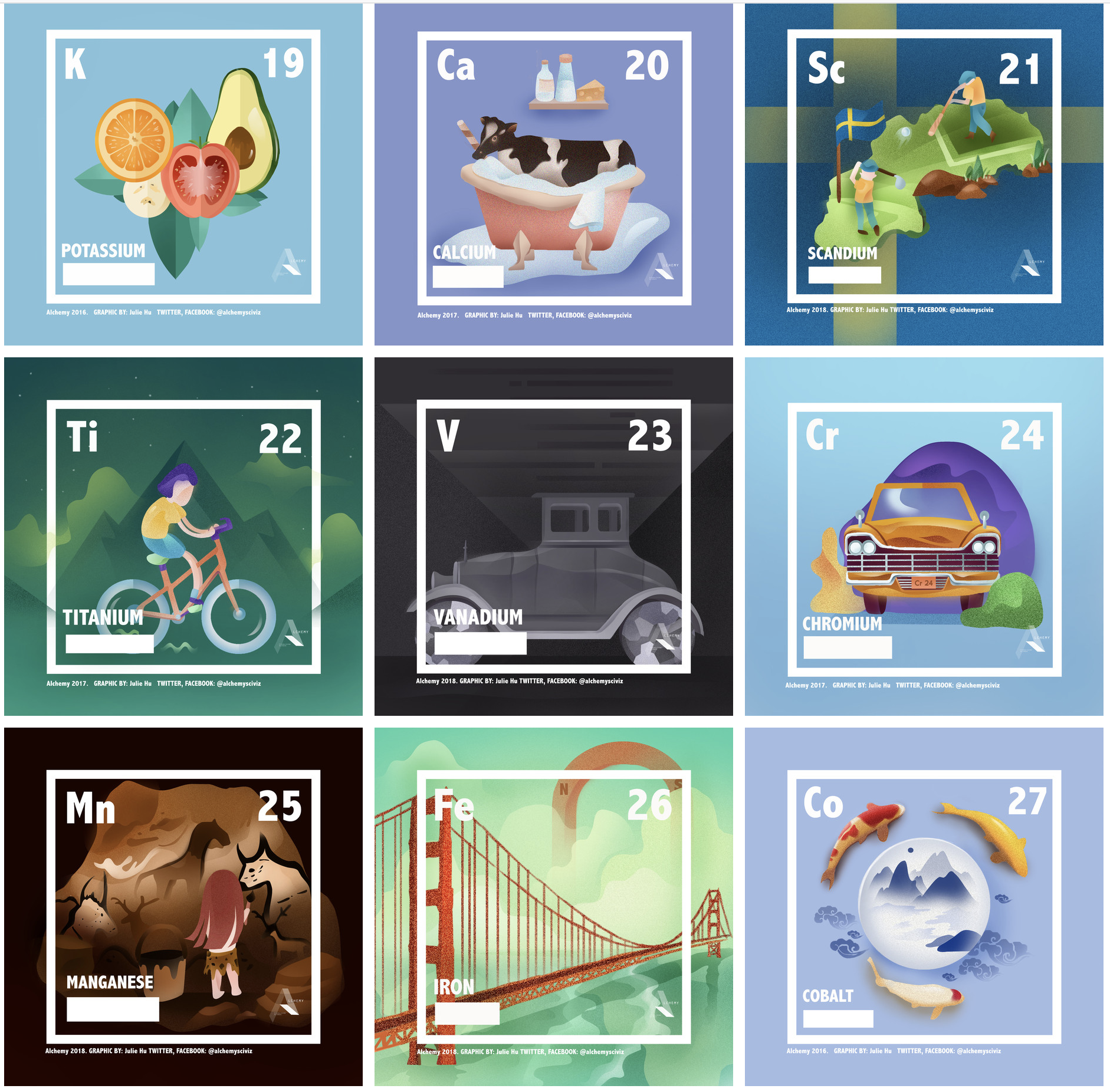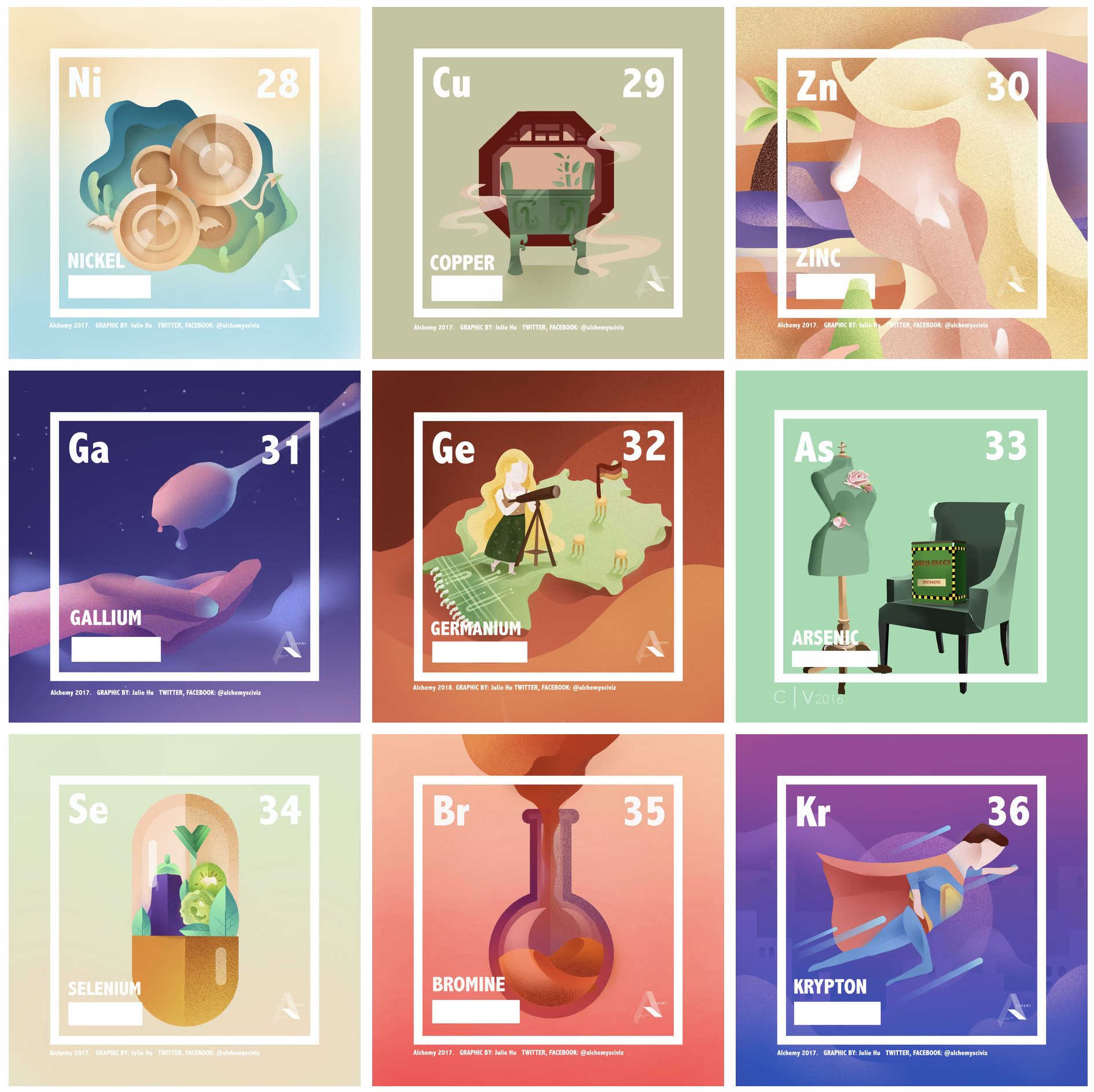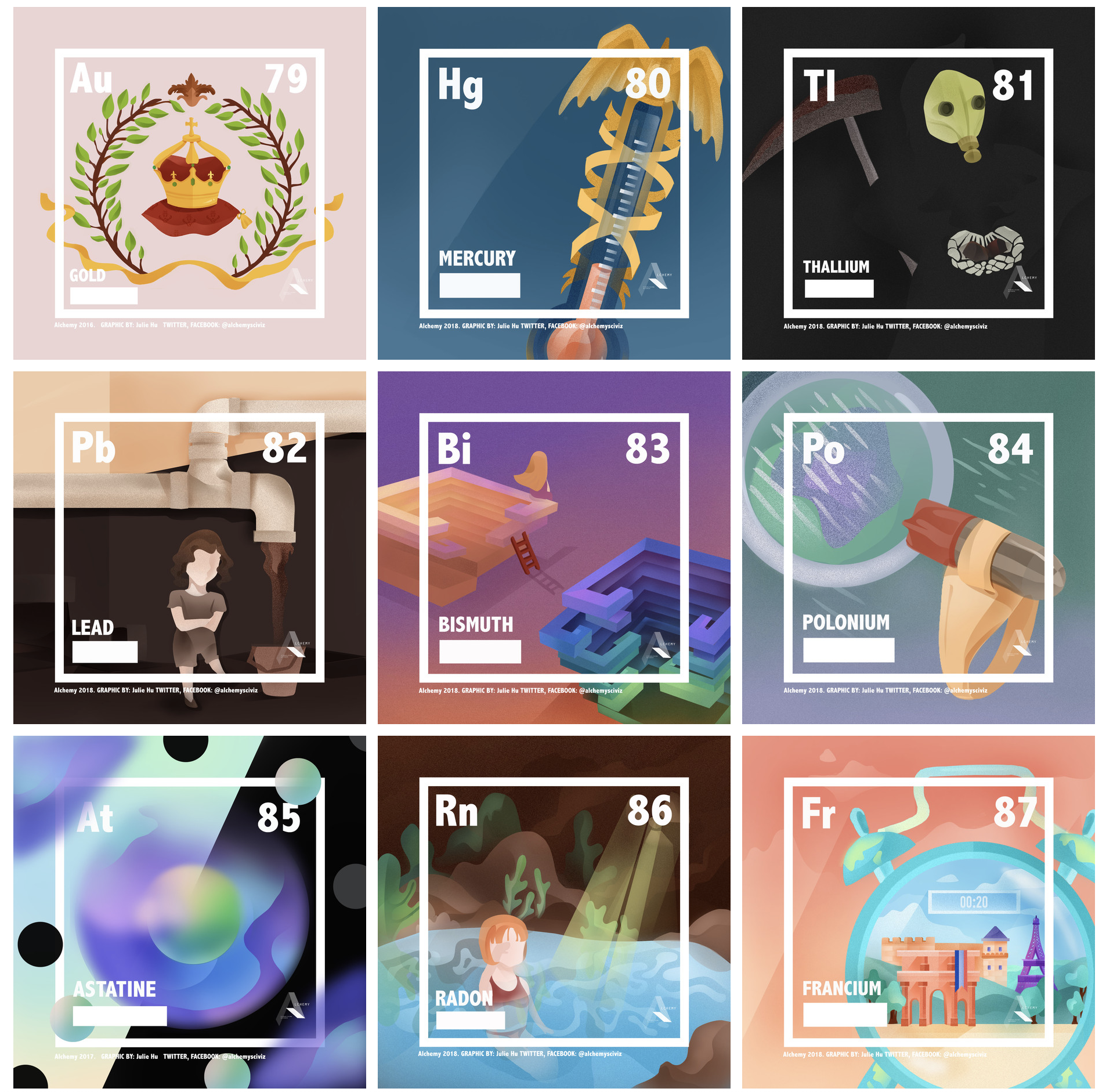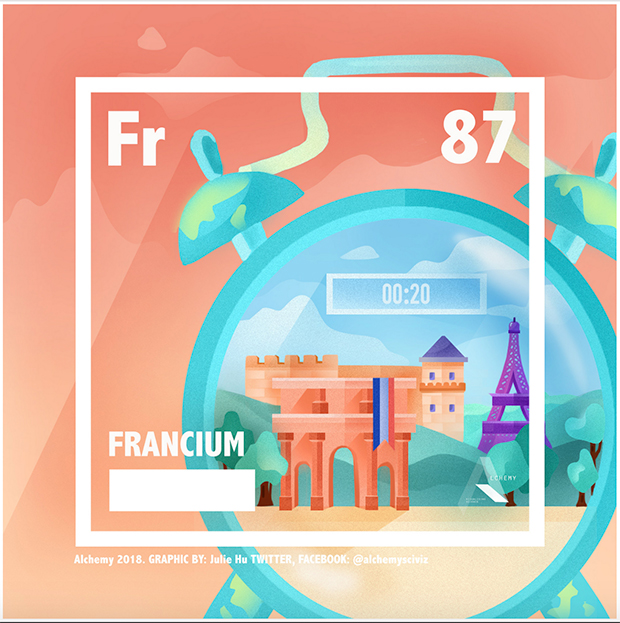 To come up with accessible designs for all the chemical elements, Hu researched their applications and origins. For the element Francium, one of her favorite tiles, she notes that "Francium is a very unstable alkali metal that only has approximately twenty minutes of life. It was discovered by Marie Curie's student, Marguerite Derey, in Paris, 1939."
Francium's peach-hued tile depicts the Eiffel tower and other French icons inside an Earth-themed alarm clock flashing the time 00:20—a warning of the element's impending demise.
Her Bowdoin drawing professor this semester, Mary Hart, said that "Julie brings so much skill and motivation to her work in art. It's fascinating to see this applied to the periodic table, normally such a dry subject! She's made it come to life."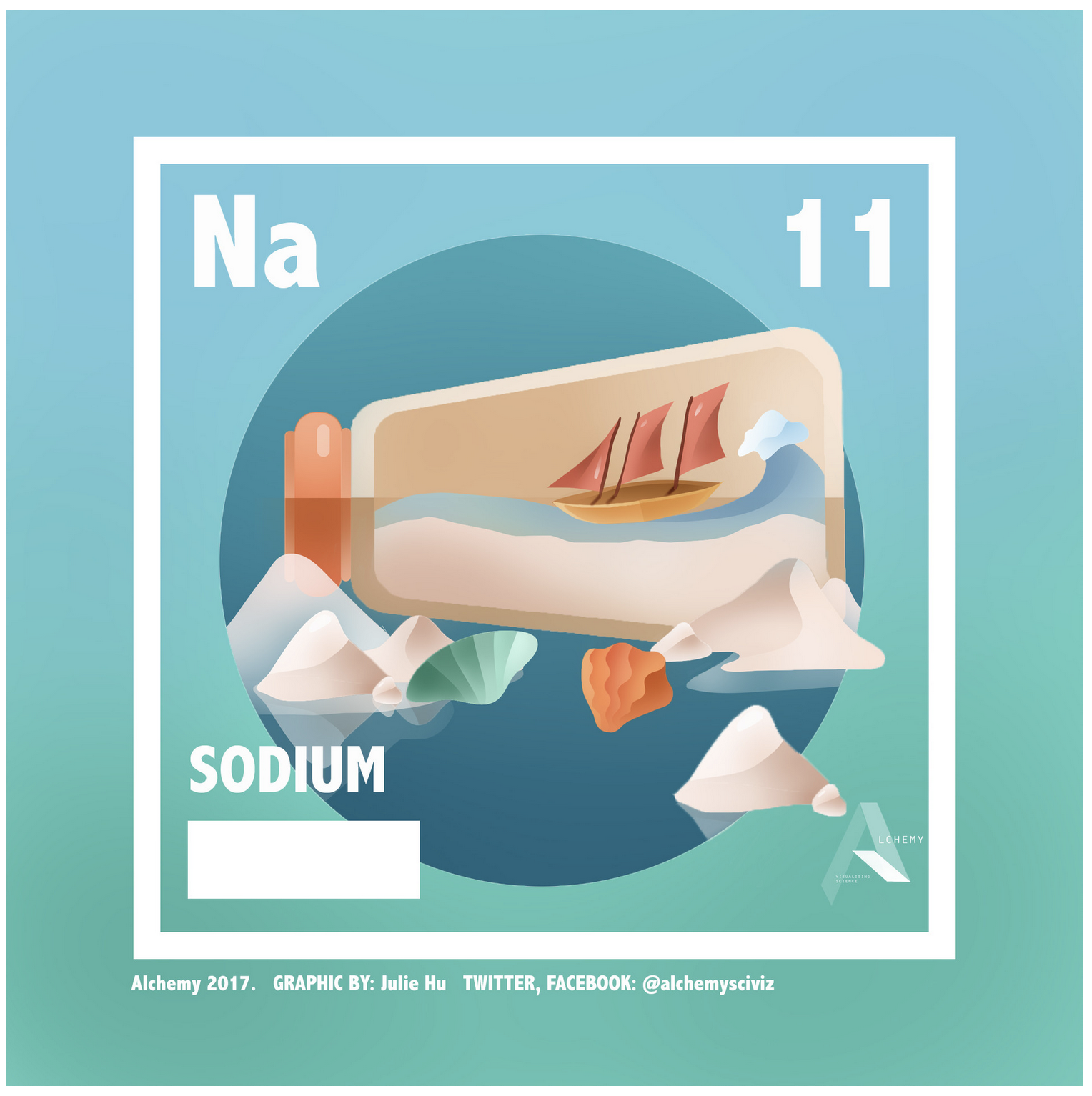 While Hu says she is quick to complete an image when she knows what she wants to make, it takes time to develop the idea behind it. With a laugh, she says she ruminated on sodium for an entire semester, at last coming up with a graceful image of a salt shaker tipped on its side. Inside the bottle, a small ship crests an ocean wave. Outside, piles of spilled salt form small mountain-like mounds.
After working on the periodic table for two years, Hu just finished the final seven tiles over winter break, in January. "On the morning of that last day, I was like, 'Wow, I am going to finish something huge today! This will be a remarkable day in my life," she recalled.
Her unique periodic table would likely have attracted attention on its own, but the United Nations has proclaimed 2019 the International Year of the Periodic Table, and Hu is partnering with Guokr, a popular science media platform in China, to share her work with a wider audience.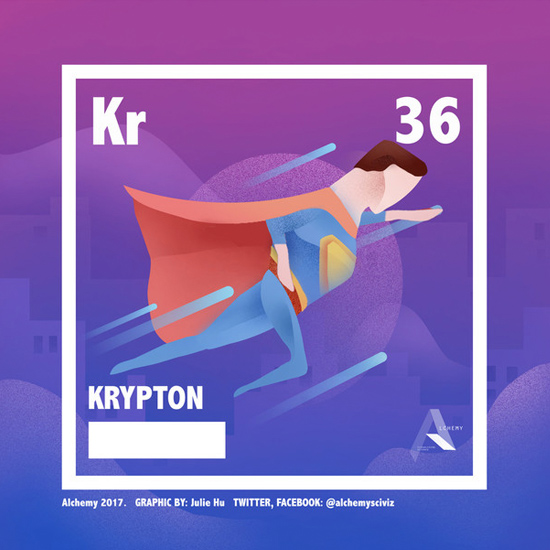 Hu grew up in Beijing, and attended high school there. She said she chose to attend Bowdoin because she wanted an interdisciplinary liberal arts education. "And I heard that Bowdoin food is really good," she added. "Eating good food is a way to handle a lot of study stress!"
Next year, she is planning on declaring a visual arts major with a chemistry or environmental studies minor. She's interested in studying the environment "because art and design and environmental studies can go together in sustainability design or environmental policy design," she said.
Still, chemistry lights up her intellect and imagination. "I think that chemistry as a science can change the future with synthesis," she said. "It really makes all the future living or future prospects come true. For example, we can have new medicine, or new materials, and all of that can change our future lives."