Published January 15, 2019 by Rebecca Goldfine
Critical Elements: What Do Young Scientists Need to Succeed?
The students selected for the Bowdoin Science Scholars program are committed to excelling in their studies.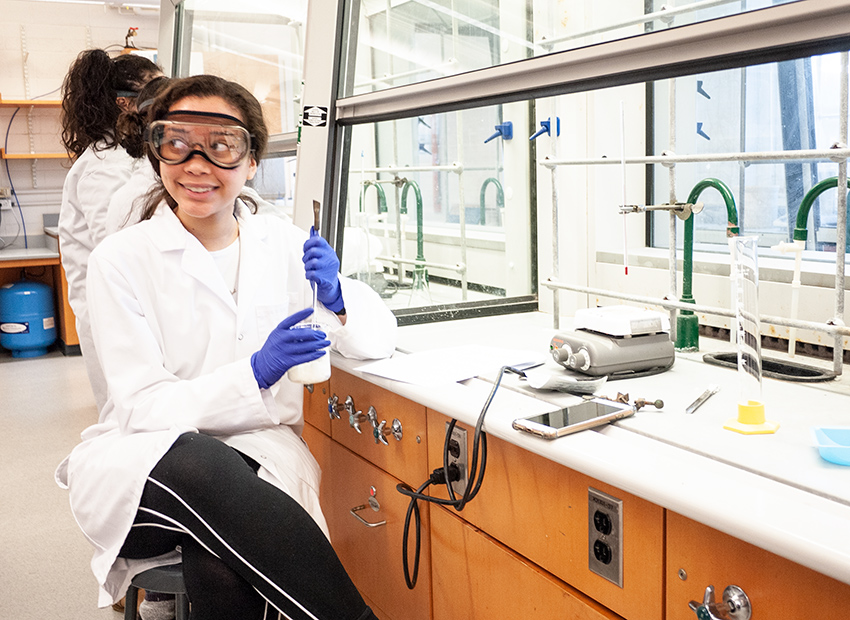 One way they show that drive is by being willing to give up two weeks of winter break to engage in some intensive academics under the guidance of Bowdoin faculty. (This is not a small thing for a first-year student back at home after the first semester away at college.)
And this year's cohort of eleven Bowdoin Science Scholars, who returned to campus January 6, possess this dedication in abundance. "We were looking for students who have enough interest and passion in doing something in STEM [science, technology, engineering, or math] that they're willing to give up two weeks of their break and sit in a classroom and lab," said Stephanie Richards, a lecturer in biology.
Richards is one of three faculty teaching the Bowdoin Science Scholars this winter, the second time it has been offered at Bowdoin. The other faculty are Senior Lecturer in Chemistry Michael Danahy and Professor of Physics Dale Syphers.
Bowdoin Science Scholars, often referred to as BSS, is part of THRIVE, an initiative at Bowdoin to better support students who have been historically underrepresented at Bowdoin. BSS was developed specifically for groups excluded from STEM fields, including women and students of color.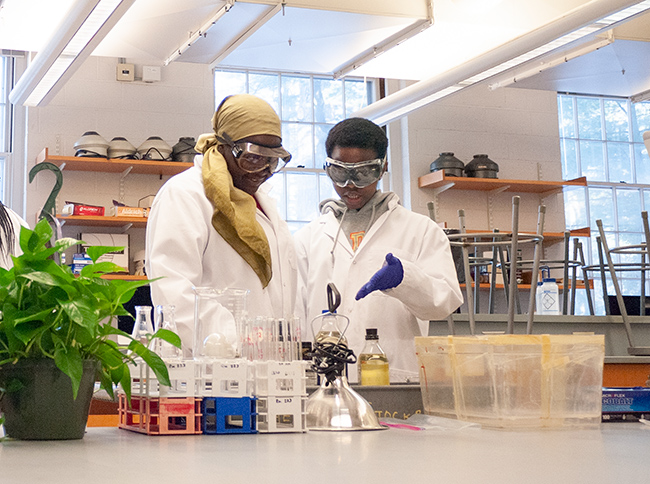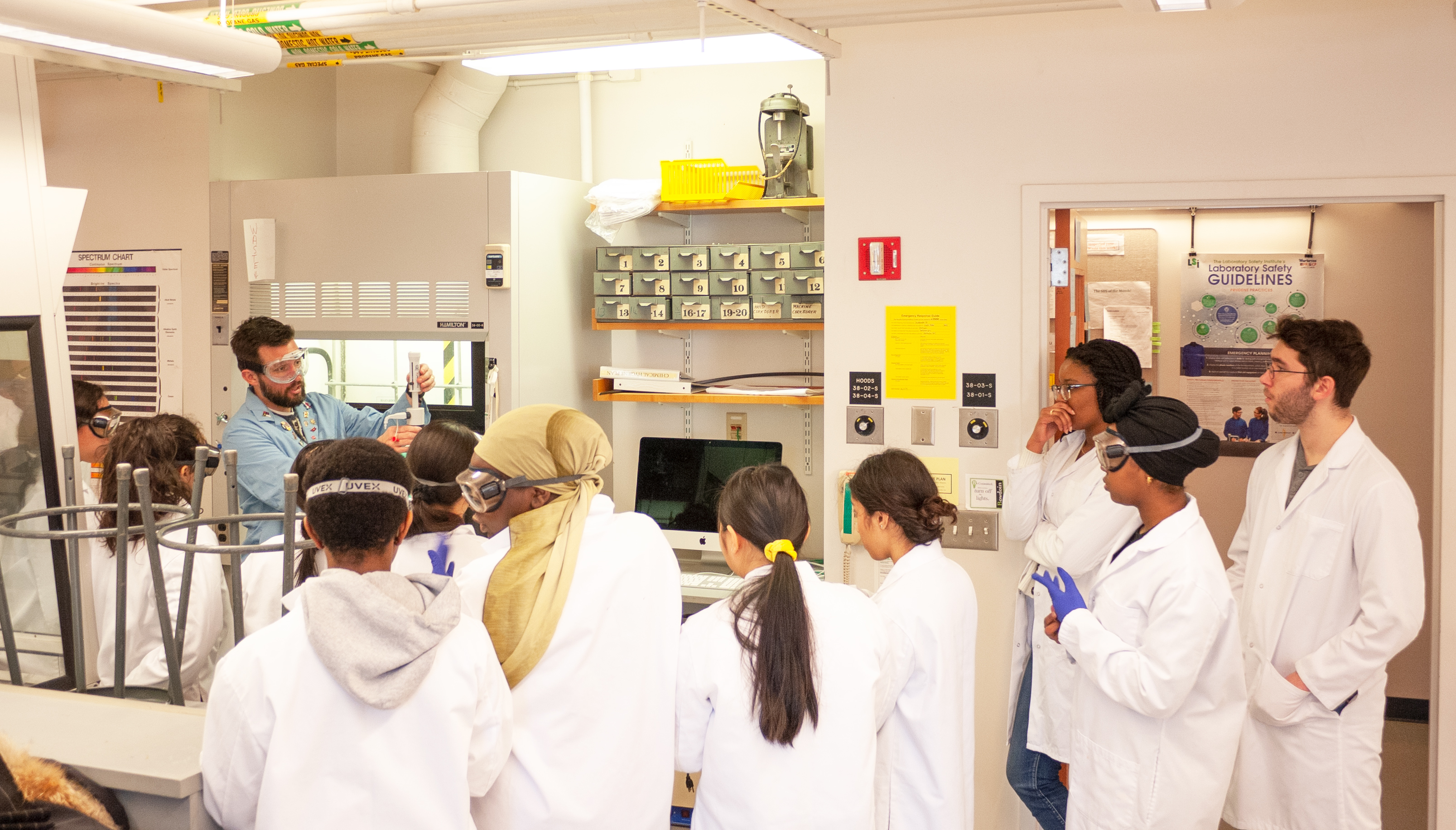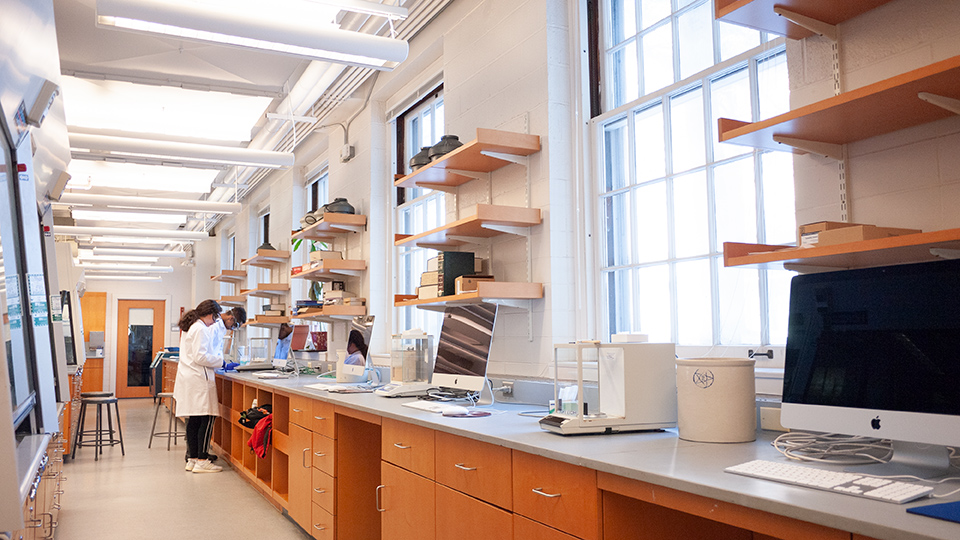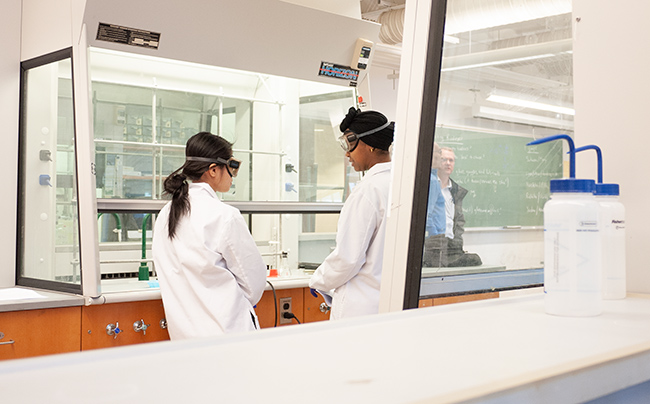 That the program comes in January after the students' first semester at Bowdoin is intentional. The leap from high school- to college-level science can be challenging, particularly for students who graduated from under-resourced public high schools. Indeed, for many first-year students, no matter their background, this transition can be jarring.
But students who don't come from a family of college graduates, or who are part of immigrant or minority groups, can become particularly stressed by a less-than-perfect grade in a college class. Bowdoin designed BSS to help ensure ambitious first-years don't get discouraged by ordinary setbacks.

"Not every student has had the same opportunities and experiences," noted Richards, who grew up in Portland, Maine. She said she struggled with self-doubt during her first two years at Bates College, and that it wasn't until she connected with supportive professors that she started to believe that she could become a scientist one day.
"I want to help the students realize that they can do it," she said. "It just takes confidence and skills that can be developed."
"One of the benefits of having this time outside of the traditional academic structure is that the professors can explain to the students why things work the way they work, and their professors' expectations," THRIVE Director Jessica Perez added. "During the semester, things are moving so fast, there isn't time to do that."
Danahy said that he, Richards, and Syphers aim to instruct the students on "how to think like a scientist, with analysis and asking questions that can be answered in a finite way."
So, over the two weeks, the students collect, analyze, and discuss data in biology, chemistry, and physics labs, and write scientifically about their findings. They learn new study habits and note-taking tips. They practice collaborating with their peers (a must in the science world) and are reminded about the importance of seeking out professors during office hours.
Beyond teaching scientific training and learning strategies, the BSS faculty also encourage the students to approach their education with gusto. "We tell them, 'You don't need to be passive in your education,'" Danahy said. "Bowdoin is not here to just fill you with ideas, it is here to light something in you."
Bowdoin Science Scholar Mary Nzeyimana '22 said that after just a few days in the program, she has learned valuable studying, reading, and writing strategies. But perhaps more importantly, she said she's made good friends and tapped into a new store of self-confidence. "The program encourages you to speak, and it allowed me to come out of myself," she said. "It's been the first time [at Bowdoin] I've felt comfortable in a group setting."
Sulwan Ahmed '22 applied to BSS in anticipation of taking her first biology class this spring. She said the skills she's learned so far in BSS extend beyond the sciences and can also be applied to the humanities, and even to broader aspects of life in general. "They give us tips to be better. They're motivating us to do better," she said.
"I feel like with this program, I will be successful," continued Nzeyimana, who aspires to be a gynecologist. Going into the spring semester, she added, "I know I can definitely get that A."
Beyond Science
Outside of the biology and chemistry classes and labs—and the physics lessons involving a lot of math—the BSS students spend one day during the two-week program with Bowdoin career advisor Bethany Walsh. Walsh walks them through writing résumés and cover letters, creating a LinkedIn profile, connecting with alumni, asking professors for reference letters, and searching databases for internships. By the end of the day, each student has the tools to apply for an internship or summer job.
"A lot of research shows that early experiences in some sort of internship or research lab has a big influence on students' ability and passion to stay in STEM," Richards said.
Faculty from the Center for Learning and Teaching—Katie Byrnes and Eric Gaze—offer workshops on learning strategies.
And two upperclass mentors—this year, Favour Ofuokwu '21 and Maxx Byron '19—provide support and organize social activities for the group. For instance, on Thursday evening, the mentors organized a cooking competition. (The teams made vegan empanadas and morir soñandos, chicken tikka masala, and samosas.)
The extracurricular fun is an important part of BSS. Because some Bowdoin students do not come from backgrounds where they can easily make advantageous professional connections, BSS faculty and mentors encourage the students to form a friendly cohort.
"What we want to do is help them make those connections with each other as supports," Richards said. "And we're thinking about their success here and how that will translate into success, in STEM or not, beyond Bowdoin."