Published February 16, 2017 by Doug Cook
Trustee Emeritus Gerald Chertavian '87, P'20 to Receive 2017 Common Good Award
Gerald C. Chertavian, a member of the Class of 1987, has been mentoring people most of his adult life. Dedicated to closing the Opportunity Divide in our nation, he combined his entrepreneurial skills and his passion for working with urban young adults to found the nonprofit Year Up in 2000.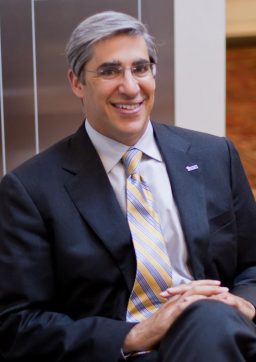 Year Up provides low-income young adults ages 18-24 with the skills, experience, and support that will empower them to reach their potential through professional careers and higher education. The one-year intensive program combines hands-on technical and professional skills training, educational stipends, college-level coursework, and corporate internships at more than 250 top companies across the country. Year Up currently serves more than 3,600 young adults each year at sites in 21 cities across the U.S.
Year Up is lauded as one of the most influential agents of social change in the country, and has been recognized by Fast Company and The Monitor Group as one of the top 25 organizations using business excellence to engineer social change.
For his tireless efforts and the impact he's had on the lives of thousands of men and women through his leadership at Year Up, Chertavian has been selected by the Bowdoin College Board of Trustees to receive the 2017 Common Good Award.
An economics major at Bowdoin, Chertavian says his most profound experience at the College was his volunteer work as a mentor with the Big Brothers and Big Sisters program. Two years after graduation, he was recognized as one of the most outstanding Big Brothers in the state of New York.
Beginning his career as an officer of the Chemical Banking Corporation, Chertavian then attended Harvard Business School as a Knox Scholar, receiving his MBA with honors in 1992. In 1993, he founded Conduit Communications, which became one of the United Kingdom's fastest-growing companies. He sold the business in 1999.
The next year, he made his passion for working with urban young adults his life's work by founding the nonprofit organization Year Up in Boston.
Chertavian's book, A Year Up: Helping Young Adults Move from Poverty to Professional Careers in a Single Year, chronicles the program's rapid growth and innovative approach to job training. It has been a New York Times best seller and has been hailed by critics as a "must-read account" of his "groundbreaking employment program."
Chertavian has received the Manhattan Institute's Social Entrepreneurship Award and the Freedom House Archie R. Williams Jr. Technology Award. He has been elected a fellow of the Ashoka Global Fellowship of social entrepreneurs, appointed a member of the Massachusetts State Board of Elementary and Secondary Education, and later named chairman of the Roxbury Community College Board of Trustees.
Chertavian was a member of the Bowdoin College Board of Trustees from 2002 to 2012. He and his wife, Kate, live in Cambridge, Massachusetts; their son Cameron is a member of the Class of 2020.
Established in 1994 on the occasion of the Bowdoin College Bicentennial, the Common Good Award honors those alumni who have demonstrated an extraordinary, profound and sustained commitment to the common good, in the interest of society, with conspicuous disregard for personal gain in wealth or status.
Common Good Award recipients personify the idea of the common good as set forth by Bowdoin's first president, Joseph McKeen. In his inaugural address on September 2, 1802, McKeen reminded his audience, "It ought always to be remembered that literary institutions are founded and endowed for the common good and not for the private advantage of those who resort to them for education. It is not that they may be able to pass through life in an easy and reputable manner, but that their mental powers may be cultivated and improved for the benefit of society."
The Common Good Award will be presented, along with others, Saturday, June 3, 2017, during Reunion Convocation.