Published February 09, 2010
From Hot Sauce to Xbox, Dante Still Rocks
They got Dante's name right. And they got Dante's infernal architecture right. They also included a great many of the characters Dante meets while traveling through hell. But Electronic Arts (EA), publishers of the much awaited action-adventure video game Dante's Inferno launching Feb. 9, 2010, got one minor point wrong: It's the babe who saves the boy.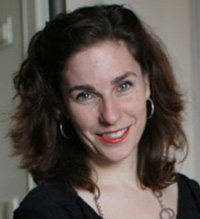 "I wouldn't say this project is damned from the get go," says Saiber in an article appearing in The AtlanticWire, the online version of The Atlantic. "The hope is that the game will lead people back to the poem." Read the full story.
"The storyline of EA's Inferno has a big, macho Dante fighting for Beatrice," notes leading Dante scholar Arielle Saiber, Bowdoin Associate Professor of Italian. "In reality, it's Beatrice who saves Dante. She is his beloved muse, who starts him on the journey through hell, purgatory and paradise to learn about God's universe and our role within it. She is not a helpless woman carried off by Satan who needs rescuing, as the EA game would have it. Dante goes on this journey to save himself, and by observing his example, he hopes to inspire us to do the same."
The first book of the 14th-century epic poem the Divine Comedy depicts Dante's descent through nine circles of hell inside the Earth, encountering hideous visions and demons at every turn. "There is much that is shocking and violent and fascinating in the Inferno, so it's not a surprise that it would attract gamers," says Saiber, "but they have employed a typical video game storyline of man-needs-to-save-woman, and do so with spectacular splatter."
Dante's Inferno has inspired creative interpretations and depictions for centuries, notes Saiber, who hosts the popular Web site, Dante Today: Citings & Sightings of Dante's Works in Contemporary Culture. Among the citings of Dante-related items are Dan-T's hot sauce and Brazilian thrash metal band Sepultura's album, Dante XXI.
"Dante's journey speaks to people again and again throughout the world and throughout time," says Saiber. "I think everybody finds themselves in a dark wood at some point in their life—as Dante the Pilgrim does in the beginning of the poem— and many go on some kind of journey (inward or outward) to evaluate their lives. And everyone wonders about what happens after death.
"These are universal issues and it's always fascinating see how Dante's text will be revived, translated, adapted, utilized, or simply recalled, however accurately. These Dante references reveal a great deal about the users/interpreters, and about the current culture in which they live. I hope this game inspires players to read the real thing, and the whole thing. It will be interesting to see if there is a spike in enrollment in Dante classes across the country after this game releases."