Arielle Saiber Edits New Multidisciplinary Book Series
By Tom Porter
Arielle Saiber is an embodiment of intersdisciplinarity. She majored in philosophy and cognitive science at Hampshire College before pursuing a PhD in Italian literature at Yale. Today, the professor of Romance languages and literatures is a leading scholar of Dante, Renaissance literature, and the history of mathematics. She also does research on science fiction, visual culture, and experimental electronic music.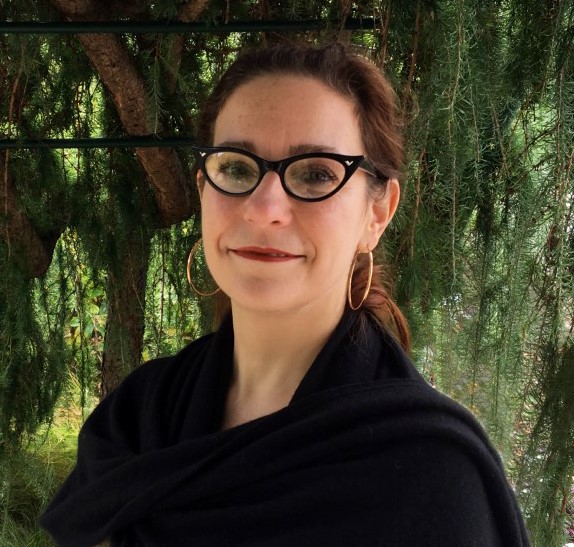 All this makes Saiber the ideal candidate for her latest role as coeditor of a book series exploring the relationship between the humanities, arts, and sciences, and the ways in which disciplinary fields benefit from deep conversation and collaboration. Proximities: Experiments in Nearness (University of Minnesota Press) will feature three monographs a year. The first one, said Saiber, is being written by Gloria Kim from the University of California, Riverside, who will examine the relationship between visualization technologies, microbes, and national security.
Saiber's coeditor on the Proximities project is David Cecchetto, associate professor of critical digital theory at York University in Toronto. "David and I share a fascination with 'languaging,' that is, the verbal, visual, acoustic, and gestural expressions, lexicons, and strategies humans and nonhumans use to communicate," said Saiber. "I love to see what is produced when thinkers from different disciplines get in the room together. What can they create? What seemingly intractable problems might they solve?"
The aim of the book series, she explained, is to explore what happens when people think "in proximity" to one another. "By 'proximities' we mean a lot of things," said Saiber. "It can mean physical closeness to one another—something many of us have lacked lately due to COVID-19 restrictions as well as current social and political polarizations. The term also refers to other types of nearness," she added, "such as nearness in time (the urgency for social and environmental change) and nearness of thought and ideas." It all comes from a desire to help humans move more toward inclusivity and unity, away from fragmentation and silo-ization. "It's about recognizing the benefits and challenges of being in community with others and with the world. It is not about reducing focused research within fields," said Saiber, "but, rather, making time to listen to the diversity of knowledge and experiences around us."
Saiber and Cecchetto are already receiving many submissions for the series. "Things are moving fast," said Saiber. "People are responding with enthusiasm to our call for 'thinking with' and 'thinking near to.' We're looking for work that is out-of-the box, edgy, and courageous. Work that surprises, wows, and changes how we see the world, ourselves, and our responsibilities to the world and each other."
"I love to see what is produced when thinkers from different disciplines get in the room together. What can they create? What seemingly intractable problems might they solve?"
Proximities: Experiments in Nearness is being produced in collaboration with the Society for Literature, Science and the Arts, an academic organization with members across disciplines, including the sciences, engineering, technology, computer science, medicine, the social sciences, the humanities, and the arts. "The SLSA is an incredible organization," said Saiber. "I've been attending its annual conference since graduate school. It's a place where hundreds of artists, scientists, philosophers, historians, literary scholars, and others dive head-first into cutting-edge discoveries and theories in all fields. It's one of the most stimulating environments I've ever been in," she added, "and I am thrilled and honored to be working with David to continue the work that so many SLSA scholars do with such expertise and thoughtfulness."
A full description of the series can be found here.
Published April 09, 2021