Lessons
Individual Performance Studies are open to all Bowdoin students. Currently, lessons are offered in: classical piano, jazz piano, classical voice, pop/jazz voice, guitar, jazz guitar, cello, violin, viola, harp, oud, jazz bass, clarinet, French horn, trombone, trumpet, flute, oboe, bassoon, saxophone, and percussion. Depending on faculty availability, the department also offers instruction on less common instruments such as Celtic harp, banjo, harpsichord, sitar, and Renaissance instruments.
Private lessons are available at three levels for credit:
Beginner - MUS 1811-1878 for beginners, which offers a half-credit per semester with no performance requirement.
Intermediate - MUS 2811-2878, which also offers a half-credit per semester and requires a short performance of ten minutes of music at the end of the second semester (and each semester thereafter).
Advanced - MUS 3805-3807, offers a full credit and requires a solo recital at the end of the semester as well as a writing component. One year of intermediate lessons for credit is a prerequisite.
Lesson Fees and Important Dates
Students taking lessons for credit pay a fee of $560 for twelve one-hour lessons per semester. Junior and senior music majors and minors may take two half-credits free of charge.
Non-credit students will pay the instructor directly at their private student rate.
To sign up for lessons, please see Clare MacKenzie in the music department office (Gibson 103). The deadline for adding lessons is one week from the start of classes; the deadline for dropping lessons is two weeks from the start of classes.
Applied Music Scholarships
For students who are on financial aid, scholarships are available to cover the cost of music lessons for credit.  
Scholarships are supported by the following funds:
Isaacson Family Applied Music Scholarship Fund
Judson Fund, given by Ron and Kathy Judson in Memory of Todd Judson, Class of 1998
Friends Fund, given by the Association of Bowdoin Friends
For more information about applied music scholarships, please see Clare MacKenzie (Gibson Hall Room 103) by the end of the first week of classes.
If a student is on scholarship and is required to purchase musical scores, there are two options for financial assistance with those purchases. Students may ask their dean if the Office of the Dean of Students can provide funds to reimburse them, or they may contact Delmar Small (in the music department) who can purchase the score directly.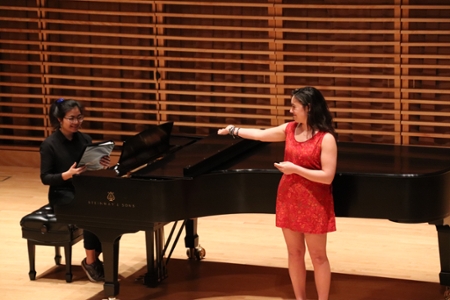 Credit
With the exception of Advanced Individual Performance Studies (38xx), all individual performance courses count for one-half credit per semester and are graded on a Credit/D/Fail basis. Beginner and intermediate students must take at least two consecutive semesters of study on the same instrument. If a student does not complete two consecutive semesters, they will lose their credit for the course. If a student decides to drop their lessons after the Add/Drop II period (including students who receive an applied music scholarship), the student will be charged retroactive fees to cover the cost of the lessons that they received.
To receive credit and to receive the reduced fee, students must also complete one academic music course within three semesters of your first semester of lessons or by graduation, whichever comes first.
Advanced Individual Performance Studies (38xx) count for a full credit and are graded with a letter grade.
A total of six credits of ensemble and individual performance courses may be taken together for graduation credit. (Note: Advanced Individual Performance Studies (3805-3807) count for one academic credit and are thus not included in this limitation.)