Published June 19, 2020 by Jack Wellschlager '23
Shirokuma Awards Spring 2020
The Shirokuma Awards were a Thorne thing. They were an end of semester, before everyone flies off to their homes kind of thing. A fit the whole program into a tiny conference room thing. They were something we all saw pictures of when deciding to take Japanese—a staple of the program and the final read-though of our semester's work.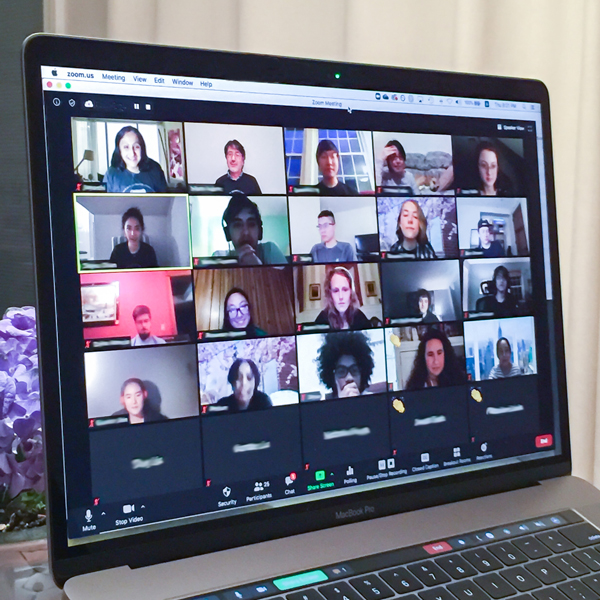 Last year's Shirokuma Awards, held in one of Thorne dining hall's smaller rooms, was the last time I saw all of my Japanese classmates and teachers before flying home for a month. This semester, the last time I saw all of them must have been in passing. It must have been a typical "shitsureishimasu" to Aridome-sensei, or a light "jaa mata" to a friend—see you next time. We thought we knew what "next time" meant. Now we know that we have no idea what it means. It felt like our semester ended in a headline, in an email, when we were used to a celebration.
After spring "break," it felt less and less like everything had ended. I had Japanese class every morning and I would see Sensei and (half of) my classmates like I used to. Maybe my hair was longer and somehow even messier, and maybe a screen separated us instead of Coles Towers' long tables, but we still had a dialogue to memorize so, uh, better get to it. The focused regularity of memorization and early wake ups shook the summer out of me—this was school, and it was still going.
As ridiculous as it sounds, I was thankful for those 8:30 am wake-ups. They might have kept me tired, but they also kept me grounded in familiarity. Other classes moved to asynchronous lectures and written discussion posts; Japanese class still began with Aridome-sensei's "ohayou" (good morning) and ended with our "shitsureishimasu." And the semester still ended with the Shirokuma Awards, even if they were a bit different.
Instead of a final exam, Japanese class ends with skit projects. The class splits up into several groups and films often hilarious videos using the new grammar patterns and vocabulary from that semester. The Shirokuma Awards are when the entire program gets together to watch the videos from each of the different class levels. Not only do we watch, though: we vote. Everyone gets small slips of paper to write their choice for best actor, best supporting actor, and best overall skit, and the awards are tallied and announced by our department's patron deity, Aridome-sensei himself.
These skits stage battles to the death, impassioned arguments, and shocking revelations, but this semester, we had to find a way to convey that emotion through individual videos and recorded Zoom calls. Much like we couldn't film in person together, we also couldn't gather for the Shirokuma Awards like we used to. Instead, on the night of this semester's Shirokuma Awards, the faces of my classmates and teachers unfurled onto my computer screen—a tapestry of faces from what felt like long ago, and from what really was far away.
For an odd moment, when for the first time in two months I saw all of those faces that so defined Bowdoin for me, it almost felt like I was back. And while watching all the skits and seeing our teachers laugh like crazy at our work it almost felt like I never left. My classmates' skit, The Legend of the Ringo: Part 2, still included an iconic battle scene, this time filmed as a Pokemon battle in Zoom instead of a sword fight in person. The sophomores' Japanese was still just as confusing and impressive to first-year ears and we still clapped enthusiastically for each video, albeit with the help of a convenient "reactions" button. It wasn't the same, and it never could be, but after that night, seeing everyone that made me so love Japanese, I realized that I had never left, and that I could never leave, our Bowdoin Japanese community.