Published September 19, 2019 by David Yang '22
Bowdoin Japanese Program Welcome Party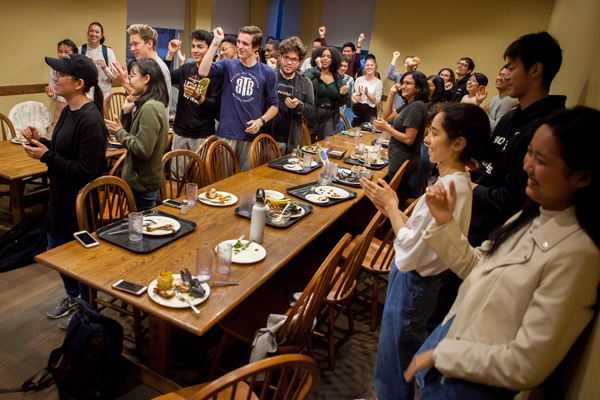 On September 19th, the Bowdoin Japanese Program started off the new semester with its annual welcome party in the Hutchinson Room of Thorne Dining Hall.
Professor Aridome opened the party by leading everyone in singing "Saraba." The host of the night was third-year Japanese student Bryan Vargas. Various Japanese language students introduced the professors and program supporters: Professor Laurence, Professor Selinger, Professor Tanabe, Professor Kim, Professor Nakai, Professor Aridome, and Anna san. The Japanese students and Japanese language teaching assistants were also introduced—Shayna Olsan '20, Nana Hayami '22, Taiga Kagitomi '22, Rintaro Komori '20, Jingrui Lin '22, and Rose Xi '22. Shayna talked about the Japanese Student Association and their plans of activities to come.
 
Japanese program alum Marty Dang '18 made a surprise appearance. Yujin Moon '20 talked about the Japanese contest in Boston and her experience writing an award-winning essay in Japanese. After that, Bethany Berharus '20 (Sophia University), Dylan Atencio '20 (KCJS), and Howard Wu '22 (HIF) shared their experiences studying abroad in Japan during the past year. Rosemary Nguyen '21 (who is studying in Kyoto) and Hikmah Okoya '21 (who is studying in Nagoya) sent video messages welcoming newcomers to the program. Rebekah Greenspan '20 invited students to join the Bowdoin Anime Club. Finally, Emma Kellogg '20 and Izzy Halle '20 talked about the Oshietai program and teaching Japanese language to local elementary school children.
 
The Welcome Party ended with everyone doing the sanbonjime (三本締め) hand clapping. Students and professors alike enjoyed themselves greatly.