Published October 03, 2019 by Jack Wellschlager '23
Alumni Visit: Michael Amano '17
Japanese language table is not something I need to be convinced to attend but a special presentation by Michael Amano '17 on October 3rd made that decision even easier. Michael, an Asian Studies and Neuroscience double-major and recipient of a Fulbright Study/Research Award, was sure to impress.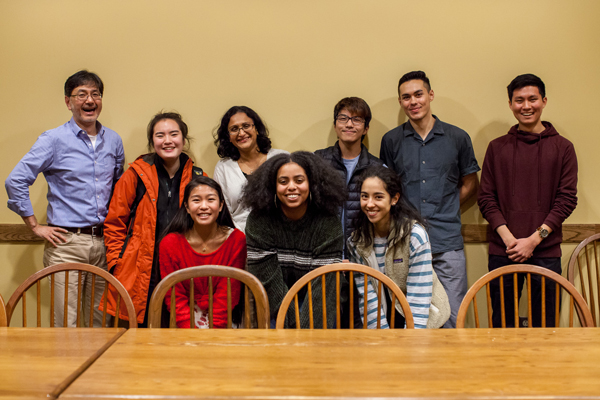 But what I didn't quite expect was such an honest, uncompromising look at his four years at Bowdoin. Michael showed me that it was the composite—the snowball—of his experiences at Bowdoin, both good and bad, that led him to where he is today. And that having a willingness to engage in those experiences was as important as their outcome.

College is an intense process. In my case, I left a world of concrete and dependable certainties—my large, loving family, the house I've lived in for thirteen years, and my school's strict curriculum—for a place seemingly founded upon uncertainty. At Bowdoin, my family is hundreds of miles away, I live in a room I'll leave forever in seven months, and I have only a painfully abstract idea of what I want to study. Frankly, I don't have a grasp on much here—only fleeting glimpses. And while interacting with such potential is fascinating, the sheer number of possibilities is overwhelming almost to the point of paralysis.
But Michael's presentation taught me to be anything but paralyzed. He did not start Bowdoin with the idea of studying the epigenetics of trauma in Hiroshima. He didn't even take Japanese language his first year. Rather, he took advantage of the small opportunities that came his way. No grand idea sent him to Asian studies—a brief conversation with Professor Aridome at a sushi party did. And no miraculous string of successes lead him to a Fulbright. The possibility only came into focus after many different experiences with the Japanese program and Japan. Some of these experiences were born of failures: Michael did a study abroad at the Japan Center for Michigan Studies only after his application to the Associated Kyoto Program was rejected. An opportunity with the Hiroshima Art Project appeared after he failed to receive a critical language scholarship. Out of these experiences came achievements that are undeniably impressive and a future that seems to combine his two disciplines of study in amazing ways. And while contemplating such achievements is slightly terrifying, Michael showed me that I don't have to look too far ahead. He showed me that the best thing to do is to seize the possibilities I can see until, one day, they begin to snowball. Above all, his presentation taught me to enjoy and take advantage of the abounding potential of this new and exciting place, rather than to freeze at the uncertainty that comes with it.