Advising
The Department assigns all majors to a primary advisor.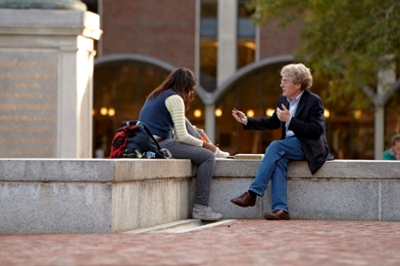 While major advisors should be the primary contact person for course registration (and the adding and dropping of classes), the Department also encourages students to seek out any faculty in government for course recommendations, feedback on progress through the major, approval for study-away credit, and general advice. In rare circumstances, because of an advisor's absence, a back-up faculty member can be designated to approve a major's courses prior to the course registration deadline.
The Department has also implemented the following regarding the assignment of a major advisor in government:
Initial Assignment when Declaring a Major in Government
At the initial declaration of a government major, students will be asked to submit their top preferences for a faculty advisor. The chair of the department, in consultation with the teaching faculty, will make final decisions about the assignment of new majors to advisors.
Reassignment of Advisor during Faculty Sabbaticals
The College will only allow teaching faculty to serve as major advisors. Faculty members on sabbatical, as well as visiting faculty and tenure-track faculty in their first year, are not responsible for approving a major's courses through the Polaris system. When a major's advisor goes on sabbatical, the chair of the department will ask that faculty member's advisees for their preferences concerning another advisor. Those students will be reassigned to a new major advisor and will not automatically be reassigned to their initial advisor when that faculty member returns. It is important to reiterate, though, that any faculty in the department can provide advice on course selection or for any other component of a major's academic progress.
Changing Advisors
A major can request a change in advisor at any point. These requests should be directed to the chair of the department. The petitioning student should submit in writing a formal request for a change in advisor. This request should include a reason for the proposed change. Each decision on a requested change will be handled on a case-by-case basis.