Published October 19, 2021
SWAG and Athletics Host Documentary and Panel Discussion on Trans Athletes
From Sarah, a Nordic skier and teen policy advocator in New Hampshire who desires to "live free" as her state motto insists, to Mack, the former Texas state champion in wrestling who wants nothing more than to wrestle other men, to Andraya, a track star from Connecticut who has become the role model for others that she was never able to have herself, Hulu's original 2019 documentary, Changing the Game, tells the stories of three high school transgender athletes as they grapple with discrimination and exclusion in their beloved sports.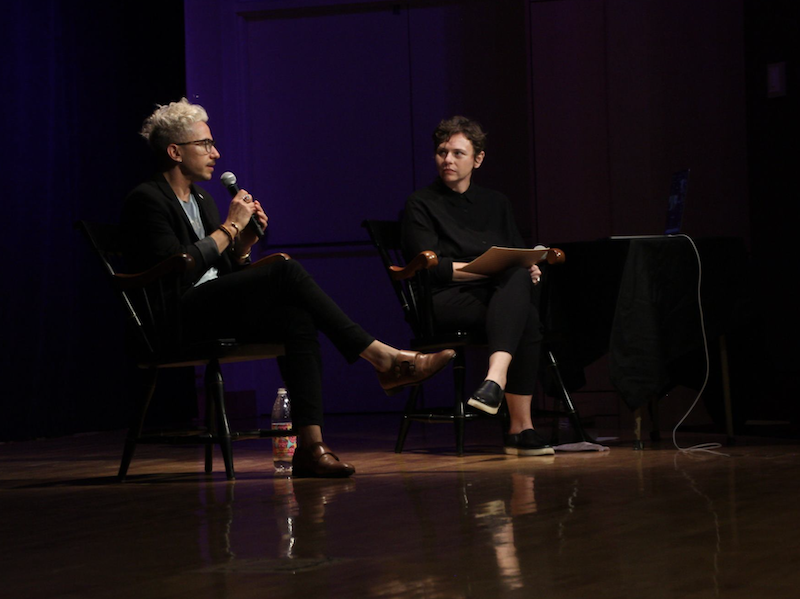 The Sexuality, Women's, and Gender Center (SWAG) and the Department of Athletics recently screened the documentary in Kresge Auditorium, followed by a panel discussion.
In-person panelists included Shane Diamond '10 (he, him), the film's impact campaign coordinator, and the event's facilitator, Rachel Reinke (she, her), SWAG's associate director. Also present was a special guest whose story is followed in the documentary, Andraya Yearwood (she, her). Yearwood, a college student, is an activist and self-described role model for other intersectional identities and black transgender youth.
In addition, Anne Lieberman (they, them), a policy expert from the nonprofit LGBTQ athletic advocacy group Athlete Ally, and Katie Greene (she, her), the Bowdoin assistant athletic director and diversity, equity, and inclusion coordinator, joined the panel via Zoom. 
In the aftermath of the film, information on country-wide policy efforts, and the DEI work of Athletics were shared and discussed. One of Lieberman's remarks provided the context for the current battle for LGBTQ+ rights around the country: "We currently have faced the worst legislative session in the history of this country for LGBTQ+ Americans. We're fighting over 300 Anti-LGBTQ+ bills across the country, over ninety of which target trans kids and their ability to play sports with their friends."
Bowdoin Athletics' DEI efforts in the past year and a half have tried to respond to much of this reality as well as the continuous afflictions of other marginalized identities by first defining what diversity and inclusion mean in sports. "Diversity is giving everyone a seat at the table," Greene said, "but inclusion is really making everyone feel valued and safe at that table. Understanding the difference between the two is how you get to the equity part of it."
The Athletics department continues its work by recognizing the purpose of collegiate sports at Bowdoin. Tim Ryan '98, Bowdoin's director of athletics, said from his seat in the audience that he agreed with a sentiment shared in the film by one of the interviewed coaches: "Who really cares who is winning and losing? It's about people being themselves and supporting their growth and development as a person."
In the panel's conclusion, Lieberman said that "the conversation around [trans athletes in] sports specifically has become the wedge issue and the civil rights issue of our time." Yearwood added, "I think a lot of people who didn't approve of what I am doing and present backlash don't give trans kids a chance to simply live."
Diamond remarked that once people see this film or meet a trans person for the first time, they realize that trans people are just like themselves, "with feelings and emotions, just wanting to live their lives like everyone else." The question they then find themselves asking is, "Now what do I do?"
He said that's the barrier this event set out to break for those unfamiliar with transgender stories and experiences. Concrete actions include making phone calls to your congressional representatives to speak out against discriminatory bills, donating money to nonprofits working for trans rights, and sharing the film and its stories. These actions, along with extending friendship to people who identify as trans, are ways to support the transgender community, Diamond said.
Story and photograph by Dillon Stone '25