Published March 24, 2020 by Anna Martens '20
Coordinate Major Maddie Hasson Player of the Year
In this 2020 season, Bowdoin's women's basketball team won a NESCAC title and advanced to the Sweet Sixteen of the NCAA Division III tournament (the tournament was subsequently cancelled). Maddie Hasson '20, a Education and History coordinate major, has been essential to this success.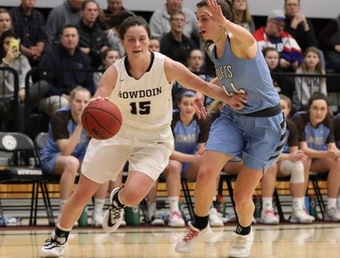 Hasson rivaled many personal, school and division records. In one December game at Chapman, she got a career high of 37 points, barely short of Bowdoin's record 38. Hasson finished her college basketball career with 1,321 points and was also named WBCA's First Team All-American. 
In this complicated time with sports careers and time on campus cut short, we find it crucial to celebrate success. Congratulations, Education major Maddie Hasson, on this success!