Published May 11, 2021 by Esther Fernandez Rosario '23
Bowdoin Teacher Scholars Tackle Teaching Through a Pandemic
Students in the Bowdoin Teacher Scholars program have had a double challenge this year: They've had to learn how to be teachers while also learning how to teach virtually.
The coronavirus pandemic has posed significant challenges to everyday life, one of the biggest being how to shift into a virtual world. Part of this transition is figuring out how to best educate students virtually while also taking into consideration student wellbeing. Though a daunting task, seven Bowdoin students have risen to the challenge through the Bowdoin Teacher Scholars Program (BTS). BTS aims to prepare Bowdoin students for teacher certification through a fourteen-week practicum where they work in local schools and create a professional portfolio with the guidance of faculty, peers, and mentor teachers. There are two undergraduate students and five postgraduate students in this year's cohort. 
Andrew McGowan '19 is working in Brunswick High School with teachers Pam Wagner and Brian Banton as mentors. He works with English Language Learners across various disciplines and grade levels while also co-teaching a class on history through film. Andrew remembers having an admiration for his teachers and a fascination with education as early as kindergarten. Before BTS, he worked with St. Mark's School in Southborough, Massachusetts providing educational and operational support. As he describes it, "Despite its challenges, this return to working with students and witnessing teachers perform so well under such unusual circumstances provided one final jolt of excitement before beginning BTS." His work with Brunswick High School has continued this excitement as he reminds students, and himself, the importance of remaining optimistic and persevering through challenging times such as these.
Michael Walsh '19 teaches physics and chemistry at Hall-Dale High School in Farmingdale under the mentorship of Jeff Cleaveland and Truax McFarland '94. He was inspired to study education by his mother, who is a ninth-grade English teacher, but had never considered a career in teaching until recently. After having his Fulbright experience in Indonesia abruptly cut short by the pandemic, he considered BTS as a productive way to use his time before matriculating into dental school in August of 2021. With this experience, he hopes to combine teaching and dentistry into his future career. The in-person time he has been able to have with students is his favorite part of an otherwise very isolating year. This experience has taught him to "think quickly on [his] feet," to embrace "failure when it happens, and calmly adjusting or fixing" lessons when the need arises.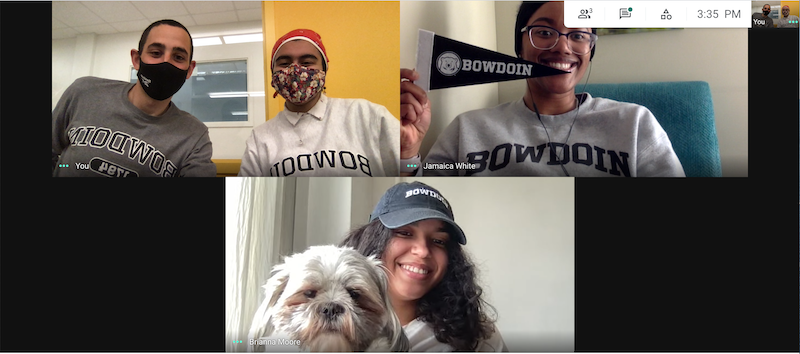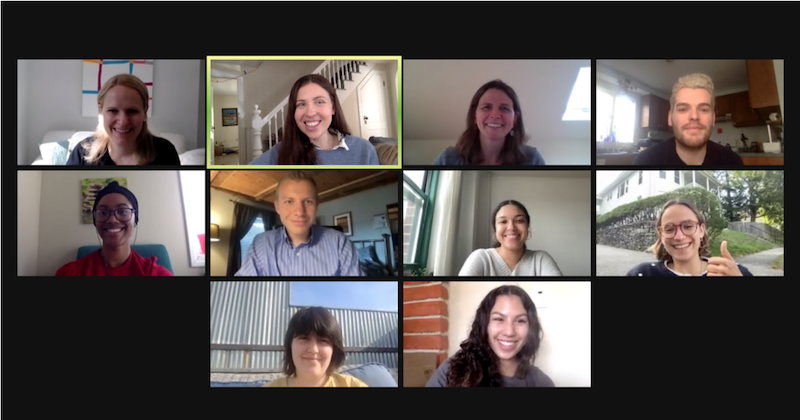 Sara Caplan '20 works at Hall-Dale Middle School teaching sixth, seventh, and eighth-grade social studies with the mentorship of teachers Scott Bell and Amelia Clukey. She was inspired to teach during a summer job she got in high school in a charter school in Harlem. She fell in love with teaching and has been working towards a career in education ever since. Though she admits this has been a difficult year for both educators and students, she feels that it has not inhibited her ability to build relationships with students and have "really meaningful moments of interaction, instruction, and fun" with them. She has also learned that kids are a lot stronger than many give them credit for. 
Bridget Hoke '20 is teaching ninth-grade English at South Portland High School with the mentorship of Tasha Graff '07. She was inspired to teach by the "compassionate, brilliant teachers" she has had throughout her life. Hybrid teaching, in her words, "is the juggling act of the century." Though it has been a difficult experience, it has taught her to value resilience. The in-person experience she has had so far with students alongside the support she has received from her mentor and Bowdoin professors have made teaching during this time a lot more manageable and have helped her to stay motivated. 
Two scholars, Jamaica White '20 and Brianna Moore '21, have a unique assignment co-teaching ninth-grade social studies at Casco Bay High School under the mentorship of Matt Bernstein '13 (BTS '13).
Jamaica did not consider a career in teaching until she combined her love of history with the study of education and had more opportunities to spend time in schools through her education classes. Virtual teaching has pushed her to think of interactive and engaging lessons. The moments when students who had previously found school uninteresting became intrigued due to these lessons have allowed her to stay motivated. The support from BTS has also been a substantial help. Through it, she has learned about the value of asking for assistance and guidance when needed.
Brianna has always had a love for learning and teaching allows her to combine this love with her passion for working with youth. Teaching online has been challenging, but it has pushed her to "be more creative and adaptable in not only instruction but also in building rapport with students" and she has been able to remain motivated through the support of her BTS cohort. The pandemic teaching experience has taught her that there is no perfect teacher, but instead educators who are constantly growing and adapting to best meet the needs of their students. 
Tia Hannah '21 teaches English literature at Brunswick Junior High School with the mentorship of Danielle LeBlanc. She did not envision herself as a teacher until she began to take education classes at Bowdoin. As she explains, "I had always been passionate about educational equity and deeply enjoyed working with students of all ages, but the aspect of occupational professionalism only became clear to me after I began exploring the political dilemmas and logistic dimensions of teaching." The challenge presented by the pandemic, along with the opportunity to problem-solve with more seasoned educators, has empowered her to take risks in her own teaching and "be unafraid to embrace challenges in the classroom."  Through this experience, she has learned that "A positive outlook, the cultivation of meaningful relationships with students, and endless cheer are as important in a teacher's toolkit as any lesson plan."
To learn more about BTS or the education department at Bowdoin, see this link.
Thank you to the current BTS cohort and the Education staff for their work! Special recognition for professors Lauren Stark and Alison Miller, who are teaching the BTS seminar this semester and advising BTS students, and Laura Sweet who coordinates all of the field placements.