Published October 07, 2021
Peter Hill '02 Recognized with Education for the Common Good Award 2021
Each year, Bowdoin's Education Department presents the Education for the Common Good Award to a local educator in honor of their dedication to teaching, learning, and the broader community of educational professionals.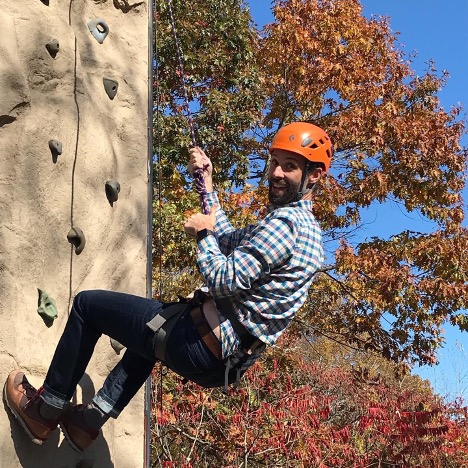 Awardees are selected from a pool of educators nominated by alumni and school partners and are chosen because their ongoing work represents the three core values of the Education Department: 1) Be aware of the big picture; 2) Embrace theory and practice; and 3) Live in and model a spirit of inquiry. The recipient of this year's award is Peter Hill, a 2002 graduate of Bowdoin College and assistant principal at Windham Middle School in Windham, Maine.
Hill arrived at Bowdoin with a passion for marine biology and law, and a deep interest in field science. With Bowdoin's Coastal Studies Center having been newly established, Hill had the opportunity to spend the summer following his junior year as a student scientist at Kent Island. Working from a lobster boat and researching seaweed and aquacultures, Hill presented his findings to a group of educators and peers. In a recent interview, he recalled that experience as one of his most notable at Bowdoin and one of the most instrumental in leading him to go into education. "I remember sharing what I had learned," he observed, "and feeling the most energized I had felt that whole summer." Hill graduated with a Biology major and a public school certification to teach life science. He remains in contact with his cohort of fellow student-teachers from Bowdoin.
After graduating, Hill sought to foster the common good through his work as an educator and teaching strategist. According to Hill, promoting the common good in education is "about advocating for those students who don't have an advocate. We as leaders have to be thinking about kids who don't have access to services we might take for granted, and creating a school that provides mental health support, two free meals a day without stigma, creating a clothing closet... meeting those basic needs." First as a life sciences teacher and teaching strategist in Portland (Maine) public schools, and now as an assistant principal, Hill has dedicated himself to building school communities where students are heard, cared for, and connected with the greater community. He has been instrumental in creating professional development opportunities for teachers that emphasize equity and support the mission to uplift BIPOC educators' voices.
Hill's professional development initiatives are heavily centered around pushing white teachers to evaluate their own biases and work to learn from and elevate the voices of BIPOC staff. As a white male, Hill thinks often about how he can act as an ally with BIPOC educators and students alike, and always draw equity into the classroom. In a state that has significant racial disparities between students and staff, as well as gaps in proficiency and discipline, Hill's work to promote equity is centered in creating plans to address those gaps and monitor data for positive change. Hill especially emphasizes the necessity to foster a sense of student belonging, both in the classroom and in the community. "We do authentic work when we are learning, and that can have a positive impact on the community," Hill claimed. "Students push themselves beyond what they think is possible when they know they are doing valuable work that has meaning to them and meaning to the community."
By emphasizing community impact, Hill infuses the common good and the practice of evaluating personal biases into every school with which he is affiliated. First through his work at Portland's King Middle School and now at Windham Middle School, teachers follow a project-based model of learning that allows cohorts of teachers to collaboratively design curricula across different subjects while focusing students' studies around one central theme. This model of "expeditionary learning" allows for teachers to work creatively together and for students to engage with their communities in meaningful ways, especially with the inclusion of excursions outside the school to deepen students' understanding of classroom material. Hill says that it's "all about kids finding relevance in the work and knowing that the work they do is valuable and authentic." The program, which culminates in a celebration of learning where students present their findings to their communities, demonstrates Hill's deep dedication to student learning and civic engagement.
The Education for the Common Good Award honors an educator who has created positive change and dedicated themselves to the community. The Education Department is thrilled to honor Peter Hill for his tireless work to uplift student, teacher, and community voices and his immense loyalty to the mission of promoting equitable learning in public education.