Published July 21, 2023 by Rebecca Goldfine
How AI May Help Alleviate Poverty in Developing Countries
Two students are assisting a digital and computational studies professor figure out how to deploy intelligent technology to aid farmers in developing countries.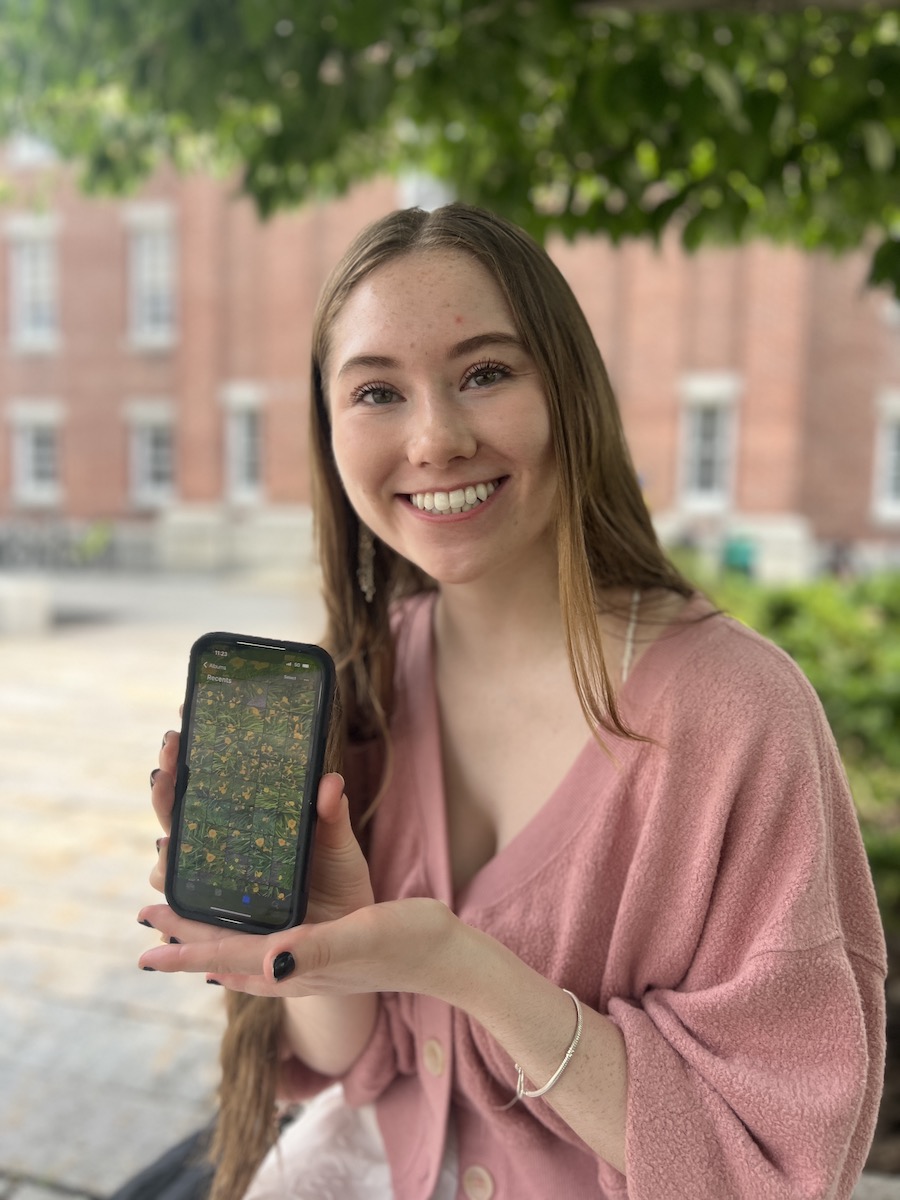 Assistant Professor of Digital and Computational Studies (DCS) Fernando Nascimento hired Ashley Morash '26 and Ben Israel '25 this summer to help him tackle some of the more persistent dimensions of poverty by boosting the efficiency of subsistence farmers in developing countries. The students are both funded with summer research fellowships from Bowdoin.
One way to eliminate extreme poverty is to give individuals more capacity to take care of themselves, Israel said, explaining a development theory called the capability approach. "If you're able to give people capabilities, not the just the freedom to do it, but the true ability to act, that actually provides true freedom" and a better quality of life, he explained.
To give such capabilities to farmers far from Bowdoin, Morash and Israel are building and testing two different technological models on campus.
Nascimento praised his two assistants for "contributing to one of DCS's central concerns of using liberal arts to investigate ways to ethically apply emerging technologies, such as artificial intelligence and the internet of things, to develop the common good and create human capabilities."
"Applying Computer Vision to Foster the Common Good in Rural Areas of Developing Countries"
Morash is working with a type of artificial intelligence called computer vision technology, which enables a computer to not only record an image, but also interpret it. "Computers have vision in the sense they have cameras," Morash explained. "They can take in images, but [without vision technology] it's just a series of 0s and 1s, a bunch of numbers and blocks—they don't understand it."
This summer, she has been feeding many images, along with some explanatory information, into a deep-learning program with artificial neural networks. With this input, the network will teach itself how to comprehend a variety of images. "It can break images down somewhat like our human brain does," Morash said, and identify components within the photo to make sense of the whole. 
 To create her prototype, Morash has been taking thousands of photographs of the flowers that grow on campus. "I'm training my own model to recognize yellow daylilies specifically on campus," she said. 
Morash envisions a day when farmers might be able to take photographs of their crops with their phone or other digital device, or perhaps even with a drone, and use an app to analyze the pictures to produce a status report. If the program runs as she hopes it might one day, farmers could check their phone apps to see whether crops were showing early signs of stress—from disease, pests, or drought, for instance.
Morash said she's drawn to the field of digital and computational studies because it gracefully combines humanities and technology. "You learn a lot of computational knowledge, but you also get the counterbalance of the humanities and think a lot about the ethical applications of technology."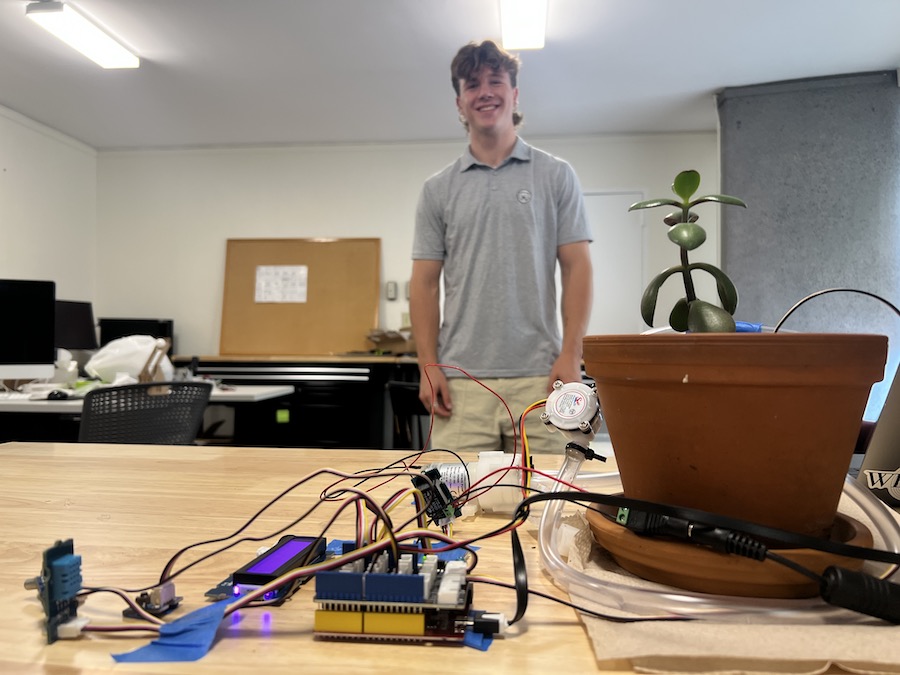 "The Capability Approach and its Technological Applications"
Israel's project complements Morash's, in that it is using "smart" technology to help farmers more efficiently tend to their crops, increase their yields, and boost their incomes.
In the College's Makerspace, Israel's been building a small but precise system of sensors that connect a small jade plant to a water pump and tiny computer board called an Arduino.
The sensors monitor air temperature, humidity, soil humidity, and the UV index. Israel has coded the Arduino to read the sensors' data and, if the plant's soil dips below a certain moisture threshold, send a signal for the water pump to automatically turn on. (A simpler model with no water pump could just alert a farmer that it is time to hand-water the beds.)
The whole set-up is designed to be inexpensive and easy to set up and use, Israel said. His next step is to set up multiple prototypes around campus for testing, to see how to "take the concept from a small-scale application to a larger scale," he explained.
As a math and digital and computational studies double major (he's also a Middle Eastern and North African studies minor), Israel said he's enjoyed the combination of coding and hands-on engineering. "I am interested in using data to make these systems more efficient and to help people," he said.
"I think this project has helped me think about how to implement systems that have longevity in communities," he added. "That is a central focus of DCS, in general—thinking how you can implement technology to make the world a better place in ways that will be sustainable."
Read more about students' summertime research projects funded by Bowdoin fellowships.


Watergate and American Politics
, with
Andrew Rudalevige
: "This was an entire semester about the politics of Watergate. I thought it was awesome because
John Dean
came to talk to our class—we got an hour and a half with him. I've never talked to a historical figure before."
Using "Big Data" to Investigate and Suggest Solutions to Economic and Social Problems,
with
Erik Nelson
: "I had never coded before, and there was quite a bit of coding in that class. I got a lot of experience out of it."
Introduction to Digital and Computational Studies
, with
Fernando Nascimento
: "One thing I liked about the class was its semester-long project assignment to explore one digital artifact. I wrote a sixty-page paper on TikTok, applying all the class concepts to an app I use in my personal life and exploring its darker and less glamourous sides." (Editor's note: She deleted the app from her phone!)
Introduction to Digital and Computational Studies, with Fernando Nascimento. "The class entirely changed the way I looked at the world. DCS opened my eyes to things I have never thought about. I really believe in the field's central ideas of thinking about what we are doing with our technology and the impacts it has on our world and being intentional and humanistic in its implementation."
Printmaking I, with Mary Hart. "It truly is one of my favorite courses I've taken at Bowdoin. I think its combination of physical and artistic skills allowed me to be creative. In STEM, you're not always forced to be the most creative, and to have that creative outlet was really important and meaningful."

Multivariate Calculus, with Mary Lou Zeeman: "That was the course that solidified my love for math. I had never really thought in three dimensions in a mathematical way, and—this is a common theme in my favorite classes—it changed the way I saw my everyday life."