Curriculum
The Chinese language courses at Bowdoin provide students training in speaking, writing, and reading.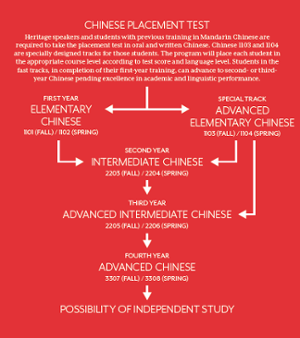 Elementary Chinese (CHIN 1101 and CHIN 1102): Provides rigorous training in pronunciation and grammar to develop students' basic communicative skills.
Advanced-elementary Chinese (CHIN 1103 and CHIN 1104): For students who have had some background of the language, either from home or previous learning elsewhere, in the hope to propel those with sufficient competence directly into third-year Chinese.
Intermediate Chinese (CHIN 2203 and CHIN 2204): Further improves students' communicative competence and strives a balance between the four skills, namely, listening, speaking, reading, and writing in modern Chinese.
Advanced-intermediate Chinese (CHIN 2205 and CHIN 2206): Aims at upgrading students' Chinese proficiency and cultural knowledge, with an emphasis on accuracy, fluency, and complexity.
Advanced Chinese (CHIN 3307 and CHIN 3308): Is a subject-oriented and multimedia-approached language course. It facilitates students to further consolidate and strengthen their Chinese proficiency through original language materials as well as audiovisual works. Topics such as Social China, Cine China, Literary China, Environmental China, and Urban China will rotate from semester to semester.
Requirements for the Minor in Chinese
Students are welcome to minor in Chinese. The minor consists of five courses, of which four must be in Chinese language, beginning with the specific course a student is placed in. The fifth course may be either an advanced-intermediate level or advanced level Chinese class, or a Chinese literature, film, or culture course, including a first-year seminar. Courses that count for the minor may not be counted for another major or minor. Up to two credits from off-campus study may count toward the minor
Independent Study
Students can take an independent study with a willing instructor individually after they have returned from studying in China, or completed the courses of Advanced Intermediate Chinese (Chinese 2205/2206) when:
a subject is not currently offered within the curriculum at Bowdoin
a course that culminates in substantial and original research
Individual Conversation Sessions
In addition to regular contact hours in class, students can practice speaking Chinese for fifteen to twenty minutes every week with the Chinese instructors at individual conversation sessions. The conversation session is mandatory for elementary and intermediate level students, but is also strongly recommended for those at the advanced levels, at least once biweekly.