Published October 29, 2018 by Kinaya Hassane '19
A Conversation with Katherine Gracey '16 and Sarah Drumm '18
Kinaya Hassane '19 moderates a career conversation with Katherine Gracey '16 and Sarah Drumm '18.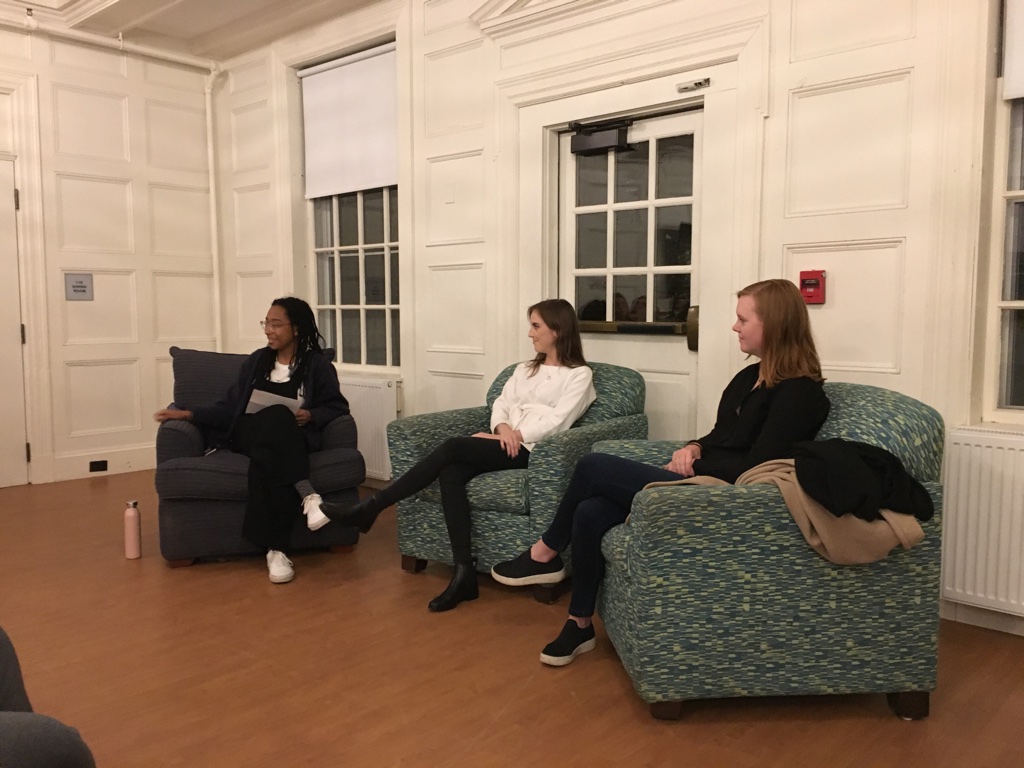 On the night of October 25th, 2018, Bowdoin was fortunate to have Sarah Drumm '18 and Katherine Gracey '16, both of whom work in the art world, back on campus to discuss their paths from Bowdoin to their current jobs. The event was moderated by Kinaya Hassane '19, an Art History major, and was made possible by the Career Planning Center, the Bowdoin Art Society, the Bowdoin College Museum of Art, and the Art History Division of the Art Department.
Sarah is currently the Public Relations Coordinator at the Museum of Fine Arts in Boston. She discussed how her Art History major, in addition to her tenure as an editor-in-chief of the Bowdoin Orient, prepared her for her fast-paced and social media-driven job. She gave reassurance to seniors in the audience who might feel pressured by the fact that many of their peers have already started applying to jobs or have their post-graduation plans solidified already. With regard to her current work, Sarah described how her job at the MFA Boston often presents her with the opportunity to spend time with objects in the Museum's renowned collection even though she is in the PR department.
Katherine is the Evening Sale Coordinator at Christie's and described the exciting experiences she has had while working at the auction house. She talked about how her time on the squash and sailing teams at Bowdoin helped her become a better team player in her workplace. Katherine was very candid about the somewhat winding path she took to get the job she wanted at Christie's, as her first job after graduation was at a gallery. She also emphasized the importance of her prior internships and persistence throughout the application process in getting where she is today. Finally, Katherine gave insight into how she maintains a work-life balance and ensures that her high-stress job does not overwhelm her.
Overall, students interested in careers in the visual arts were provided with excellent advice on how to network and put their Bowdoin education to use in finding their first job after college.