Annual Bowdoin Invitational Golf Tournament Celebrates the Student Athlete Experience—and Sets a Record Too
By Bowdoin News
The Bowdoin Invitational Golf Tournament has been a Polar Bear fan favorite since it began in 2014 as a fun and active community event.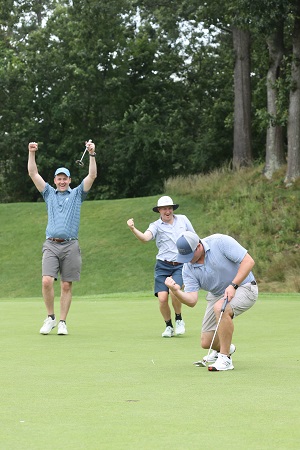 Over the years, the tournament has celebrated various priorities at the College.

This year, the Bowdoin community came together on September 11, 2023, in support of the student athlete experience at Bowdoin and the Polar Bear Athletic Fund and for the opportunity to network with alumni, parents, and guests while enjoying a round of golf at Brae Burn Country Club in West Newton, MA. 
The tournament drew more than one hundred golfers this year, from recent graduates to those from class as far back as the 1950s.

There were twenty players from the Class of 2010 and younger–a Bowdoin Invitational record.

In addition, twenty coaches and staff members were on the course representing the Department of Athletics and the Polar Bear Athletic Fund.
Check out the list of tournament prize winners and view a slideshow of dozens of images from the day.
A big thank you to the following for helping make the event possible and to everyone who came out to make it a great day.
COUNTRY CLUB HOST SPONSOR:
Brian Sung '95

SPONSORS AND DONORS
Tejus Ajmera '04
Ralph D. Crowley, Jr. '73, P'02, P'09, P'11
Paul Gauron '69, P'03
Stephen Gormley '72, P'06, P'09, P'11, H'23
Steven Marrow '83, P'21
Andrew McCabe '90, P'20
Patrick Ryan '96
Randall Steinberg '95
Thomas Wilcox '09

HOST COMMITTEE
Tyler Brewster '09
Catherine Chin '08
Emme McCabe '20
Brian Sung '95
Published September 19, 2023