Published January 25, 2022 by Bowdoin News
Director of Alumni Relations Rodie Flaherty Lloyd '80 Announces Retirement
Rodie Flaherty Lloyd '80, Bowdoin's director of alumni relations for more than a decade, has announced she is retiring at the end of the academic year.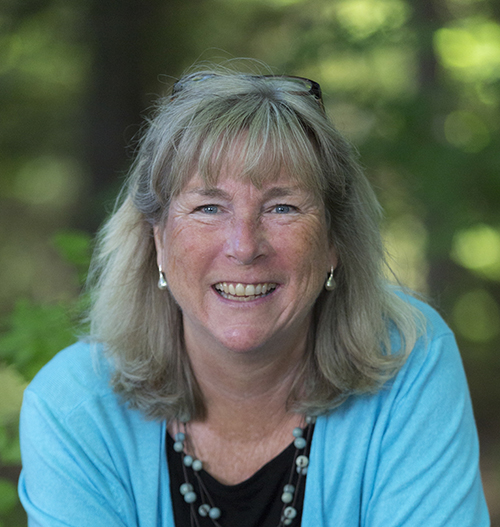 Known for her warmth and enthusiasm, Lloyd has personified alumni relations for legions of Polar Bears, impressing many with her alumni knowledge—and not just names and class years, but names of spouses, children, grandchildren, and pets, as well as professional accomplishments, interests, hobbies, and sometimes their favorite beverages.
A fixture at any alumni event, Lloyd has been an integral part of Reunion Weekend, has worked closely with the Fiftieth Reunion effort each year, and has developed a mutual admiration society with members of the Old Guard. 
"Rodie brings her humanity, ingenuity, and love for Bowdoin to everything she does," said Matt Roberts '93, president of the alumni council. "I know that so many alumni, over so many years, share my feelings about Rodie—I'm inspired by her enthusiasm, floored by how well she does her job, and grateful for her friendship."
After a twenty-five-year career at L.L. Bean, Lloyd set her sights on working for Bowdoin and volunteered for both admissions and career planning before landing in alumni relations in 2007.
"I will be forever grateful to Bowdoin for welcoming me back home," said Lloyd. "I am so lucky to have developed wonderful relationships with so many alumni, with others working on campus, and especially with my colleagues in alumni relations."
Coworkers praise Lloyd for helping transform the work of the Alumni Council, developing collaborative alumni experiences, and streamlining how the Office of Alumni Relations works with campus partners across the College.
They say that together they have accomplished expanded diversity, equity, and inclusion outreach and increased engagement across the country and around the world, even amid the pandemic, through expanded virtual offerings.

Many also describe her as the big sister they never knew they needed and someone to tease for her irrational fear of squirrels and what have come to be known as "Rodie-isms"—her combining of idioms such as, "It's no skin off my teeth."
Lloyd's seemingly endless energy and enthusiasm are evident off campus as well, through her participation with peers in the NEAR (Northeast Alumni Relations) group, through volunteering as a board member at the Brunswick nonprofit People Plus, and through her work at her local library in Yarmouth.

Members of her team attribute Lloyd's success to the fact that "She is everyone's biggest cheerleader on campus," authentically supporting students, faculty, and staff in their endeavors because she is just that proud of being part of Bowdoin and its community.
Planning for a search for Lloyd's successor is underway, and a job posting will be released soon.