Published January 20, 2022 by Bowdoin News
An Inside Job: The Senior Class Gift Campaign's Exemplary Leadership
Now in its eleventh year, the Senior Class Gift Campaign (SCGC) is a grass-roots effort to educate seniors about the importance of giving back to Bowdoin, to engage them in contributing to the Alumni Fund, and to show them the opportunities alumni have to stay connected with the college long after graduation.
Each year a handful of seniors lead the way, inspiring their peers to serve as class agents to help impart an understanding of the immediate and powerful impact of supporting their class goals.
Together they show classmates that gifts to the Alumni Fund are immediately plugged into Bowdoin's budget, allowing the College to address its most pressing needs while also providing direct support for every student activity on campus, every academic department, every team, performance, lecture, and exhibition to help make the Bowdoin experience what it is.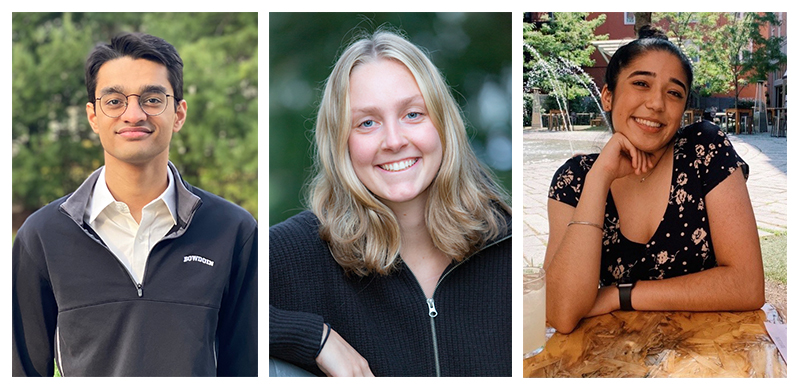 "I have had a fantastic four years at Bowdoin, and I want to ensure that future members of the Bowdoin community do as well," said Prithvi Gunturu '22, one of three SCGC lead agents.

The computer science and mathematics double major has been active on campus with the rugby football club, Bowdoin Consulting Group, Bowdoin Symphony Orchestra, and Bowdoin Student Government.
"Having served as the student body treasurer, I have seen firsthand how funding impacts student life. I am involved with SCGC because I understand the importance of having access to funds, and I know my work with the SCGC will have a strong positive financial impact on the Bowdoin community."
Anika Helmke '22, a government and legal studies major and visual arts minor, says she joined the SCGC lead agent team out of a sense of gratitude for everything that her time at Bowdoin has given her and because she believes it's important to share with her classmates the role they can play in the lives of students who follow in the years to come.
"The Alumni Fund has directly contributed to my incredible experience at Bowdoin," said Helmke, who has also worked as a head resident advisor, as a manager of the women's basketball team, and as a library assistant.
"This initiative gives Bowdoin seniors the opportunity to give back and ensure a more accessible and inclusive Bowdoin."   
As president of the Bowdoin Athletes of Color Coalition and a member of the Department of Athletics DEI committee, the varsity field hockey team, and the South Asian Students Association, SCGC lead agent Manveer Sandhu '22 sees participation as the name of the game.
"Participation is vital, as it allows current students to experience Bowdoin as it is," said Sandhu, a biology major and sociology minor.

"The Alumni Fund supports current needs—allowing students to receive financial aid and access to grant opportunities, and it funds every aspect of the student experience, from campus-wide activities to technology accessibility."
"Anika, Manveer, and Prithvi are doing an amazing job stewarding the legacy of the common good," says Director of Annual Giving Christi Lumiere.

"Since the Senior Class Gift Campaign began back in 2011, student volunteers have really stepped up to make sure that Polar Bears who follow in their footsteps will have the same—if not better—Bowdoin experiences and opportunities. That is at the core of what the Senior Class Gift Campaign is all about."