Published May 21, 2021 by Bowdoin News
Joycelyn Blizzard Named Bowdoin's First Director of Multicultural Alumni Engagement
Joycelyn Blizzard recently joined Bowdoin as its first director of multicultural alumni engagement, a position created to strategically co-create and implement programming and experiences to increase engagement in the life of the College among alumni who identify as multicultural.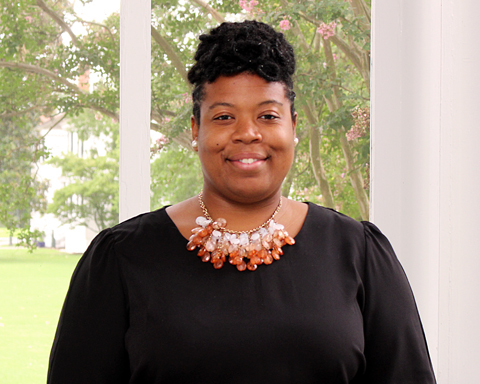 That work will include providing increased opportunities for interaction between alumni and students with diverse identities and backgrounds.
Blizzard comes to Bowdoin from St. Margaret's School in Tappahannock, Virginia, where, beginning in 2015, she served as director of annual giving, director of alumnae relations, and most recently as director of development. Her previous experience in advancement includes positions with Beaver Country Day School and Demand Abolition, both in the Boston area. She earned her bachelor of arts degree at the University of Richmond, where she majored in leadership studies, before earning a master's of public administration at Virginia Polytechnic Institute and State University.
Blizzard spoke with Doug Cook, Bowdoin's director of college and media relations, about her experience and the work before her.
What drew you to the director of multicultural alumni engagement position?

We are living in an unprecedented national and global climate in which broad social justice issues are front and center in public discourse. As a Black woman in the United States, my work always includes multicultural engagement. To see the director of multicultural alumni engagement position offered as a central role was like seeing a unicorn—the joining of my professional and life's work. I was shocked that the position even existed, and I couldn't wait to hear more about it. By creating this role, Bowdoin is ahead of other institutions.
What opportunities do you see for alumni who identify themselves as multicultural? 
I see several: acknowledgement of their whole Bowdoin experience—the assets, challenges, and everything between; structured, strategic opportunities for connection with each other, starting with affinity groups for various racial and ethnic identities; and
increased transparency with Bowdoin administration and the student body as it relates to all campus community members who identify as multicultural.
You've been very successful in the development and alumni relations arena; what is the best part of that work and what is the most challenging?
The best part of development and alumni relations work is the building of solid relationships. Every person is like a puzzle piece, and your relationship with them uniquely connects to your puzzle piece. These meaningful connections usually strengthen the relationship with the school, and I'm grateful to help support and strengthen that bond. The most challenging aspect of development and alumni relations work also relates to relationships—when I, or someone on the team, cannot build or strengthen the relationship. As I work to rekindle and repair the relationships for Bowdoin, I anticipate that relationships may appear this way initially, and I'm committed to reconnecting the Bowdoin puzzle pieces that fit and strengthen the mission for years to come.
What have you found to be the keys to good alumni engagement?

Like all relationships, it's essential to lead with kindness, honesty, and intentionality. 
What do you want Bowdoin alumni to know about you?
I want alumni to know that I am first here to listen and understand alumni, both individually and collectively. As I connect the dots and puzzle pieces, together we will make significant progress for all.
You were an intern in the Obama White House and in the office of the Governor of Virginia; what did you learn from the world of politics and how does that inform the work you do now?
The indelible learning I carry from my time in politics is that each challenge requires savvy creativity. If we continue to do what we've always done, there's a chance you will not be around long enough to make lasting change. I'm always looking for creative solutions to enduring challenges. In politics, constituents need to know that you are present, are listening, and understand them. Alumni are no different; they want to know that Bowdoin is listening, understands, and is present for them.
Where did you grow up? 
I grew up in a suburb of Richmond, Virginia, in a middle-class African American neighborhood. My cousin lived next door, and the entire block helped raise my brother and me.
What motivates you?
I'm motivated to ensure we leave this place better for the next five generations and to honor the work of the giants whose shoulders we stand on today.
You've only been at Bowdoin a short time now; what are your first impressions?
Everyone has been truly warm and welcoming. It's clear this is an extraordinarily special place to many, regardless of background. I look forward to continuing to build relationships, learn about the College's successes and challenges, and help determine an improved path forward that ensures Bowdoin has a more inclusive alumni community.