Published March 21, 2019 by Alumni Relations
Emerging Bay Area Women's Network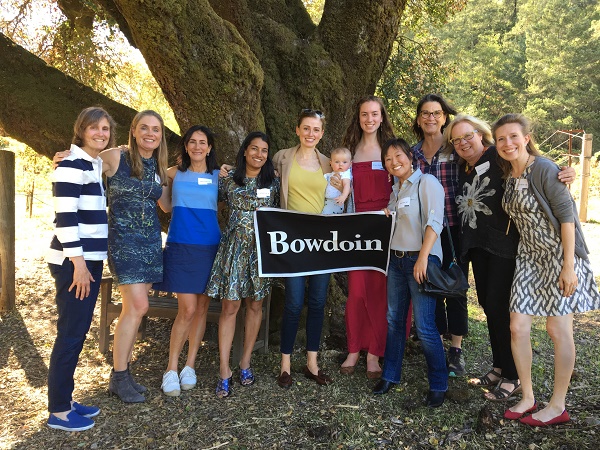 Over the past several years Liza Graves, Peggy Jensen and Julie Johnson – all from the Class of 1976 – had been thinking about their experiences as some of the first women to attend Bowdoin College and how those experiences shaped their lives and careers.  They had stories to tell …. and reflections to share with the next generations! Meanwhile, they were increasingly impressed with the Bowdoin women who had come after them and wanted to hear their stories, too.  
On a Saturday last fall, Julie hosted a multi-generational group of Bowdoin women for lunch in an orchard at her St. Helena winery, Tres Sabores. The group of ten alumnae including Liza, Peggy and Julie along with Nina Frank '83, Michelle Keene '87, Lyla Kuriyan '94, Sara Edel '02, Aliza Marks '03, Nellie Thornton '08, and Megan Maher '16 shared an afternoon of reflection on their different Bowdoin experiences, realizing they had many things in common. Before they departed, the group had outlined next steps for building a network of Bowdoin women in Northern California. 
The first step took place with the Bowdoin Bay Area Women's Network launch event where over 70 Bowdoin women from Class years 1976 to 2018 gathered together at the acclaimed Mr. Jiu's in San Francisco.  Hosted by Bowdoin Trustee Ellen Chan '97 (and her husband Cali Tran '97), the room was full of energy and enthusiasm as Bowdoin women made connections and enjoyed great conversations about how to build the network by sharing what they were interested in getting from and giving to such an initiative. The important themes of 'connect, learn and inspire' emerged as groups came up with ideas for next steps.
After welcoming the group, Ellen Chan commented that, "Bowdoin has not had a particularly long history with women, but we've put our footprints there and are continuing to do so. I believe that creating this Bowdoin network of women friends and mentors is another example of how we have led the way in making these connections that started at Bowdoin continue in a special way."  In mingling and through group discussion, everyone spent the rest of the evening doing just that – continuing Bowdoin connections in a special way.