George Lincoln Skolfield Jr., Professor of German Emeritus
He came to Bowdoin in 1971, and was promoted to the George Lincoln Skolfield Jr. Professorship of German in 1990.
Cerf shared freely his personal and family history in the classroom, always in the service of helping students and the Bowdoin community understand German language, culture, and the indelible legacy of the Holocaust — and more generally to understand the power of literature, music and art to express and reveal truths about humanity.
Cerf's passion for current events, popular culture, the arts — and particularly, for opera — is well known in the Bowdoin community.
For years he escorted large groups of Bowdoin alumni to the Metropolitan Opera House at Lincoln Center in New York to learn about opera and experience it firsthand.
In 2008, he proudly became the first faculty member at the College to enter into a same-sex marriage, and with his husband Ben, became a friend and mentor to Bowdoin's increasingly diverse campus culture.
Cerf's memory has been described as "famously encyclopedic," not only for its wealth of facts and scholarship, but for the details about the many students and colleagues whose lives he has touched over more than four decades.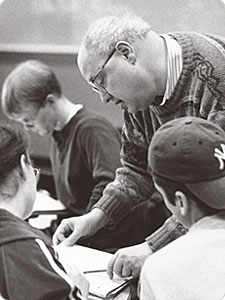 Education
PhD, Yale University, 1975
MPH, Yale University, 1971
BA, Queens College, CUNY, 1966