Gary M. Pendy Sr. Professor of Social Sciences
Ms. Yarbrough is Professor of Government and Gary M. Pendy, Sr. Professor of Social Sciences, with teaching responsibilities in political philosophy and American Political Thought. She has twice received fellowships from the National Endowment for the Humanities, first in 1983-84, when she was named a Bicentennial Fellow and again in 2005-2006, under a "We the People" initiative. She is the author of
American Virtues: Thomas Jefferson on the Character of a Free People
(Kansas, 1998) , has edited
The Essential Jefferson
(Hackett, 2006) and, her most recent book,
Theodore Roosevelt and the American Political Tradition
, (University Press of Kansas, 2012) won the Richard E. Neustadt Award for 2013 (awarded annually by the American Political Science Association (APSA) for the best book on the Presidency). Ms. Yarbrough is the author of numerous articles and essays in American political thought and public policy, as well as other topics in political philosophy. She serves on the editorial boards of
The Review of Politics and Polity
, and was President of the New England Political Science Association in 2005.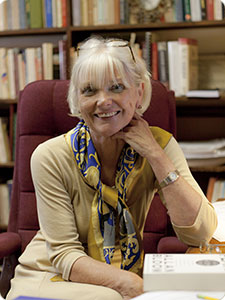 Education
PhD, The Graduate Faculty, New School for Social Research
MA, The Graduate Faculty, New School for Social Research
BA, Cedar Crest College