James Mullen teaches at Bowdoin College and lives in Portland, ME. His current work is interested in depictions of the natural environment and the way that it interfaces with the human presence. Though he is principally a painter, his research interests also include explorations in both drawing and photography.
He has received numerous awards and scholarships including an Individual Artist Grant from the state of Georgia as well as Research Grants from both the University of Evansville and Bowdoin College. He has also received Fellowship Residencies from the Virginia Center for the Creative Arts, the Ragdale Foundation,  the Spring Island Trust Artist in Residence program, and the Petrified Forest National Park Artist in Residence He has had twenty five solo exhibitions of his work at venues including the Gertrude Herbert Institute of Art in Augusta, GA, Artemisia Gallery in Chicago, IL, The Center for Maine Contemporary Art in Rockport, ME,  the Ruschman Art Gallery in Indianapolis, IN, Providence College in Rhode Island, and three solo exhibitions at Sherry French Gallery in New York City.
He was recently awarded a Gallery Fellowship from the Phoenix Gallery in New York City.
His work can be found in numerous public and private collections.
James Mullen received a Bachelor of Fine Arts in Sculpture from the University of New Hampshire in 1985, attended the LaNapoule Summer Art Program in 1986, and completed his Master of Fine Arts in Painting at Indiana University in 1991. He has taught at the Savannah College of Art and Design in Georgia, the University of Evansville in Indiana, and since 1999 has taught at Bowdoin College in Brunswick, ME.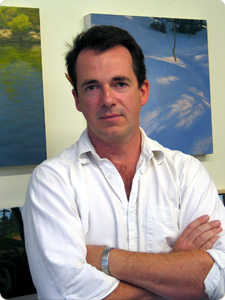 ---
Education
MFA, Painting, Indiana University, Bloomington, IN, 1991
LaNapoule Summer Art Program, 1986
BFA, Sculpture, University of New Hampshire, 1985