Professor of Economics Emeritus
Jon Goldstein received his Ph.D. in economics from the University of Massachusetts (Amherst). He served on the faculty of Bowdoin College from 1979-2020. He has held appointments as Visiting Professor at the University of California (Riverside), the Physics Institute in Nizhni Novgorod, Russia, the University of Massachusetts at Amherst and as a Resident Scholar at the Jerome Levy Economic Institute at Bard College.
Goldstein's fields of specialization are Political Economy, Macroeconomic Theory and Applied Econometrics. His primary research interests are short-run and long-run cyclical fluctuations in the macro economy including financial crises.  He employs an endogenous analysis of these phenomena rooted in the heterodox, particularly Marxian, tradition.  His work has focused on the development and empirical testing of theories (models) of pricing, profitability and investment over the business cycle, two and three social class predator-prey models of fluctuations and the existence of long economy-wide swings.  He has published numerous articles on these subjects in academic journals and edited collections.
Goldstein has used his speciality in statistics/econometrics to add variety to his research by exploring interesting off-beat topics:  motorcycle helmet effectiveness and associated welfare losses; the efficacy of alternative surgical techniques for hip replacement; the treatment of race and gender in 19th century tobacco advertising; the economic well-being of Maine loggers; and the impact of race and gender on the prosecution of violent crimes.  These studies have respectively been published in field journals outside of Goldstein's specialization: Evaluation research and risk and insurance; health economics; economic history; labor/industrial relations; and criminology.
Goldstein has also studied aspects of Bowdoin College;  the impact of extracurricular activites, particularly athletics, on the academic mission of liberal arts colleges and the financial impacts of changes to the Bowdoin College retirement plan.
Recently in retirement, Goldstein's research has shifted to the field of forensic art history.  This transition is associated with his interest in surrealist art.
In 1980, he started and coached the women's softball team at the college.
In 1991-1992, he was Resident Scholar at the Jerome Levy Economics Institute
In 1995-1996 he spent his sabbatic leave in Russia studying Russian labor markets in transition.
From 2000-2009 and again from 2011-2013, he was a member of the editorial board and/or editorial collective for the Review of Radical Political Economy.
Goldstein taught courses in macroeconomics, statistics, econometrics, Marxian political economy and the business cycle.
He lives in a saltwater farm in nearby Georgetown, Maine and enjoys a variety of outdoor activities including adventure travel, hiking, bicycling, and pickleball.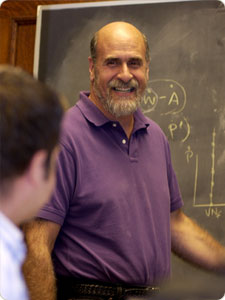 Education
PhD, Economics, University of Massachusetts