Professor of Economics Emeritus
Jon Goldstein received his Ph.D. in economics from the University of Massachusetts. He has been on the faculty of Bowdoin College since 1979. He has also held appointments as Visiting Professor at the University of California (Riverside), and the Physics Institute in Nizhni Novgorod, Russia, the University of Massachusetts and as a Resident Scholar at the Jerome Levy Economic Institute at Bard College.
Goldstein's primary research interests are in the areas of macroeconomics and econometrics as applied to issues concerning cyclical fluctuations. His work has focused on the development and empirical testing of theories (models) of pricing, profitability, and investment over the business cycle and the existence of long waves. He has published numerous articles on these subjects in academic journals and edited collections.
In 1995-1996 he spent his sabbatic leave in Russia studying Russian labor markets in transition.
In 1999, he participated in a Maine Department of Labor study on the logging industry in Northern Maine.
Currently he serves as an editor of the Review of Radical Political Economics.
Goldstein teaches courses in macroeconomics, statistics, econometrics, Marxian political economy and the business cycle.
He lives in a saltwater farm in nearby Georgetown, Maine and enjoys a variety of outdoor activities including hiking, camping, boating and motorcycling.
Article about the current Financial Crisis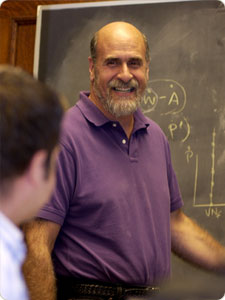 Education
PhD, Economics, University of Massachusetts