David Collings received his Ph.D. from the University of California, Riverside. His research focuses on British Romantic literature (including Romantic poetics, radical and feminist literature, and the Gothic novel); the intersections of Romanticism and Kantian critical philosophy; the emergence of modern industrial capitalism alongside the popular radical response; and the broad cultural implications of climate change.
His first book, Wordsworthian Errancies: The Poetics of Cultural Dismemberment, explores how the poetry of William Wordsworth responded to the cultural consequences of Britain's war with revolutionary France. His second, Monstrous Society: Reciprocity, Discipline, and the Political Uncanny, c. 1780-1848, traces the effects of new forms of social discipline on longstanding relations of reciprocity between gentry and plebeians and the response to these changes in novels such as Frankenstein. Stolen Future, Broken Present: The Human Significance of Climate Change argues that the likely disappearance of a common future under the pressure of climate change puts all of our present purposes into question. Disastrous Subjectivities: Romanticism, Modernity, and the Real examines the formation of a Romantic subjectivity haunted by the demands of an impossible ethics, a sublime infinity, and the prospect of natural disaster. With Michael O'Rourke, he co-edited Queer Romanticisms, and with Jacques Khalip, Romanticism and Disaster. He has written articles about workless Blake, oblivion in the poetry of John Clare, emotion without content, the impasses of utilitarianism, anti-biography, and much more. At Bowdoin he has served as the Chair of English, Director of Gay and Lesbian Studies, and as member of the tenure, governance, and budget committees; he is also serving as Chair of the North American Society for the Study of Romanticism. 
He offers courses on British Romantic literature, especially with regard to Romantic poetics, the emergence of radical and feminist literature, and the history of gender and sexuality; and on literary and cultural theory.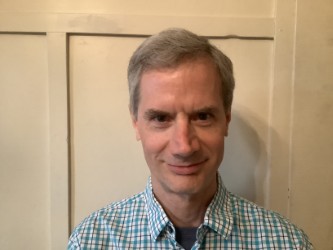 Education
PhD, University of California-Riverside, 1987
MA, University of California-Riverside
BA, Pacific Union College