President Clayton Rose
Clayton S. Rose, who was inaugurated as Bowdoin's fifteenth president on October 17, 2015, has consistently underscored the value and essential importance of a liberal arts education for living lives of meaning, for thoughtful engagement in civic life, and for satisfaction and success in work.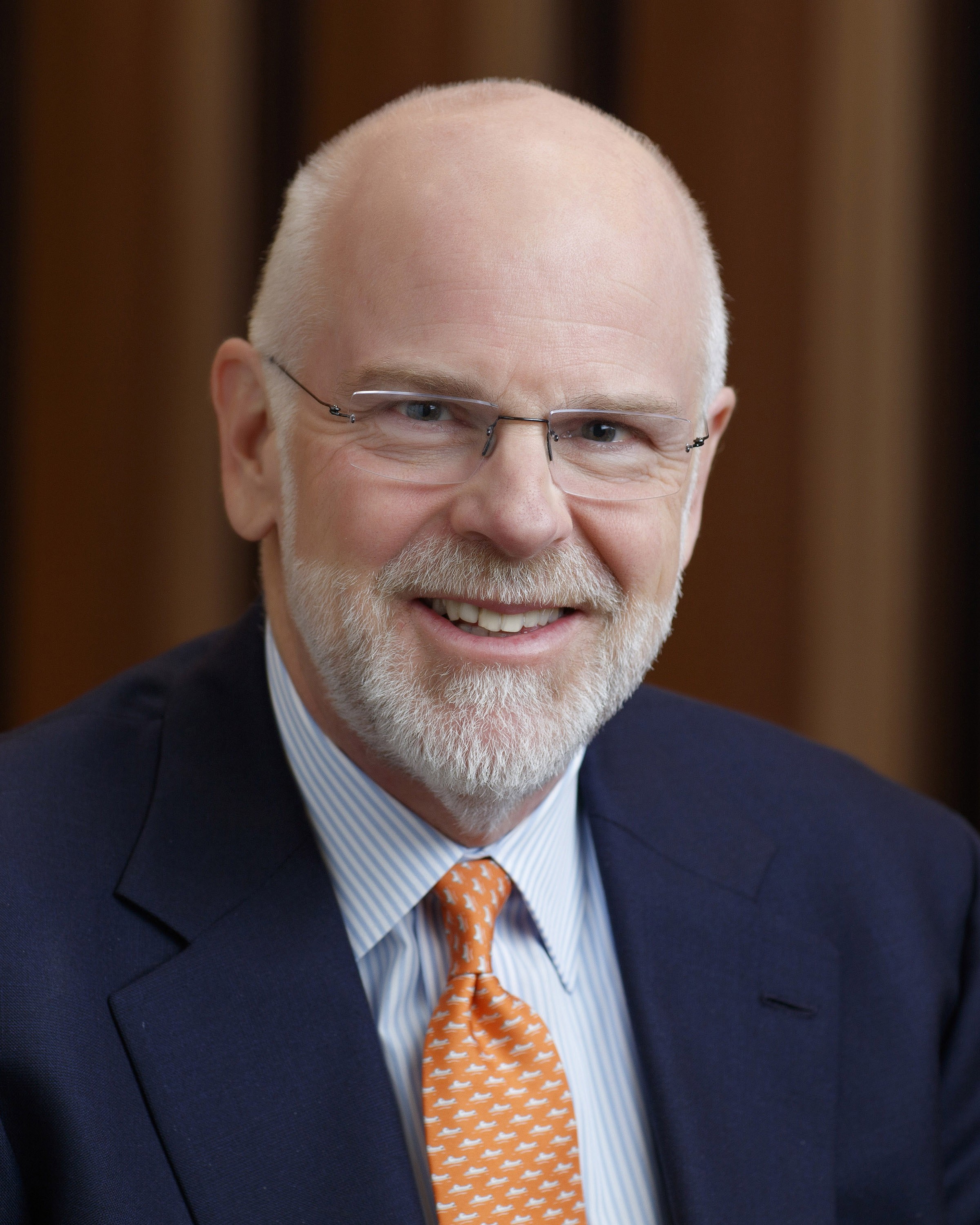 Originally from San Rafael, California, Rose earned his undergraduate degree (1980) and MBA (1981) at the University of Chicago. In 2003, following a twenty-year leadership and management career in finance, he enrolled in the doctoral program in sociology at the University of Pennsylvania to study issues of race in America, earning his master's degree in 2005 and his PhD with distinction in 2007.
Prior to his appointment as president of Bowdoin, Rose served on the faculty of the Harvard Business School, where he wrote and taught on moral leadership and ethics, among other topics. At Bowdoin, he has taught "The Moral Leader," an interdisciplinary seminar for first-year students that considers the challenge of leadership through the reading and analysis of works of fiction and nonfiction.
Rose is a member of the board of trustees of the Howard Hughes Medical Institute, the nation's largest private supporter of academic biomedical research. He is also a member of the board of directors of Bank of America.
His wife of thirty-six years, Julianne H. Rose, originally from Rosemont, Pennsylvania, earned her undergraduate degree in biology magna cum laude at Boston College and her MBA at the University of Chicago. She began her career in finance and held elected office at the municipal level for many years.
Clayton and Julianne Rose have two sons. Garett lives in Washington, DC, with his wife, Meredith, and their children, Petra and Gideon, and Jordan lives in New York City with his wife, Emily. Julianne and Clayton Rose live on the Bowdoin campus with their Labrador retriever, Emmie.
The Work Ahead
Rose opened Bowdoin's 2018-2019 academic year with remarks at Convocation about the work that will shape a Bowdoin education and experience for the future. His remarks were informed by significant work and focus on these topics during the first three years of his administration and specifically by the report of a faculty-led College committee charged by Rose to consider the knowledge, skills, and creative disposition every Bowdoin student should possess upon graduation a decade in the future. In addition to a reaffirmation of the core and timeless aspects of a liberal arts education, the work ahead will focus on developing integrated thinking and interdisciplinary learning; ethical judgment and decision making; and data and computational literacy. It will also include further developing the capacity in Bowdoin students to engage in thoughtful, meaningful, and respectful discourse on tough issues, and it will underscore the College's steadfast commitment to access for students of promise regardless of financial circumstances.
The Imperative of Access and Opportunity
Rose has consistently reaffirmed Bowdoin's commitment to admissions and financial aid programs that welcome all students regardless of their financial circumstances, with the aim of attracting the very best students and of building a community where everyone has the opportunity for an equally robust experience, regardless of their economic status, background, or identity. Bowdoin is one of only nineteen colleges and universities in America that provides need-blind admissions, meets the need of students for all four years, and does not require loans in its financial aid packages. More than half of Bowdoin students receive need-based, no-loan financial assistance from the College.
THRIVE—an initiative established in 2017 and funded by Netflix CEO and Bowdoin alumnus Reed Hastings '83—aims to substantially transform the experience and improve the graduation rates of low-income students, first-generation college students, and those students traditionally underrepresented on college campuses.
Today, Bowdoin students hail from 49 states—with nearly two-thirds from beyond New England—and from 44 foreign countries. More than a third are students of color, and 16 percent are the first in their families to attend college.
Discourse and Inclusion
Beginning with his inauguration remarks in October 2015, Rose has also consistently emphasized the themes of discourse and inclusion at Bowdoin—specifically, that a central mission of the College is to foster an environment of vigorous and respectful intellectual engagement on the most challenging and uncomfortable ideas, where students question their beliefs and develop the skills, knowledge, and disposition to become "intellectually fearless." Rose further emphasized the point on the one-year anniversary of violence in Charlottesville, Virginia, writing: "It is only through this engagement that our students, and ultimately the rest of us in American society, can best understand the issues and challenges embedded in the hardest, fiercest problems we face today. This is how we develop in our students the knowledge, intellectual skills, and emotional fortitude to confront the most challenging questions of our time to make our society and our world better."
The Environment and Sustainability
Rose has also worked to enhance Bowdoin's leadership role in the teaching and study of the environment. In October 2018, the College dedicated the new $16-million Roux Center for the Environment, Bowdoin's first LEED Platinum building. The Roux Center brings together on the central campus faculty and students from across the disciplines to encourage and facilitate creativity and collaboration about global problems related to the environment. Work is also underway to expand ocean research and environmental education at Bowdoin's Schiller Coastal Studies Center on Orr's Island in nearby Harpswell, Maine.
In 2018, Bowdoin became one of a very small number of colleges and universities in the country to declare carbon neutrality, accomplishing the goal two years ahead of schedule. The College is now developing an even more ambitious climate action plan to guide its sustainability efforts through 2030, and has announced that it will join with four Massachusetts liberal arts colleges to help fund a 75-megawatt solar project in Farmington, Maine.
In February 2019, Bowdoin was recognized by the Association for the Advancement of Sustainability in Higher Education as a STARS Gold Institution, and in August 2019, the College opened four new student residences built to "passive house" standards. 
Bolstering the Humanities
Rose has continuously promoted the value and importance of the humanities and the arts in higher education, arguing that these disciplines are central to a great education and form an essential complement to the knowledge, skills, and sensibilities of the sciences and social sciences, making them as relevant today as ever—perhaps more so.
Myths About the Liberal Arts
Rose has also worked to debunk some of the myths about a liberal arts education. Specifically, he points out that one's undergraduate major does not define or limit a career path—that a liberal arts education is great career preparation "both for excellent lifetime earnings and for satisfaction with the work." Rose also emphasizes that robust financial aid means that access to an education at selective colleges and universities is now more available to low- and middle-income families than ever before.