SWAG Director Natalie Turrin Envisions Center as a Vibrant Place for Transformative Potential
By Rebecca Goldfine
One of Natalie Turrin's first priorities as the new leader for the
Sexuality, Women, and Gender Center
(SWAG) was to work with her student staff to organize the Pride Prom, which will be in Daggett Lounge the night of November 11.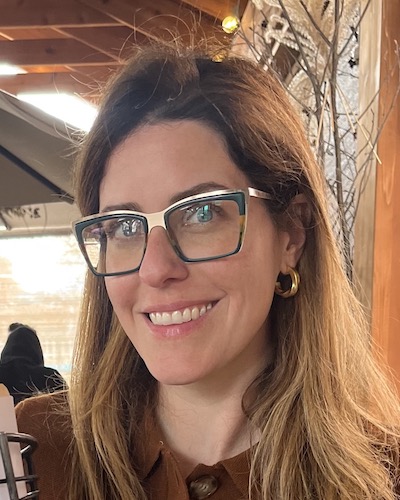 "There is something so wonderful about Pride Prom," Turrin said the Wednesday before the event. "We're calling it a night to be unapologetically you."

Soon after starting at SWAG this fall, Turrin said she heard from multiple students and staff who wanted to host a pride prom. It was on her list, too, creating momentum for an event that can "reclaim this tradition that has been traditionally very gendered and heteronormative," she said. 

"The hope is that it is something more than a party or dance, that it is an opportunity for self-expression in a way that was unavailable for many," she added.

Turrin took over at SWAG after former director Katy Stern moved into her new role as Bowdoin's director of institutional inclusion and diversity programs. Turrin and her family—wife, Amy, and toddler, Sylvia—moved to Maine from Georgia two years ago.

Originally from Toronto, Turrin said "I wanted to move north again, and after the pandemic, we wanted to be somewhere beautiful, somewhere where we could get outside."

To relocate to Maine, she had to leave a job she loved, as associate director for Emory University's Center for Women. After earning her PhD in women's, gender, and sexuality studies at Emory, she originally worked for the university's Office of Lesbian, Gay, Bisexual, and Transgender Life before transitioning to the Women's Center.

"I see myself as a scholar practitioner," Turrin said. "I love the academy, I love university life and being around students. And while I was in graduate school, the most meaningful experiences for me were with students and teaching, where I saw the transformative potential of my interests."

Once she was established in Maine, she accepted a one-year visiting appointment at the University of Southern Maine teaching in her specialty—feminism and science. Her PhD looked at what the field of epigenetics can offer feminist thinking.

Then she saw the posting for Bowdoin's SWAG director. "I couldn't have been more excited," Turrin said. "I had friends from Maine who spoke so highly of Bowdoin, and this is exactly what I would have hoped to do."

She acknowledges that she's moving into a position at a fraught time for women and the LGBTQ community, as attitudes and policies around LGBTQ inclusivity and women's rights are shifting as they get caught up in political clashes.

"For me, I think that means thinking about an LGBT and women's center as a place where students can gain capacity and skills to do transformative work," Turrin said. "Given the numbers of students who now enter university identifying as LGBT, there is a potential to think how they can lead and lead differently and work toward transformation at Bowdoin, and especially beyond Bowdoin."

Young women and people who identify as LGBTQ have, she continued, "an enormous capacity for leadership, not because of something in their DNA but because their experiences as women and LGBTQ students allow them to think differently about how to lead and bring about social transformation."

She's planning on adding more programming for students who want to do feminist work, like engaging in activism for women's reproductive rights. She also will offer conversations for students to discuss feminism and what that looks like in their everyday lives, carrying on dialogues beyond the classroom.

In her previous job, for instance, her center staged "a feminist un-conference," which was "an opportunity to talk about feminist issues like dating as a feminist and what to do about misogyny in everyday life."

In these ways and in other ways, she welcomes faculty partnerships. "It's a natural collaboration between our center and the gender, sexuality, and women's studies department," she said. "Part of the functioning role of a center like ours is to help faculty meet their objectives or extend conversations in ways they would like to, given their priorities."

She knows from her experiences at Emory that centers like SWAG lend themselves to a "wonderful marriage of scholarship and practice in a setting that is vibrant and full of transformative potential. That is what college and university campuses are to me."
Published November 10, 2023