"The New Yorker" Dispatches: Adam Rasgon '13 Reports on the Middle East Conflict
By Rebecca Goldfine
Adam Rasgon '13 is using his contacts from Israel and Palestine and his fluency in Arabic and Hebrew to report on the crisis in Gaza and Israel.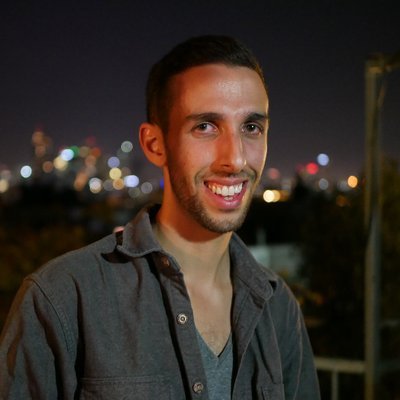 In his latest story, an October 20 article for The New Yorker, Rasgon and staff writer David Kirkpatrick describe conditions at Nasser Medical Center in the southern Gazan city of Khan Younis. The hospital is dangerously overfull, with not nearly enough beds, medicine, or medical supplies to treat all the wounded who arrive in large waves after air strikes. Everything is in short supply: food, fuel, and electricity. Families displaced by the war are also seeking shelter at the hospital, laying their bedding in courtyards, corridors, and on rooftops.
For other recent articles Rasgon has written about Gaza and Israel, he has interviewed senior Hamas leaders and Israeli victims of the Hamas attack.
After graduating from Bowdoin, Rasgon worked in Israel and Palestine, writing articles as a freelance journalist before working as a reporter for The Jerusalem Post, The Times of Israel, and The New York Times. He's now on the editorial staff of The New Yorker. 
Rasgon grew up near Los Angeles and vacationed in Maine with family friend Dora Anne Mills '82, a physician who served as Maine's director of public health for fourteen years and is the sister of Governor Janet Mills. Rasgon returned to Maine to attend Kents Hill School before enrolling at Bowdoin.
Rasgon also attended the Seeds of Peace Camp in Otisfield, Maine, when he was a teenager, and "became very committed to addressing Middle Eastern peace," Mills said.
In an email, Rasgon wrote that his "interest in the Middle East first started with Seeds of Peace and was nurtured at Bowdoin, especially by Professor Robert Morrison." Morrison is Bowdoin's George Lincoln Skolfield, Jr. Professor of Religion and Middle Eastern and North African Studies and director of the Middle Eastern and North African Studies Program.
"It's hard to believe the situation has deteriorated as much as it has since then, but I hope things will calm down again soon," he added.
Published October 24, 2023