"Bring Your Whole Selves," President Zaki Tells Class of 2027
Published by Tom Porter. Photography by MIchele Stapleton.
"You've landed in a special place," President Safa Zaki told the Class of 2027, as the new head of the College welcomed Bowdoin's newest academic cohort.
After the completing their pre-orientation trips, the 507-strong class, plus a handful of transfer students, gathered opposite the steps of the Walker Art Building on Saturday, August 26, to begin the official process of orientation.
After some initial remarks from Senior Associate Dean of Students and Director of First-Year Experience Melissa Quinby '91, students heard from Dean of Admissions and Student Aid Claudia Marroquin '06, who highlighted a number of interesting facts about the new class.
Twenty-one percent of class members, she said, are first-generation college students, "trail blazers," as Marroquin described them. "One of you spent time working with the World Central Kitchen on the Polish Ukrainian border this past year. One of you has been part of a professional rodeo cowboys association and the national qualifier for the high school rodeo association," she added, while other achievements among them include hiking to Mount Everest base camp and working at a research station in Antarctica. One-third of the class, meanwhile, speaks a language other than English at home, Marroquin observed.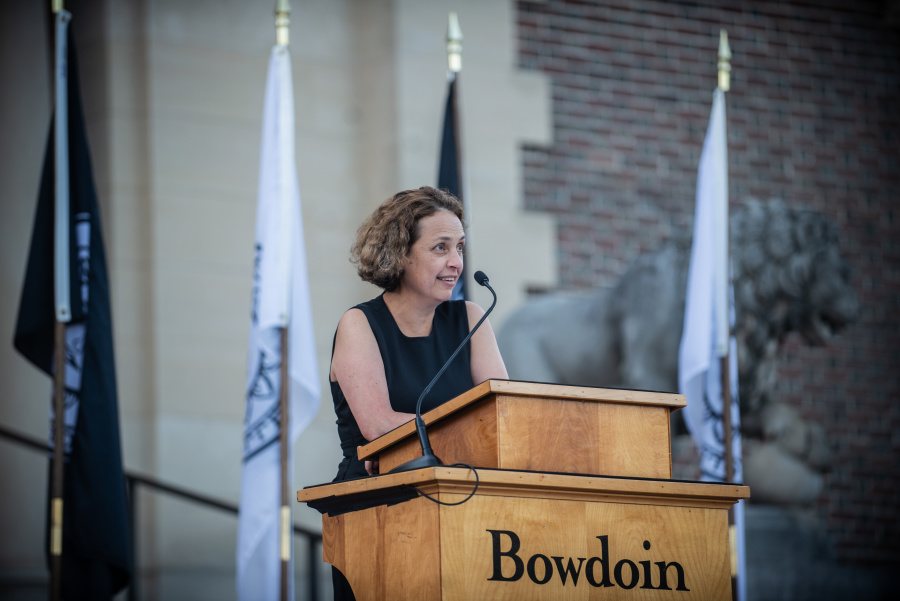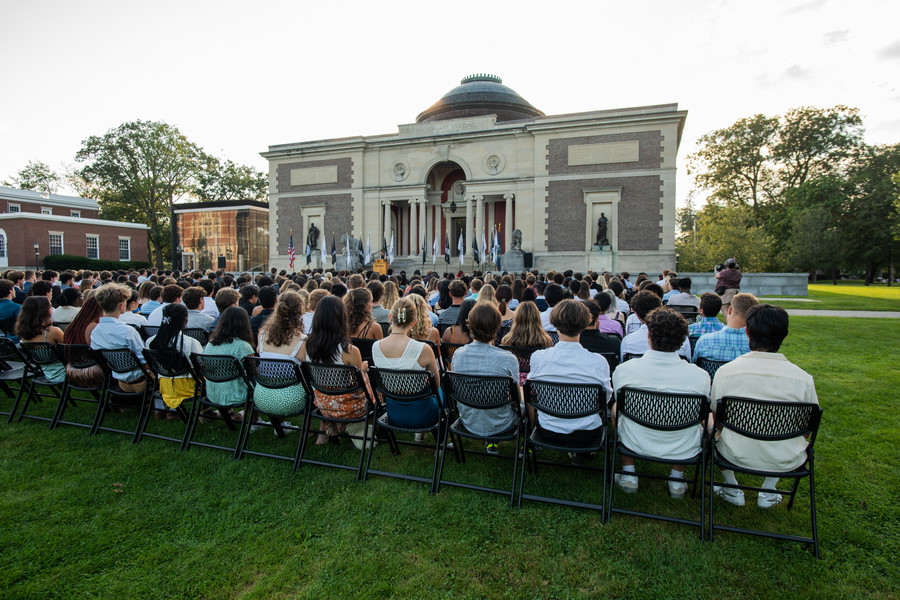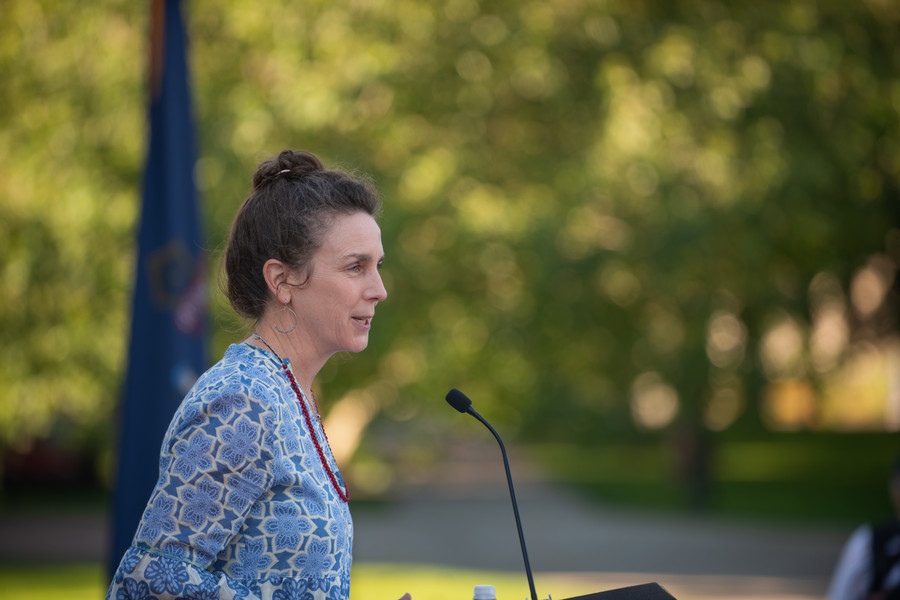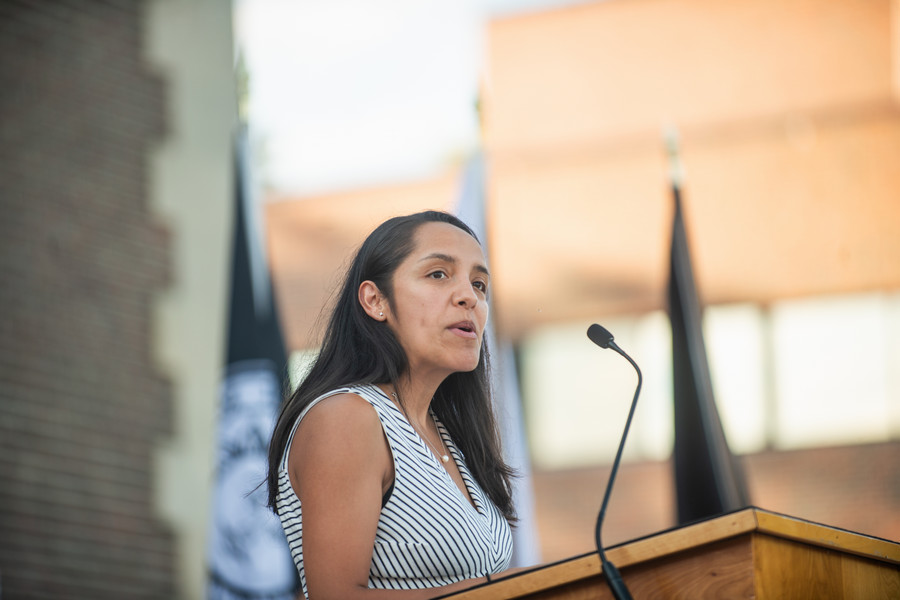 In her first welcome address to students, President Zaki said she feels a special connection to this class, as she and her husband only arrived in Brunswick last month. "So, like many of you, I am new to Maine, and like many of you, I am also just getting to know Bowdoin. What I've found so far is a vibrant and openhearted community, a college that is alive with possibilities, and a genuine warmth and generosity. I know that you will find the same," she commented. She urged students to "bring your whole selves" as they undertake their Bowdoin journey, pointing out that they can inspire their teachers, coaches, and staff as much as they can be inspired by them.
Zaki reflected on her decision to accept the job at Bowdoin and wondered if she and the assembled students were drawn to "this special place" for similar reasons. "These reasons probably include the obvious ones: the opportunity to work with an amazing staff and a world-renowned faculty; the opportunity to live with and learn from your inspiring peers; the opportunity to participate in a wide range of cocurricular activities; and the opportunity to live and work surrounded by the natural beauty of this campus and this place in the world, this state of Maine—Or maybe you heard about the food.
"But," Zaki continued, "I imagine that, like me, you were also drawn here by a more intangible quality, one that isn't about the amazing resources, opportunities, and programs that Bowdoin offers its students, but that is instead about Bowdoin's core value: the deep belief that we all have an obligation to serve the common good." Read President Zaki's comments in full.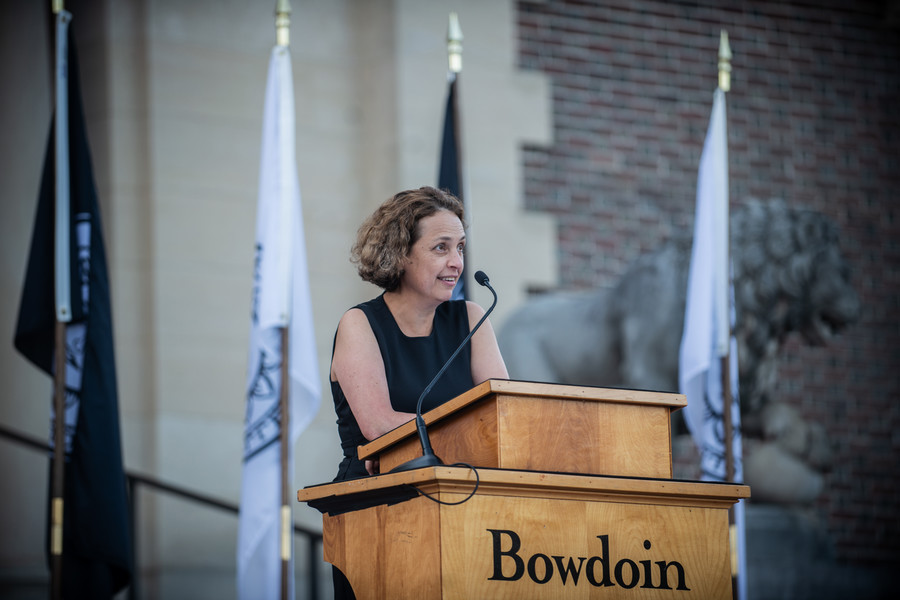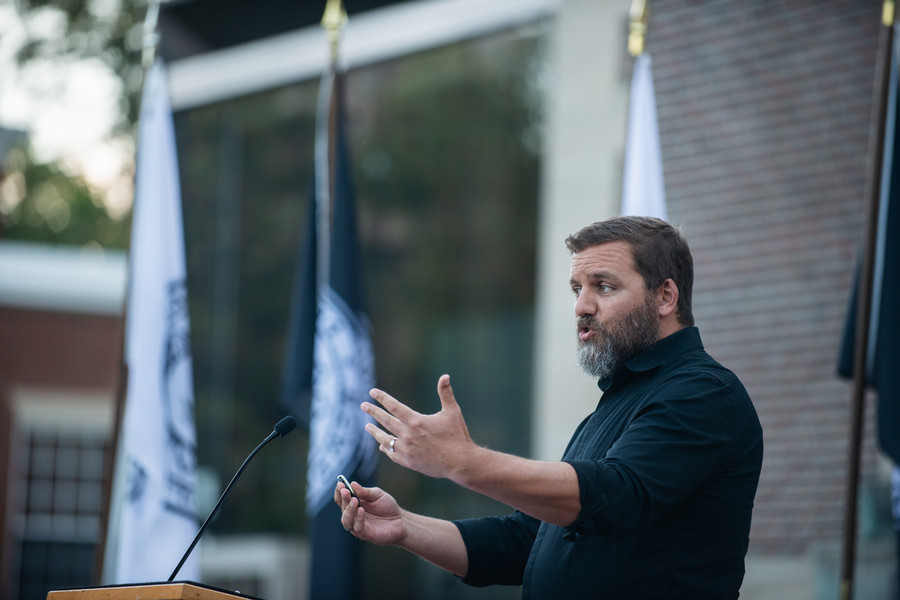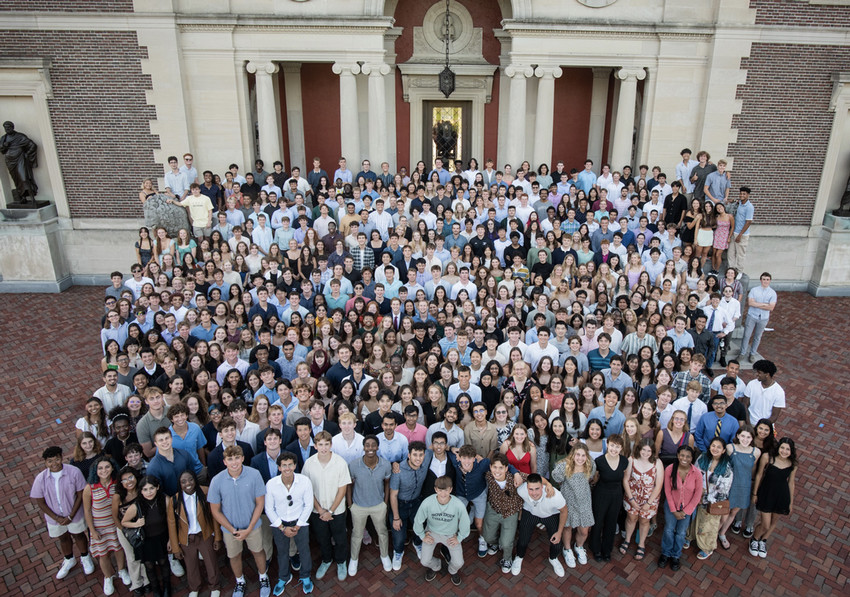 After singing through the alma mater, "Raise Songs to Bowdoin," under the helpful direction of Visiting Lecturer in Music and Director of the Choral Ensemble Jeffrey Christmas, students then gathered on the museum steps for a class photo. 
The academic year officially gets underway on Tuesday, August 29, when the College celebrates its 222nd Convocation. This ceremony starts at 3:30 p.m. in Pickard Theater, Memorial Hall.